The Manxman
(1929)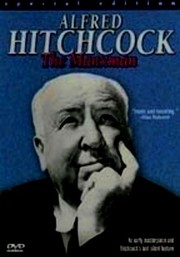 Tickets & Showtimes
The Manxman Trailers & Photos
Movie Info
Although he was established as a master of suspense by 1929, Alfred Hitchcock was still under contract to British International Pictures, and thus still obliged to direct everything his studio chose for him. Hitch's last silent film was The Manxman, a "romantic triangle" imbroglio based on a novel by Hall Caine. Filmed on location in the Isle of Man, the story concerns a local fisherman named Pete (Carl Brisson), a law student named Philip (Malcolm Keen), and a beautiful village girl named Kate (played by German actress Anny Ondra). When Pete is reported drowned, Kate turns to Philip for solace and sexual gratification. By and by, Pete returns none the worse for wear. Never suspecting that Kate has been unfaithful to him, Pete marries the girl. Eventually she bears Philip's child, which of course Pete assumes is his. Unable to lie to her husband anymore, Kate attempts suicide, which according to the laws of the Island is a crime. Kate is brought before the judge, who happens to be her ex-lover Philip. Confronted with the truth by Kate's father (who has suspected all along that she and Philip have had an affair), Philip gives up his legal career to make an "honest woman" out of Kate. An unrelentingly dour film, The Manxman is nonetheless beautifully photographed by Jack Cox. Sensing that the film would not appeal to a mass audience, BIP withheld release of The Manxman until after the distribution of Hitchcock's first talkie, Blackmail. ~ Hal Erickson, Rovi
more
Cast
News & Interviews for The Manxman
Critic Reviews for The Manxman
Audience Reviews for The Manxman
Chris Weber
Super Reviewer
½
A pretty good silent melodrama from Hitchcock, it's sad and realistic, but some scenes are kind of boring and overly dramatic. Overall, it's a pretty good movie.
½
Two men in a little fishing village both fall for the same flighty barmaid. The two men in question are life-long friends, one is a fisherman named "Pete", the other is Philip, a young lawyer come to petition on behalf of the fishermen in a territorial despute. After the girl's father rejects the fisherman as a suiter for his daughter (on the grounds that he's penniless), he decides to sail to Africa to find his fortune, and leaves his promised girl under the watch of his best friend, Philip. Philip's mother doesn't approve of him spending so much time with a "publican's daughter", especially when he could become a "deemster" (apparently what they call a judge on the Isle of Mann) and being seen with a girl so beneath him could ruin his career. Soon though, a telegram comes declaring Pete is (erroneously) dead, and Kate announces "we're free" as she embraces Philip. When they discover Pete isn't dead, the couple decide to cover up their romance, and even though Kate loves Philip, she decides to go through with her marriage to Pete. If this movie were to be made today, Pete would be considered a dope, and no one would be rooting for him to win the girl. For a silent picture, it's certainly verbose/word-heavy, and while it's typical "love triangle" stuff, it seems to glorify just how idiotic women can be sometimes (this dame's not content to ruin just one man's life, she has to go for two). I'll say this for "The Manxman", it's watchable, and no worse than the typical romances of today, but like I said, it exemplifies all the horrible, flighty traits I find so despicable in women.
Devon Bott
Super Reviewer
Discussion Forum
Discuss The Manxman on our Movie forum!
News & Features