The Manxman
(1929)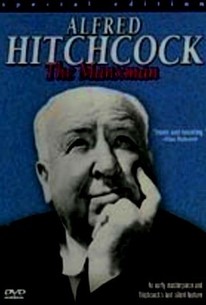 Movie Info
Although he was established as a master of suspense by 1929, Alfred Hitchcock was still under contract to British International Pictures, and thus still obliged to direct everything his studio chose for him. Hitch's last silent film was The Manxman, a "romantic triangle" imbroglio based on a novel by Hall Caine. Filmed on location in the Isle of Man, the story concerns a local fisherman named Pete (Carl Brisson), a law student named Philip (Malcolm Keen), and a beautiful village girl named Kate (played by German actress Anny Ondra). When Pete is reported drowned, Kate turns to Philip for solace and sexual gratification. By and by, Pete returns none the worse for wear. Never suspecting that Kate has been unfaithful to him, Pete marries the girl. Eventually she bears Philip's child, which of course Pete assumes is his. Unable to lie to her husband anymore, Kate attempts suicide, which according to the laws of the Island is a crime. Kate is brought before the judge, who happens to be her ex-lover Philip. Confronted with the truth by Kate's father (who has suspected all along that she and Philip have had an affair), Philip gives up his legal career to make an "honest woman" out of Kate. An unrelentingly dour film, The Manxman is nonetheless beautifully photographed by Jack Cox. Sensing that the film would not appeal to a mass audience, BIP withheld release of The Manxman until after the distribution of Hitchcock's first talkie, Blackmail. ~ Hal Erickson, Rovi
Rating:
NR
Genre:
, , ,
Directed By:
Written By:
In Theaters:
On DVD:
Runtime:
Studio:
LionsGate Entertainment
Critic Reviews for The Manxman
Audience Reviews for The Manxman
½
"I am the Manxman, I am the walrus, goo-goo-g'joob!" Embarrassingly obvious references aside, it's hard to think of something being older than rock music, let alone a song by The Beatles, although it's even harder to think that there's an adaptation of "The Manxman" that's older than this one. Yup, the Brits were pretty innovative I suppose, which would make sense, considering that they had a gutsiness about them that is very much reflected in this film, which has the nerve to run the sprawling length of almost... two hours. Hey, two hours was sprawling back in the 1920s, because even back then, they knew that people didn't want to dedicate all that much time to silent films... except for D.W. Griffith. Man, and "Birth of a Nation" and "Intolerance", on top of being so startlingly long, had some pretty prominent themes on race and whatnot, so maybe the Americans are gutsier than the Brits as entertainers after all, and I mean that metaphorically, seeing as how it's hard to imagine someone having more gut than Alfred Hitchcock. Yeah, yeah, I know, Orson Welles, but you could tell that he wanted to be full-blown British something fierce, just as you could tell that Hitchcock was proud to be British. Even without accents, this film is mighty British, which would be cool and all if those British tropes didn't include some dry spells. I suppose there's enough going on throughout this quiet affair to keep entertainment value adequate, and it helps that it's hard to find a version not graced by an impressive score incorporation, but after a while, all of the minimalism to storytelling devolves into blandness, as you might imagine it would, given its dated filmmaking style. Natural shortcomings shake the engagement value of this film, as they do with most every silent film, and can even be found within the silence, an unavoidable issue whose lack of voice nevertheless distances you from and thins out a conceptually promising narrative. Of course, I don't know if the narrative is all that conceptually promising to begin with, being an intriguing drama, make no mistake, but a minimalist one whose full potential could by no means be explored during this time, however limited it may be. Honestly, I'm not especially familiar with Hall Caine's original source material's full potential, so as far as I can tell, Eliot Stannard's scenario interpretation is really what's so lacking, but either way, there's only so much diversity to this idea, and it becomes harder and harder to deny that the more the film drags along. I joke about how two hours was considered a hefty length during this era of very simple filmmaking, but at around 110 minutes or so, this film really does feel too long, meandering along material repetitiously, yet still rarely abandoning that classic silent film superficiality that dulls things down a bit. Make no mistake, the strengths are relatively considerable, and I've doubts that this was topped as a silent film-era Hitchcock film, but there's only so much you can do with this material, and draggy, often dry storytelling isn't exactly the way to go. The film is forgettable, but, again, it might very well be better than Alfred Hitchcock's preceding silent opuses, facing its shortcomings, both natural and consequential, and overcoming them enough to keep you, or at least your eyes adequately invested. Certainly, motion photography capabilities were seriously limited by 1929, and age matters matters worse as it wears down the prints of this film, but for what it is, Jack E. Cox's cinematography is truly beautiful, drawing in frames of light shadow around emphasized whites that take solid advantage of the coloration limitations at the time in order to give you a sense of subtle visual flare. These hauntingly lovely plays on the handsomeness of this film's distinguished environment not only does justice to the lovely production values, but draws you into a sense of scope within a rather minimalist drama, thus, visual style, alone, guides much of the engagement value of this affair, at least about as much as it can. It's simply too difficult to bring all that much life to this story concept, at least at this simpler time in filmmaking, although that's not to say that the story is without meat, being a romantic melodrama whose layers were still prominent enough, and continue to ring to this day enough to endear, at least on paper. As for the execution, the film succumbs to storytelling limitations of the time, but it really does try in more than a few areas, working to be relatively extensive, if a little draggy in its meditations upon conflict, passion and, above all, characterization. Well, at least the characterization feels distinguished thanks to the performances, which, for their time, in spite of some hammy occasions, weren't too shabby in their projecting charisma and dramatic depth, in spite of a lack of dialogue. What further sells the core of this drama, at least to the best of its abilities, is, of course, Alfred Hitchcock's direction, which is kind of bland in its being more meditative than lively, but has its share of moments of genuine subtlety and grace that may not exactly have been well beyond the time, but carried a heart that cannot pump that much blood into this unavoidably improvable opus, yet has a weight to it that, when really played up, might very well compel, even by today's standards. These highlights in well-aged directorial inspiration are few and far between, and bridged by a questionable story concept and problematic execution, but through all of the natural and consequential shortcomings, there's enough quality to this drama for it to endear, even if it can only endear so much. Overall, storytelling dry spells make worse the blandness of the silent filmmaking format, while a relatively overlong length gives you plenty of time to ponder upon the natural narrative limitations that secure the final product as yet another underwhelming silent film, no matter how hard it tries with the lovely cinematography, decent acting and reasonably inspired direction that admittedly do enough justice to an intriguing story concept to make Alfred Hitchcock's "The Manxman" a dated, but endearing final effort for Hitchcock as a man of silent cinema. 2.5/5 - Fair
Cameron Johnson
Super Reviewer
½
If he were still alive, then today, August 13, 2012 would be the day that Alfred Hitchcock turned 113. To celebrate, I watched and am now reviewing the final silent film of his career: 1929s The Manxman. The story here, filmed on location on The Isle of Man, follows that of childhood friends Pete the fisherman and Philip the law student. They end up in a love triangle, both madlyattracted to village girl Kate. Pete ultimately wins her, but, after he is presumed lost/dead at sea, she begins things anew with Philip. Pete later turns up alive and unharmed, and marries Kate. She ends up pregnant, and conflicted over what to do, as the consequences may be dire. Okay, so, storywise this isn't the most original film, and at the time Hitch, despite already establishing himself as The Master of Suspense, was still under contract with British International Pictures, and thus forced to do any picture they gave him, this being his final one for the silent era. It's dour, weepy, and a rather melodramatic romance movie, but it's fairly well played, decently acted, and gorgeously shot. It has some thrilling moments, but this isn't really a thriller. It's just a nice, though not really upbeat love triangle tale. It's passable stuff, yet probably doesn't need to be 129 minutes, and definitely feels that long, if not longer. Still though, it's hard to rip on Hitch too much, and this is a must see for completists.
Chris Weber
Super Reviewer
½
A pretty good silent melodrama from Hitchcock, it's sad and realistic, but some scenes are kind of boring and overly dramatic. Overall, it's a pretty good movie.
The Manxman Quotes
There are no approved quotes yet for this movie.
Discussion Forum
Discuss The Manxman on our Movie forum!