Map of the Sounds of Tokyo
(2009)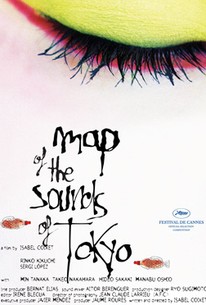 AUDIENCE SCORE
Critic Consensus: No consensus yet.
Map of the Sounds of Tokyo Videos
Map of the Sounds of Tokyo Photos
Movie Info
A hired killer makes the mistake of falling for her quarry in this stylish thriller from Spanish writer and director Isabel Coixet. Ryu (Rinko Kikuchi) is a beautiful woman who works in a fish market in Tokyo, but she also leads a secret life as a professional assassin who performs hits for high-paying clients. Ryu is approached by Ishida, an assistant to powerful businessman Mr. Nagara (Takeo Nakahara). Nagara's daughter Midori took her own life after a bad breakup with David (Sergi Lopez), a wine dealer from Spain, and Nagara believes David is responsible; Ishida, who loved Midori from afar, wants David to pay with his life. Ryu approaches David at his shop prepared to kill him, but she's immediately taken with his good looks and charm, and the two spend the night together. Ryu doesn't think she can murder David and tries to call off her assignment, but this turns out to be more difficult than she imagined. Map Of The Sounds Of Tokyo was an official selection at the 2009 Cannes Film Festival.
Rating:
R
Genre:
, , ,
Directed By:
Written By:
In Theaters:
On DVD:
Runtime:
Studio:
Watch it now
Critic Reviews for Map of the Sounds of Tokyo
All Critics (1) | Fresh (0) | Rotten (1) | DVD (2)

Ozus' World Movie Reviews
A chore of a film given a mediocre transfer, Map of the Sounds of Tokyo maintains Isabel Coixet's record of making pretentious and emotionally shallow clunkers that give the art house a bad name.

The combination of a highly aesthetic, even mannered, cinematic style with genre elements including an assassination plot and forbidden relations in a love hotel results in a film which fails to succeed on any terms.
Audience Reviews for Map of the Sounds of Tokyo
Map of the Sounds of Tokyo (Isabel Coixet, 2009) About twenty minutes before the end of the interminable Map of the Sounds of Tokyo, a couple of things clicked into place. Suddenly I thought I had the movie figured out, and I was about to cut it a whole hell of a lot of slack because that plot twist was absolutely brilliant, nothing you haven't seen before but the setup was subtle and well-grounded and kind of astonishing. I figured out why ten minutes later; I was entirely wrong. Coixet (Elegy), who also wrote, either had no idea what she'd slipped in at that point, or had meant that as a red herring. In the former case, the movie just goes back to being interminable. In the latter case, it fills me with the kind of rage I reserve for movies whose directors are so inept they should never be allowed behind a camera again (I won't name names, but a quick trip through my hundred-worst list noting directors who appear more than once should produce a concise list). I'm trying to be generous and stick with the former interpretation, but if you have the misfortune of watching this movie, stick around until after the credits and check out the final shot of the film. It reinforces some of what I'm going to say below, and it drove me up the wall. Plot: Narrador (The Twilight Samurai's Min Tanaka)'s daughter recently committed suicide. He's not happy about it, and he blames her boyfriend David (Pan's Labyrinth's Sergi López). Narrador wants revenge. David, meanwhile, meets a new woman, Ryu (Norwegian Wood's Rinko Kikuchi), and the two of them begin the ghost of an affair, one in which David has no qualms in telling Ryu that when he's with her, she's just a stand-in for his dead girlfriend. Oddly, she seems okay with this. On the other hand, that is far from the weirdest thing that is going on in this movie. Now, everyone who has delved into modern Japanese cinema-even on the surface these days, with Machine Girl having become a cult smash on this side of the pond-is probably well that weird stuff happens. The Japanese have taken the concept of "magical realism" and thrown it completely off the rails. (Two words: Haruki Murakami.) But the second half of that magical concept is realism; in movies like Hellevator, or even Executive Koala, there's an internal consistency to what's going on. The events in these movies make sense within the universe that the scriptwriter and director have created. And then we have Map of the Sounds of Tokyo. There's the guy who walks around wearing a suit made of bushes. He appears twice in the movie. (Note: I assume this is a male character, but am unsure.) He does nothing in the movie except appear, and as far as I can tell, the only reason for his existence is for Coixet to say "hey, look, I can do that whole weird stuff happens thing, too!". Except that it's not connected to anything, unless I missed something, and thus it's not internally consistent, it's gratuitous... and I'm so annoyed by this I just lopped off an entire star. This is what happens when you don't finish writing your reviews on the day you finish watching the movie. *
Robert Beveridge
I swear Coixet brutishly shoved every detail of Japanese uniqueness into this film like a 1st year film student. Ramen, trains, sake, fish market, love hotels, karaoke, etc. etc. each item gets forced into the plot and strung together without much thought and much meaning. It's as if she knew she had one shot at doing a Japanese themed film, and damn if she wasn't going to jam in everything she found interesting about Japan. Scene after scene is over-explained by a narration that is basically not needed making much of the film banal and painful to sit through. Why let viewers experience their own reading of the film when you can tell them every step of the way? For example, the laughable 'assassin' starts to fall for her target, and immediately the narration cuts in to explain to us that 'this was the moment that it all started to go wrong'. Oh really? I never would have guessed except for being saved by the narrator. Normally films that make this mistake do so only in the beginning, but Coixet trots out the narrator again and again. Add to that a weak overall plot and you are left slightly annoyed and bored. I will give that that cinematography is not bad, so theoretically if you turned the sound off and just watched the pretty pictures is would be a passable film. Not worth the time.
B Rottler
½
"Map of the Sounds of Tokyo" starts with a feast that Michael Fassbender's character from "Shame" would definitely approve of. On the other hand, Nagara(Takeo Nakahara) is less than thrilled but calms down when told that eating hot sushi out of a woman's navel is occasionally the price of doing business. But then he erupts when told of his daughter's suicide. Still angry days later, he does not think it fair that while his daughter is dead, her lover, David(Sergi Lopez), a Spanish wine merchant, is walking around...and that's where Ryu(Rinko Kikuchi), a night worker in the fish market, enters our story. During the day, she is followed around by a sound technician(Min Tanaka) who records her eating soup and accompanies her to the cemetery. Isabel Coixet's films are usually concerned with loneliness and her latest, "Map of the Sounds of Tokyo," is no different with its moody atmosphere. Thoughtfully made, the movie explores the lack of communication between people that cannot always be blamed on different languages. In his three years in Japan, Sergi has only learned the most basic of words. Learning the language would definitely be useful not only in his line of work, but also in not having Nagara hate him. In any case, we can never with any certainty know what the other person is thinking, especially if they are not willing to let us in.
Discussion Forum
Discuss Map of the Sounds of Tokyo on our Movie forum!
News & Features