Mardi Gras: Made in China
(2005)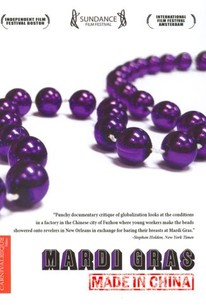 Movie Info
This examination of cultural and economic globalization follows Mardi Gras beads made in China by teenage girls and young women -- who work in a factory 12 to 14 hours a day, six days a week for around 10 cents an hour -- to the adults who exchange them in the 24-hour New Orleans Mardi Gras celebration.
Rating:
NR
Genre:
,
Directed By:
In Theaters:
On DVD:
Runtime:
Studio:
Critic Reviews for Mardi Gras: Made in China
Audience Reviews for Mardi Gras: Made in China
I viewed this film over five years ago and it's still lodged in my memory every time I go and purchase any product. If a film can have that sort of impact on me, it deserves 5 stars automatically.
Valentina Kaulitz
Very comprehensive look at the gaudy plastic ornamentation that has come to symbolize Mardi Gras and is the currency of choice for mammarian displays of pre-Lent revellers. The director walks a fine line between information gathering and casting a critical eye. The film could as easily be a celebration of the success of global manufacturing as an expose of human rights abuses by the penny-pinching benefactors of cheap Chinese labor. There is some great industrial machinery footage of beads being churned out(check out Manufactured Landscapes for even more awe-inspiring industrial scenes). The working conditions and mind numbing repetition are horrendous. The capricious rules and punishments of the Chinese factory owner make high-school principals look like anarchistic free-spirits. Just because there is no ready solution to the inequities of globalization, doesn't mean Mardi Gras goers shouldn't have a better understanding of beads even amidst their oblivious drunken stupors. Bead Companies, come on man.
P Davidson
Essentially an expose of working conditions in a small Chinese factory, as well as the mindset of its manager. Fifteen year-old girls toil 12-to-14-hour shifts, six days a week, 51 weeks a year, for $62 a month in a dormitory/factory under a variety of oppressive rules (enforced by docking weeks of pay) to manufacture the beads tossed out at Mardi Gras - then eventually into the trash. The amount of access the filmmakers obtained is impressive; even more impressive is the frankness, even pride, seen in the manager when explaining his Tayloristic and capitalistic management philosophies. While the conditions portrayed are cruel indeed, the film still does not totally succeed in capturing the viewer's sympathy. The worker most closely studied admits she walked out on her own education and family support toward a medical degree - to instead go to work in this factory. The manager's living conditions are vastly superior to that of his workers, but highlighting that he owns a Pontiac Firebird and that his child has a lot of toys does not exactly paint him the robber-baron. The film's most striking moments are when it exhibits the workers' constant reveling in the small joys of life amidst such squalor. When confronted with pictures and stories regarding how the beads are used, the factory fills with smiles, snickers and laughter, rather than the indignation the viewer might expect. Nevertheless, when I trekked to WallyWorld at 4am this morning and passed by a display of colorful bundles of Mardi Gras beads, priced at $1.50 each, I stopped and stared and thought a few moments of these workers, sadly trapped in their endless cycle of misery and optimism - thought of them in just the way these filmmakers intended.
TonyPolito Polito
Mardi Gras: Made in China Quotes
There are no approved quotes yet for this movie.
Discussion Forum
Discuss Mardi Gras: Made in China on our Movie forum!