Mark Twain Tonight
(1967)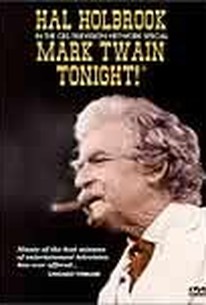 AUDIENCE SCORE
Critic Consensus: No consensus yet.
Movie Info
Hal Holbrook re-creates for the screen his widely acclaimed stage monologue as Mark Twain, noted American humorist and author of the classic novel The Adventures of Tom Sawyer. The screen actor's award-winning portrayal is considered the quintessential model for one-man theatrical performances. Holbrook has been performing as Twain for more than 40 years, calling upon an archive of memorized material rather than a predefined script.
Rating:
NR
Genre:
, , ,
Directed By:
In Theaters:
On DVD:
Runtime:
Critic Reviews for Mark Twain Tonight
There are no critic reviews yet for Mark Twain Tonight. Keep checking Rotten Tomatoes for updates!
Audience Reviews for Mark Twain Tonight
Hal Holbrook captures Twain. No doubt about it. While a stage act and a podioum seem unlikely to thrill anyone, this performance by Holbrook defies gravity. Harold Rowe "Hal" Holbrook, Jr. (born February 17, 1925) is an American actor. [img]http://matchbin-assets.s3.amazonaws.com/public/sites/577/assets/D0A3_DSC_1798.JPG[/img] SEE a clip of this live, on stage performance: http://www.youtube.com/watch?v=PNql_eRsWJo AND, SEE all 10 installments on youtube.com starting with part one: http://www.youtube.com/watch?v=PNql_eRsWJo&list=PL23606DA3F333D6E2 [img]http://www.dallasnews.com/incoming/20110318-mark_twain_tonight_4_18512199.jpg.ece/BINARY/w620x413/MARK_TWAIN_TONIGHT_4_18512199.JPG[/img] Hal Holbrook as Twain Holbrook's television roles include Abraham Lincoln in the 1976 TV series Lincoln, Hays Stowe on The Bold Ones: The Senator and Capt. Lloyd Bucher on Pueblo. He is also known for his role in the 2007 film Into the Wild, for which he was nominated for a Screen Actors Guild Award and an Academy Award. He has also performed a one-man show as Mark Twain since 1954. If you EVER had any feeling for the Missouri river captain of 6 fathom humor, get this dvd (or even less expensive on vhs through amazon.com). Sure to make you reflect on why you live and die, laugh or cry, marry or kick the dog. [img]http://blogs.umsl.edu/news/files/2012/03/holbrook_twain_495_279.jpg[/img] Why Holbrook ever undertook this facinating impersonation of the beloved rebel without a cause I have yet to find out. Take if from me, until you hear this stellar recitation on stage that millions heard live in 1967, you ain't heard nothin' yet. Wordy, verbose, you name it, Twain had a way with words. Talks topics ranging from Congress, imperialism, heaven, Satan, religion, Huckleberry Finn, river captains, drinking etc. While overly long and way too many cigars, Holbrook is as fine a impersonator as can be. He tends to digress and some of the stories he tells are just too hard to understand. A gem, a jewel, a thought provoking stage performance live and in person, by one man. The only criticism I would have is that this performance was way too long and ended rather anti-climatically. [img]http://images.bwwstatic.com/columnpic/marktwainsf1.jpg[/img] At the height of the Vietnam war, some of Holbrook's comments are directly aimed at the confilct. Without saying so, his jabs at Congress and war in general speak to the nation about the sad conflict being waged in Vietnam. Aired on national TV when over 30 million viewers watched Holbrook's first televised broadcast of his one man show. On March 6, 1967, this show aired for the first time. Color,vhs, television grade, running time 90 minutes. Dolby sound. Note: the audio of this television broadcast is not as crisp and clear as it should be. Not closed captioned either. [img]http://popejoypresents.com/2012-2013/hal-holbrook-in-mark-twain-tonight/image_wideheader[/img] REVIEWS: 1 After 60 years, Hal Holbrook's Mark Twain Tonight! still has lessons for us.... by Stephen Trageser arts@nashvillescene.com. 2 Hal Holbrook is so spectacular in his one-man performance that you could swear you were listening to Twain himself. --amazon.com 3 That Mr. Holbrook has performed Mark Twain every year since 1954, in over 2000 shows, is nothing short of miraculous. This 90 minute performance brings the wisdom, humor and humanity of one of the most morally insightful men of the 19th century to life. His words continue to be as hilarious, poignant and relevent in the 21st century as they were in his own time. 4 All you young English teachers, take note: on a scale of one-to-five stars, this performance of Mr. Holbrook is a six. Maybe seven! [img]http://smi.wilmingtonandbeaches.com/imagethumbnail.aspx?path=coeimages&imgName=1057_2274_Mark%20Twain%20Tonight.jpg[/img]
monsieur rick
½
Hal Holbrook was a young man when he did this; he memorized 14 hours of Twain's material; sadly it is not all on this DVD; But it is excellent; you might shed a tear; youl will definietly laugh.
Glen Shrope
Mark Twain Tonight Quotes
There are no approved quotes yet for this movie.