Marooned in Iraq
(2003)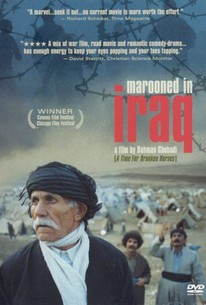 Movie Info
Iranian filmmaker Bahman Ghobadi directed this wartime drama leavened with comedy, which at once examines the Gulf War of the early '90s and offers a prescient perspective on the attitudes and events which (in part) led to the War in Iraq in 2003. It's 1991, and in the wake of the War in the Persian Gulf, Saddam Hussein's forces are laying waste to villages in Iraq and Kurdistan believed to be harboring rebel forces who were attempting to bring down Hussein's regime with the encouragement, but without the military support, of the United States. In the midst of this chaos, Mirza (Shahab Ebrahimi), an elderly Kurdish singer living in Iran, becomes concerned about the safety of his ex-wife and former singing partner, Hanareh (Iran Ghobadi), who over two decades earlier left him to marry another member of their ensemble and move to Kurdistan. Mirza rounds up his sons, Barat (Faegh Mohamadi) and Audeh (Allah-Morad Rashtian), and together they set out to find Hanareh, constantly bickering along the way. While Mirza and his sons witness firsthand the horrible devastation which has been visited upon Iraq by both U.S. bombs and Hussein's bloody reprisals, they also find moments of beauty and humor along the way, and come to better understand the strength of their people under unimaginable adversity. Marooned in Iraq was screened as part of the "Un Certain Regard" series at the 2002 Cannes Film Festival.
Critic Reviews for Marooned in Iraq
Audience Reviews for Marooned in Iraq
½
[font=Century Gothic][color=darkslateblue]"Marooned in Iraq" takes place in the Kurd dominated regions of Iran and Iraq, towards the end of the Iran/Iraq war. An older musician named Mirza goes in search of his ex(?)-wife, along with his two sons - one unmarried, one married seven times over, with eleven daughters and desperately wants another wife to finally give him a son.(The latter son is in desperate need of feminist teachings. Considering that women cannot sing out in public, perhaps the whole region is, also.) What happens is a journey funny, dangerous and touching - as the trio wanders on the edge of a war zone and witness the destruction that Saddam Hussein has wrought first hand. They also meet up with characters who try and profit from the war plus those whose lives the war has changed for the worst. [/color][/font]
Marooned in Iraq Quotes
There are no approved quotes yet for this movie.