Marronnier
(2004)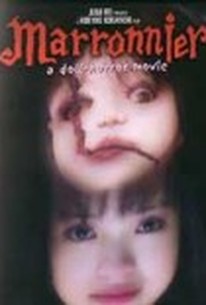 AUDIENCE SCORE
Critic Consensus: No consensus yet.
Movie Info
This intense Japanese thriller by Akira Kobayashi doesn't skimp on the horror as it recounts the tale of an inventor with a menacing streak who's come up with a contraption that changes humans into marauding dolls. One of his creations becomes the toy of an unsuspecting young girl who becomes the subject of strange fascination for the inventor's assistant, and his pursuit of her attention threatens to destroy everyone in his path.
Critic Reviews for Marronnier
All Critics (2) | Fresh (0) | Rotten (2) | DVD (4)
here's how you know it's really bad. I find Japanese girls adorable, and this movie is chock full of them, AND IT'S STILL COMPLETELY UNWATCHABLE!
impossible to recommend
June 11, 2005 | Rating: 2/5
Audience Reviews for Marronnier
½
There's nothing wrong with the plot exactly, but it's very obviously a low budget production - not only in terms of the camera picture, but in the technical effects used such as speeding up the picture. The soundtrack seems oddly divorced from the visuals, as if the actors have been dubbed over or the soundtrack hasn't been synched up properly. The film has a very manga-like quality - which was probably intentional as Junji Ito was involved with production. However, instead of working in its favour, as in Uzumaki, the effects are distracting and somwhat off-putting. it would work well as a manga (not so much an anime, I think), or even a big budget production if it took itself a touch more seriously.
Sweet Christ, this is just...beyond words. It's a movie about evil dolls and their insane makers. And I can't imagine it was shot on any more than 100 dollars. Seriously. I read somewhere that it was a student film and I would not be in the least bit surprised. This is a creation of legendary badness. I wish I could do it justice. There's a scene where the heroine gets chased by killer doll legs. There's a scene where her lesbian best friend fashions a makeshift bandanna out of a dress and assaults the bad guy with a battle axe. There's a scene where the insane puppet-maker assistant brushes his teeth so hard he starts to bleed (remember that the director was a dental hygiene student). I just don't even know. I think you would do well to watch this while drunk with friends, though. Laughs will abound.
Drew Smith
Super Reviewer
Marronnier Quotes
There are no approved quotes yet for this movie.