Marshall
(2017)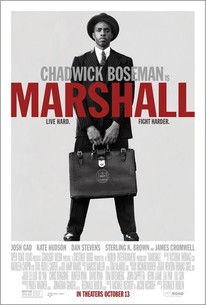 TOMATOMETER
AUDIENCE SCORE
Critic Consensus: Marshall takes an illuminating, well-acted look at its real-life subject's early career that also delivers as an entertainingly old-fashioned courtroom drama.
Movie Info
Starring Chadwick Boseman, Josh Gad, Kate Hudson, Dan Stevens, Sterling K. Brown, and James Cromwell. Director Reginald Hudlin's Marshall, is based on an early trial in the career of Supreme Court Justice Thurgood Marshall. It follows the young lawyer (Chadwick Boseman) to conservative Connecticut to defend a black chauffeur (Sterling K. Brown) charged with sexual assault and attempted murder of his white socialite employer (Kate Hudson). Muzzled by a segregationist court, Marshall partners with a courageous young Jewish lawyer, Samuel Friedman (Josh Gad). Together they mount the defense in an environment of racism and Anti-Semitism. The high profile case and the partnership with Friedman served as a template for Marshall's creation of the NAACP legal defense fund.
News & Interviews for Marshall
Critic Reviews for Marshall
Audience Reviews for Marshall
This is a slightly above average, old-fashioned courtroom drama that doesn't push the envelope or pack any surprises but doesn't really disappoint either. Chadwick Boseman and Sterling K. Brown put on fine performances, while Gad, who I'm not a huge fan of if I'm being honest, does his best to keep pace. This is a solid movie about a subject that deserves to be spotlighted, but not a film that will leave a lasting impression.
Sanjay Rema
Super Reviewer
I hate to say most, but there's a lot of biopics that are very formulaic in nature. And come to think of it, every genre deals with that issue. I can acknowledge that it's immensely hard to make a film that feels fresh and relevant at the same time. But I think the reason I tend to feel this way about biopics is because a lot of them seem to be directly aimed for the Oscar audience. And while that could be the case with Marshall, it's nothing less than a delightful film to watch. As with so many biopics, the main reason Marshall succeeds is Chadwick Boseman's unsurprisingly good turn as the famous lawyer, Thurgood Marshall. Whether or not Thurgood was this way in real life, I absolutely loved the sheer display of confidence in Boseman's portrayal. It was almost to the point of cockiness, without being arrogant. It's that balance that made me appreciate what this man brought to the table. Of course, there's also the dynamic of having a story that is still relevant to this day. Not only are people of color still discriminated, underestimated, and not believed in the court of law, but the idea of pitting race against race in the courtroom is something that is still unfortunately an issue today. So in a way, it was disheartening to watch the injustices happening throughout Marshall, as we know they are far from being over in the 1940's, but it's always nice to see something stick up for their people no matter what time period they are from. Boseman isn't the only one who gives a good performance as Josh Gad, Sterling K. Brown, Kate Hudson, James Cromwell, and a few others give valuable turns as their respected characters. I think my only issue with the film is that it ultimately felt very safe. I'm not one to know how these real life cases played out, but Marshall definitely feels like it took a guarded approach to the subject matter. Because of that, you can appeal to a mass audience, but I don't know that it was as detailed or thorough that it needed to be. Don't get me wrong, Marshall is a powerful film, but I think it could have taken an even further step forward into that realm. 8.2/10
Thomas Drufke
Super Reviewer
One might think, given Chadwick Boseman has now played three historical characters in three rather high profile biopics, that it is not only something the actor enjoys or is good at, but that these historical figures might begin to meld together in one fashion or another as far as their screen personas are concerned. If nothing else though, Marshall proves that Boseman is as skilled an actor as he is a disguise artist given his representation of the titular character in Marshall is as different and unexpected as his incarnations of Jackie Robinson and James Brown were before. The fact Boseman doesn't really share any physical features with the late Marshall isn't distracting for, as Boseman has done in the past, he seemingly captures a spirit or an essence of that person-even if their personality wasn't widely known-and delivers in his portrayal that real personality. It's authentic and it's something you can't manufacture. Lucky for audiences, Boseman's performance and its definitive nature in clarifying Boseman's transformative abilities is not all the movie has to offer as Marshall is a number of interesting things bound together in a seamless and rather moving package that just so happens to include another phenomenal turn from an actor who has shown time and time again that there is no reason to doubt his talent or his choices. Furthermore, Marshall is as much a movie about Mr. Thurgood Marshall, American lawyer and eventual Associate Justice of the Supreme Court, as it is about Sam Friedman (Josh Gad), an insurance lawyer from Greenwich, Connecticut who comes to form something of an uncommon bond with the famed lawyer who went from town to town for the NAACP fighting for African Americans who were on trial not for their deeds, but for their race. It is important to note that Friedman was a white Jew (this takes place in 1941, mind you) and is someone who no doubt faced prejudice in his own life to certain extents, but it is this combination of Boseman and Gad and their buddy dynamic, of the biopic and the courtroom drama, and of those whodunit aspects with the structure of a super hero origin story that sets Marshall apart from not just being another serious drama pining for awards by portraying real-life events, but a motion picture that is genuine in its attempt to portray all facets of the life of a man who strove for nothing but admirable change. read the whole review at www.reviewsfromabed.com
Philip Price
Super Reviewer
Marshall Quotes
There are no approved quotes yet for this movie.
Discussion Forum
Discuss Marshall on our Movie forum!