Martin & Orloff
(2002)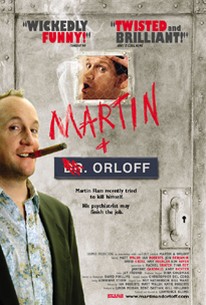 Movie Info
American independent filmmaker Lawrence Blume makes his feature debut with the absurd dark comedy Martin & Orloff, starring a lot of the folks from the Upright Citizens Brigade. Martin Flam (Ian Roberts) designs mascot costumes for a corporate chain of Chinese restaurants. After a failed suicide attempt, he goes to see the incompetent therapist Dr. Eric Orloff (Matt Walsh). Under the guise of conducting therapy sessions, the quack doctor then drags Martin on a series of seemingly random adventures about town. Dr. Orloff then recruits a gang of oddballs and malcontents (played by Katie Roberts, Sal Graziano, David Cross, and H. Jon Benjamin) to help Martin face his fears. The film also includes cameos from comedians Janeane Garofalo, Tina Fey, Andy Richter, and Amy Poehler. Martin & Orloff was screened at the 2002 South by Southwest Film Festival.
Critic Reviews for Martin & Orloff
Audience Reviews for Martin & Orloff
[center][img]http://dads-computers.com/Trivia2006/movieposters/martinorloff.jpg[/img] [/center] [font=Century Gothic] I'm biased towards this movie due to the Upright Citizens Brigade connection (I take classes developed by the troupe and generally worship the ground they walk on), but I think I can safely call it one of the funniest indie comedies in the last few years, partially because the competition has been so lousy. World's greatest straight man Ian Roberts wrote the script with his wife Katie and his fellow UCB stockholder Matt Walsh, based on improvisations similar to the way they constructed their cult Comedy Central series. The other half of the team, Matt Besser and Amy Poehler, also appear along with other alt-comedy favorites like David Cross and Jon Benjamin. As such, this is high-pedigree humor, and even the most asinine, gutterball jokes have a higher mark of quality than your run-of-the-mill raunch-com. There's not a lot of substance to it (though there is a certain deranged poignance to starting off your film with the main character cleaning up the splatter of his attempted suicide), but it also can't be accused of any of the usual shortcomings of the Farrellys and Sandlers of the world. Instead of attempting to tidy up its boys' club hijinx with unnecessary love stories and undeserved warmth, it just gets increasingly absurd and bizarre, continuously flying in the face of the very concept of being a movie and pulling off otherworldly gags that would be a hard sell on paper. The primary goal at all times is to go for the biggest and/or least obvious laugh possible, and sometimes that means completely abandoning the structure of the script for a marginal throwaway gag, but usually it leads to grand "I can't believe they put this in a movie" moments. It's cheaply, hastily assembled, and there's a strange sense that half the actors are walking in clueless as a favor and improvising the story out of a hole, but Roberts and Walsh make an unbelievably funny team, and even its most rough-and-tumble moments are still chuckle-worthy. Credit is due to Lawrence Blume (son of Judy, for real) for reigning all this anarchy into something resembling a real film, and a damn funny one at that.[/font]
John Ferrer
½
Jon Benjamin stole this movie in what scenes he had. Otherwise, this comedy piloted itself well given its subject matter. Definitely solid.
C.J. Hammond
Absolutely unbelievable absurdly undeniably brilliant and hilarious. The best comedy no one has ever heard of. See it now. But also tell me, why did you try to kill yourself?
Louis Falcetti
Martin & Orloff Quotes
There are no approved quotes yet for this movie.
Discussion Forum
Discuss Martin & Orloff on our Movie forum!