Martin Lawrence Live - Runteldat
(2002)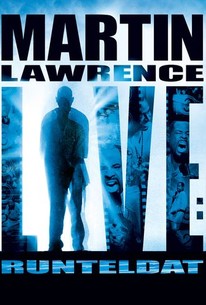 Martin Lawrence Live - Runteldat Photos
Movie Info
The no-holds-barred documentary-style footage -- spiced with rousing rap music, Martin Lawrence's own razor-sharp commentary and a glimpse of both his triumphs and setbacks -- is only the beginning. Next comes the blackout stage with only the Runteldat logo illuminated in the background and the sound of thousands of adoring fans shrieking and clapping in delight. And finally, as the anticipation mounts to a near-frenzied peak, the announcer booms: "Ladies and Gentleman....Martin Lawrence!"A spotlight hits center stage where the man of the hour stands behind a screen surrounded by smoke. Slowly, the proverbial fog lifts to reveal Lawrence, who descends down a flight of stairs as he waves victory/peace signs...and then he flashes that devilish grin that has "Get ready for a wild ride" written all over it. Yes, the controversial bad-boy of comedy definitely delivers a piercing look at his life, lifting the metaphorical smokescreen that he feels has clouded the public view, commenting on everything from the dangers of smoking to the trials of relationships, and unleashing a nonstop litany of raucous anecdotes, stinging social commentary and very personal reflections about life. -- (C) 2002 Paramount Pictures
Rating:
R
Genre:
,
Directed By:
In Theaters:
On DVD:
Box Office:
$19,065,844.00
Runtime:
Studio:
Critic Reviews for Martin Lawrence Live - Runteldat
Audience Reviews for Martin Lawrence Live - Runteldat
Out of all the stand up specials out there, this is the one that got a theatrical release? It's awful. Lawrence's jokes are crude and unfunny.
Steven Gassaway
½
well, archiebald and i broke our record for most movies watched in a day. the new record is six! kick ass...anyway, here's the rundown, in order of viewage... [b]the scorpion king[/b] picked it up for five bucks so don't start screaming at me. it was worth that just to see kelly hu...HOT!! even though the movie is seriously flawed, it is still fun... [img]http://www.cablenet.com.ni/entretenimiento/cine/resources/scorpion_king/4039-150x500.jpg[/img] see? i told you she was smokin... [b]the following[/b] i rated and reviewed it already. scroll down if your that curious. [b]batman forever[/b] or at least for a little while. kilmer takes the mantle of the bat and pussifies it a bit. while this is way worse than the original and sequel, it is worlds better than its succesor. and kidman is hot as hell. and don't let yourself be fooled. tim burton produced this madness, so he approved. bastardising the batman franchise? it began with burton. carrey is great, and is the reason to see the movie. he IS the riddler. [img]http://www.chourave.ch/serials/comics/img11/batman-aaargh.jpg[/img] [b]dawn of the dead[/b] then we moved on to the theatre, and it was well worth it. great flick...fun, and i liked the zombies even better than 28 days later. only thing that still irritates me? everyone has seen a zombie flick, so why must we try to talk to our recently turned friends? what, did they put on their zombie-proof suntan lotion today? THEIR FUCKING ZOMBIES, KILL THE BASTARDS. quit with the waiting around.... [img]http://www.cinema.vrn.ru/images/13dec/dawn_of_the_dead.jpg[/img] [b]martin lawerence stand up[/b] i've seen better, i've seen worse. does get better as it progresses though... [img]http://www.blackflix.com/images/reviews/runteldat.jpg[/img] [b]private parts[/b] being a stern fan, i had to rent this again. funny tale of the king of all media. love him or hate him, you will enjoy this flick. really. [url="http://www.bigbelch.com/celebs/stern.wav"][img]http://bigbelch.com/celebs/stern.jpg[/img][/url] good fight, good night!
Kaneda !
Martin Lawrence Live - Runteldat Quotes
There are no approved quotes yet for this movie.