Marvin's Room
(1996)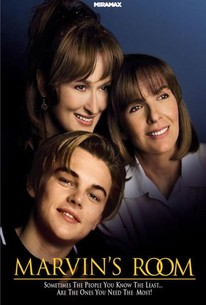 TOMATOMETER
AUDIENCE SCORE
Critic Consensus: Marvin's Room rises above the pack of dysfunctional family dramas thanks to an impeccable cast that includes Meryl Streep, Diane Keaton, and Leonardo DiCaprio.
Movie Info
Featuring an all-star cast, this drama is about two estranged sisters. Bessie has spent 20 years caring for her bed-ridden father. Lee is far more independent, raising her two boys alone. When a doctor diagnoses Bessie with leukemia, Lee is called upon for a bone-marrow transplant.
People Who Like this movie also like
News & Interviews for Marvin's Room
Critic Reviews for Marvin's Room
Audience Reviews for Marvin's Room
Sometimes the people you know the least...are the ones you need the most! Good movie! 'Marvin's Room' doesn't try to give simple answers; after all, all families have dysfunctions, but instead is like a canvas that reveals itself for the many layers of dynamics between its players and does so in an uplifting manner, much like the beautiful moment when Bessie and Lee witness Marvin's delight in seeing a display of light coming from a mirror Bessie is holding. It's a quiet moment, one of intense love, that shows the power of family despite the odds, and what better way to end the film with Gwen Verdon's last line? Hope is all around. Great acting performances, go see it! Estranged since their father's first stroke some 17 years earlier, Lee and Bessie lead separate lives in separate states. Lee's son, Hank, finds himself committed to a mental institution after setting fire to his mother's house. His younger brother, Charlie, seems unfazed by his brother's eccentricities or his mother's seeming disinterest. When Lee comes to the asylum to spring Hank for a week in Florida so that he can be tested as a possible bone marrow donor for Bessie, Hank is incredulous. "I didn't even know you had a sister," he says. "Remember, every Christmas, when I used to say 'Well, looks like Aunt Bessie didn't send us a card again this year?'" "Oh yeah," Hank says. Meanwhile, Marvin, the two women's bedridden father, has "been dying for the past twenty years." "He's doing it real slow so I don't miss anything," Bessie tells Dr. Wally. In Bessie's regular doctor's absence, it has fallen to Dr. Wally to inform Bessie that she has leukemia and will die without a bone marrow transplant. This precipitates the two sisters uneasy reunion. In Marvin's room, Bessie cares for her father's every need. In Lee's eyes, the sacrifice Bessie has made is too great and realizing the old man's welfare will fall to her if Bessie dies, Lee's first instinct is to look for a nursing home. "In a few month's, I'll have my cosmotology degree," she says. "My life is just coming together; I'm not going to give it all up, now!" As first Lee is tested and then the boys for the compatibility of their marrow with Bessie's, the women take stock of their lives and rediscover the meaning of "family."
½
This is another movie I had to watch for a class, and now I barely remember it. All I remember is everyone loving Leo, and thinking to myself how boring the movie was.
½
While it is horrible story, the acting makes this movie quite entertaining. Leonardo DiCaprio, Robert De Niro and Meryl Streep gave some great performances that nearly overshadow Diane Keaton's horrible one. It was an obvious sap story that fails to produce any empathy for the character in trouble.
Conner Rainwater
Super Reviewer
Marvin's Room Quotes
There are no approved quotes yet for this movie.