Mary of Scotland
(1936)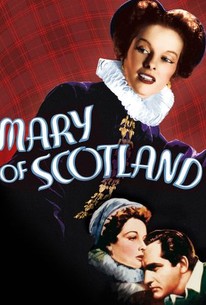 AUDIENCE SCORE
Critic Consensus: No consensus yet.
Movie Info
Maxwell Anderson's blank-verse play Mary of Scotland was adapted for the screen by Dudley Nichols and directed with a surprising paucity of verve by John Ford. Katharine Hepburn, in one of the "icy" roles that would later earn her the onus of "box office poison", stars as Mary Stuart, who serves as the Queen of Scotland until she is jealously put out of the way by her British cousin, Queen Elizabeth I (Florence Eldredge). Sold out by the Scots nobles, Mary is sentenced to the chopping block for treason. Elizabeth is willing to pardon Mary if only the latter will renounce all claims to the British throne, but Mary refuses, marching to her death with head held high (the Mary/Elizabeth confrontation scene was purely the product of Maxwell Anderson's imagination; in real life, the two women never met). RKO contractee Ginger Rogers dearly coveted the role of Queen Elizabeth, but the studio refused to allow her to play so secondary a role. To prove to the RKO executives that she would be ideal for the part, Ginger secretly arranged for a screen test, in which she was convincingly made up as Elizabeth (even to the point of cutting her hair into a high-foreheaded widow's peak). Contemporary reports indicate that Ginger's audition was brilliant; still, RKO would not consider casting her in the part, so the role of Elizabeth went to Florence Eldridge, the wife of Fredric March, who was cast in Mary of Scotland as Mary's fearless protector the Earl of Bothwell. On the whole, Mary of Scotland is a snoozefest, save for the scenes featuring Douglas Walton as Mary's cowardly husband Darnley.
Critic Reviews for Mary of Scotland
There are no critic reviews yet for Mary of Scotland. Keep checking Rotten Tomatoes for updates!
Audience Reviews for Mary of Scotland
She'll see you when she wants to see you. Mary is the Queen of Scotland who is sick of her family and associates pushing her in a direction that will lead to war and/or poverty for her people. Her half brother stabs her in the back leading to her arrest by Queen Elizabeth where she is held hostage/prisoner. She tries several attempts to change her situation, but her attempts are stymied. Will she give in to the desires of her associates or will she stand firm by her beliefs? "War? Is that all you men know?" John Ford, director of Grapes of Wrath, Stagecoach, The Man who Shot Liberty Valance, The Searchers, Rio Grande, My Darling Clementine, and Young Mr. Lincoln, delivers Mary of Scotland. The storyline for this picture is interesting with some great characters but not overly compelling or dynamic. The acting is pretty good and the cast includes Katherine Hepburn, John Carradine, Donald Crisp, Ralph Forbes, Fredrick March, and Alan Mowbray. "I know where you stand. I know where I stand." This was recently on Turner Classic Movies (TCM) and grabbed my attention since it starred Katherine Hepburn, who is always awesome. This is interesting and a must see for fans of the classics, but it is mostly dialogue and very straightforward and predictable. This wasn't as dramatic as it probably could have been. I only recommend seeing this if you're a fan of classic films. "You were always afraid of me. You're afraid of me still." Grade: C+
Kevin Robbins
½
A stately bore that is full of historical inaccuracies. Kate Hepburn puts on a good show but her Mary bears no resemblance to the actual shallow and conniving Mary.
½
Moderately interesting period piece that plays more like propaganda than anything else. I'm not really sure what Ford was going for here.
Jeff Bachman
Mary of Scotland Quotes
There are no approved quotes yet for this movie.
Discussion Forum
Discuss Mary of Scotland on our Movie forum!