Mary Poppins
(1964)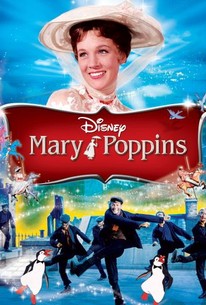 TOMATOMETER
AUDIENCE SCORE
Critic Consensus: A lavish modern fairy tale celebrated for its amazing special effects, catchy songs, and Julie Andrews's legendary performance in the title role.
Movie Info
Long resistant to film adaptations of her Mary Poppins books, P.L. Travers finally succumbed to the entreaties of Walt Disney, and the result is often considered the finest of Disney's personally supervised films. The Travers stories are bundled together to tell the story of the Edwardian-era British Banks family: the banker father (David Tomlinson), suffragette mother (Glynis Johns), and the two "impossible" children (Karen Dotrice and Matthew Garber). The kids get the attention of their all-business father by bedevilling every new nanny in the Banks household. Whem Mr. Banks advertises conventionally for another nanny, the kids compose their own ad, asking for someone with a little kindness and imagination. Mary Poppins (Julie Andrews in her screen debut) answers the children's ad by arriving at the Banks home from the skies, parachuting downward with her umbrella. She immediately endears herself to the children. The next day they meet Mary's old chum Bert (Dick Van Dyke), currently employed as a sidewalk artist. Mary, Bert, and the children hop into one of Bert's chalk drawings and learn the nonsense song "Supercalifragilisticexpialidocious" in a cartoon countryside. Later, they pay a visit to Bert's Uncle Albert (Ed Wynn), who laughs so hard that he floats to the ceiling. Mr. Banks is pleased that his children are behaving better, but he's not happy with their fantastic stories. To show the children what the real world is like, he takes them to his bank. A series of disasters follow which result in his being fired from his job. Mary Poppins' role in all this leads to some moments when it is possible to fear that all her good work will be undone, but like the magical being she is, all her "mistakes" lead to a happy result by the end of the film. In 2001, Mary Poppins was rereleased in a special "sing-along" edition with subtitles added to the musical numbers so audiences could join in with the onscreen vocalists.
News & Interviews for Mary Poppins
Critic Reviews for Mary Poppins
Audience Reviews for Mary Poppins
½
One of Disney's best musicals to date, with a good story to follow as well. A real classic.
A magical Disney film that marvels us with fantastic special effects, a splendid combination of live action and animation, an unforgettable performance by Julie Andrews and a great amount of memorable musical numbers that stay in our heads and make us hum them for hours after the movie is over.
Carlos Magalhães
Super Reviewer
½
Although it's running time is a bit of a drag at times, "Mary Poppins" boasts strong musical numbers and many story elements that kids and adults can relate to. I will say that with age, this film does begin to grow a little slow, and I'm sure I'll get tons of hate for this, but it just does not connect well today. I feel like kids will love it, and I highly enjoyed watching it, but for what it is, it should be kept stored away until your kids can watch it. The most interesting things happen during the first half of the picture, which upset me a little, because I wanted a little more in the finale of the film. Sure the musical numbers are nice, but there are too many in my opinion. All in all, "Mary Poppins" is a very charming film that you can enjoy at any time, and even though it's not one of my personal favourite Disney films, it's still a very strong one.
Mary Poppins Quotes
| | |
| --- | --- |
| Bert/Mr. Dawes Sr.: | Winds in the east, there's a mist coming in, like something is brewing, about to begin. |
| | |
| --- | --- |
| Mary Poppins: | Mary Poppins, practically perfect in every way. |
| | |
| --- | --- |
| Mary Poppins: | In every job that must be done, there is an element of fun. |
| | |
| --- | --- |
| Mary Poppins: | Supercallifragilisticexpialidocious! |