Mary, Queen of Scots
(1972)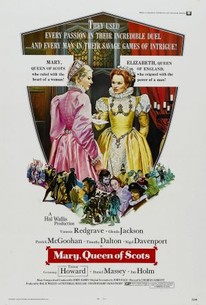 AUDIENCE SCORE
Critic Consensus: No consensus yet.
Mary, Queen of Scots Photos
Movie Info
Vanessa Redgrave stars as Mary Stuart of Scotland, with Glenda Jackson co-starring as Queen Elizabeth I. As with the earlier Maxwell Anderson play Mary of Scotland, the film sympathizes with Mary, and there are two fictionalized face-to-face confrontations between the two queens (who never met in real life). With this film, old-line Hollywood producer Hal Wallis continued his trademark of showcasing dynamic stars within a period milieu; the film is literally swamped with lavish Tudor decor. ~ Hal Erickson, Rovi
Critic Reviews for Mary, Queen of Scots
There are no critic reviews yet for Mary, Queen of Scots. Keep checking Rotten Tomatoes for updates!
Audience Reviews for Mary, Queen of Scots
A very interesting fictional interplay between Mary Stuart and Queen Elizabeth I carried by two fabulous actors in Vanessa Redgrave and Glenda Jackson.
John Ballantine
Super Reviewer
Oscar nominated 5 time 1971 bio-drama about Mary, Queen of Scotland and her suspicious cousin Queen Elizabeth Tudor of England. There is more royal inbreeding in this film than you could imagine. It's still faithful to history in most respects but gets criticised for a few scenes, like the Queens actually meeting... they did not. [img]http://t2.gstatic.com/images?q=tbn:ANd9GcRIFCPiYHuuXXQW6gjCOlgdQqiDfsLL_CMM59oWegTL-luLhyK-[/img] Mary's brother is a traitor and not worthy Naive Mary (Redgrave) accepts to return to her native country Scotland a young widow, only to be manipulated by her cousin Queen Elizabeth (Jackson) into another marriage of her choosing (with Timothy Dalton,a James Bond), not Mary's. [img]http://t3.gstatic.com/images?q=tbn:ANd9GcTAbWAcQICnWdei2F4oMhL3Djd5XikzGty5DvJmvxjwiPW3FbKr6Q[/img] Stern Queen Elizabeth Tudor (Glenda Jackson) Queen Mary vowed to rule with mercy and ignored advice to the contrary. She thought that with time she could gather support to invade England and regain her rightful throne there, removing cousin Queen Elizabeth Tudor. But no two cousins could be further apart in personality and eventually Elizabeth gained the upper hand on Mary and eventually Mary payed the ulitimate price after years of royal "imprisonment" at various castles. [img]http://t3.gstatic.com/images?q=tbn:ANd9GcQMvy55xSXGYEU0GT87cni9E6UrZcI4wA5yDfs2cxWrdjBfah3T[/img] Mary Queen of Scots (Redgrave) who loved yet lost at love Can be difficult to follow with all the language of the period, but it's not too enslaved by it as say a Shakespeare play. You just have to sort of ignore some of the dialog and figure all will reveal itself in due time. [img]http://t0.gstatic.com/images?q=tbn:ANd9GcTLhctUuCyPsgDLyGuSJvmgpm6dWLEiJ_NUWOlwfNo1OTmZpReq[/img] Her second husband and gay, "thought" he would be a real King. But at least he did manage to father a boy. "Mary, Queen of Scots is a 1971 Universal Pictures biographical film based on the life of Mary, Queen of Scots. Leading an all-star cast are Vanessa Redgrave as the titular character and Glenda Jackson as Elizabeth I."-- Wikipedia The real source of friction between Queen Mary, a Catholic and her subjects is a religious one. Scotland became dominated by Protestants who threw out or executed the Catholic heirarchy in Scotland. Mary no sooner gets to the shores of Scotland then she is met with a problem which will vex her reign for years. [img]http://t1.gstatic.com/images?q=tbn:ANd9GcR6KYC3q2SR7_2b1rl8JAh6d0ITUbvcx_WDetNlgiTMPrWMrVXaHQ[/img] Shrewd Queen Elizabeth Tudor is in control all the time to the bitter end I am sure most of RT's young fan base will recoil from watching this fine film and the great acting performances of Redgrave, Jackson, Patrick McGoohan and the rest of the cast.... but don't sell it short. A fine film by legend producer Hal Wallis. [img]http://t2.gstatic.com/images?q=tbn:ANd9GcQUQojyeLnk-wrkOjoyr_qraL4U25Gi-9Hs35c8u2Ai_pnY643WQA[/img] Poor Mary RT Community REVIEWS: 70% this is THE cheese, historical soap opera. the two lead actress are terrific, the sequencing is epic and the dialogues... 70% Well made period piece with good dialogue. Glenda Jackson was especially superb. Biggest flaws were an inherent sense of triteness coupled with seriou... [img]http://t1.gstatic.com/images?q=tbn:ANd9GcQc_1igJlQz6jiH5GNoizMfWjieI6wqTjJhjyc5sUvFxLyCXjL3[/img] Mary arriving ashore where she thought she was welcome SEE the entire film here, it's pure spectacle on screen: www.youtube.com/watch?v=WthFp6cq464 Cast Vanessa Redgrave as Mary, Queen of Scots. Glenda Jackson as Queen Elizabeth I of England Patrick McGoohan as Mary's half-brother James Stewart, 1st Earl of Moray Timothy Dalton as Mary's second husband Henry Stuart, Lord Darnley Nigel Davenport as Mary's third husband, James Hepburn, 4th Earl of Bothwell Trevor Howard as Elizabeth's advisor Sir William Cecil Daniel Massey as Elizabeth's lover, Robert Dudley, Earl of Leicester Ian Holm as Mary's advisor, David Rizzio Robert James as Scottish religious reformer John Knox Richard Denning as Mary's first husband, King Francis II of France Katherine Kath as Mary's first mother-in-law, Catherine de' Medici Vernon Dobtcheff as Mary's uncle, the Duke of Guise Raf De La Torre as her other uncle, the Cardinal of Lorraine Richard Warner as Elizabeth's spy master Francis Walsingham Bruce Purchase as the Earl of Morton Brian Coburn as the Earl of Huntly. Jeremy Bulloch as Andrew Directed by Charles Jarrott Produced by Hal B. Wallis Written by John Hale Music by John Barry Cinematography Christopher Challis Editing by Richard Marden Distributed by Universal Pictures Release date(s) December 1971 Running time 128 minutes [img]http://upload.wikimedia.org/wikipedia/en/thumb/d/df/Mary_queen_of_scotsposter.jpg/220px-Mary_queen_of_scotsposter.jpg[/img]
monsieur rick
½
Well made period piece with good dialogue. Glenda Jackson was especially superb. Biggest flaws were an inherent sense of triteness coupled with serious historical inaccuracies
Eric Jenkins
Mary, Queen of Scots Quotes
There are no approved quotes yet for this movie.
Discussion Forum
Discuss Mary, Queen of Scots on our Movie forum!