Mary Shelley's Frankenstein
(1994)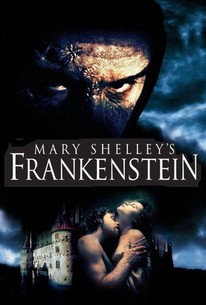 TOMATOMETER
AUDIENCE SCORE
Critic Consensus: Mary Shelley's Frankenstein is ambitious and visually striking, but the overwrought tone and lack of scares make for a tonally inconsistent experience.
Mary Shelley's Frankenstein Videos
Mary Shelley's Frankenstein Photos
Movie Info
This version of the classic horror tale closely follows Shelley's book. The story begins in the Arctic Sea as the feverish Baron Victor von Frankenstein is rescued by a passing ship. He tells the skeptical captain the ghastly story of how he created a living monster out of exhumed corpses.
Rating:
R
Genre:
Directed By:
Written By:
In Theaters:
On DVD:
Runtime:
Studio:
Sony Pictures Home Entertainment
Critic Reviews for Mary Shelley's Frankenstein
Audience Reviews for Mary Shelley's Frankenstein
Slightly better than 'Bram stokers Dracula' in the sense that its more sensible and realistic with less cheese haha De Niro is believeable as the monster and Brannagh is actually just right for 'Victor'. The rest of the cast much like Coppola's Dracula is pretty impressive and gives the film a real epic sense with the likes of Cleese, Holm, Carter, Quinn and Briers, the only difference is this film doesn't have any major let downs performance wise like Dracula does with Reeves and Ryder. Helena Bonham Carter is perfect in the film, she fits anything like this really, any dark period drama...she fits it haha. The visuals are damn good with that cracking gothic feel of course, you get a really good sense of dirty, dusty creaking wooden floorboards set against age old science with lots of odd looking machines created by Frankenstein, rotten body parts and murky dark cemeteries, you can almost taste the sweat and dampness of it all hehe. There isn't anything especially stunning here I must confess, its pretty bog standard despite having De Niro against type casting as the monster, by the numbers without anything to really make it a classic. Its better than Coppola's film casting wise that's for sure and makes abit more sense but there is nothing that really stands out. Hard choice if you put De Niro up against Oldman for best monster performance, I guess Oldman may take it but this film would win for everything else I reckon. Not as visually stunning as Coppola's Dracula maybe but certainly more down to earth.
Phil Hubbs
Super Reviewer
Bethany Murphy
Super Reviewer
This adaptation by Kenneth Branagh is much like Coppola's version of Dracula, they are very close to the original works of their respective creators. Branagh's vision for the adaptation of the classic Horror work is superb. I read the book in my early teens, and still remember ii, it's one of those books you do not forget. By what I remember, Branagh kept [pretty much everything intact. The film has an old school monster atmosphere, but is modernized slightly. The cast do a fine job at bringing the classic characters to life and the story is chilling, creepy and has everything you'd expect from a classic horror film. Robert De Niro plays the monstrous creation created by Victor Frankenstein and Kenneth Branagh plays Victor Frankenstein, an ambitious young doctor who seeks to defeat death. Instead he unleashes a monster who is bent on ruining his life. Mary Shelley's Frankenstein is an underrated horror film. Critiques of the film has been severely unfair and some downright dismissive. But this horror story is really a close adaptation of Shelly's work, and though not perfect, it does have enough momentum to terrify the audience as it tears across the screen. What you have here with Mary Shelly's Frankenstein is a good, underrated film based on one of the greatest horror tales of all time.
Mary Shelley's Frankenstein Quotes
| | |
| --- | --- |
| Sharp Featured Man: | "I do know that for the sympathy of one living being, I would make peace with all. I have love in me the likes of which you can scarcely imagine and rage the likes of which you would not believe. If I cannot satisfy the one, I will indulge the other." |
| Sharp Featured Man: | I do know that for the sympathy of one living being, I would make peace with all. I have love in me the likes of which you can scarcely imagine and rage the likes of which you would not believe. If I cannot satisfy the one, I will indulge the other. |
| Sharp Featured Man: | You gave me these emotions, but you didn't tell me how to use them. Now two people are dead because of us. Why?" |
| Sharp Featured Man: | You gave me these emotions, but you didn't tell me how to use them. Now two people are dead because of us. Why? |
| Dr. Frankenstein: | "There was something at work in my soul which I do not understand." |
| Dr. Frankenstein: | There was something at work in my soul which I do not understand. |
| Sharp Featured Man: | "And what of my soul? Do I have one? Or was that a part you left out?" |
| Sharp Featured Man: | And what of my soul? Do I have one? Or was that a part you left out? |