The Mask of Fu Manchu
(1932)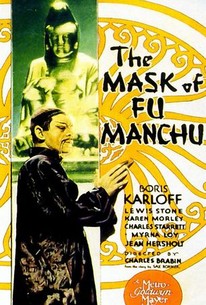 The Mask of Fu Manchu Photos
Movie Info
Boris Karloff stars as the villainous Dr. Fu Manchu in this wild and wooly -- and wildly racist -- adventure yarn, based on Sax Rohmer's fiction about the personification of the "yellow peril." Sir Nayland Smith (Lewis Stone) of the British Secret Service recruits Sir Lionel Barton (Lawrence Grant) to lead an expedition with Prof. Von Berg (Jean Hersholt) and McLeod (David Torrence) to the Gobi Desert, to find the tomb of Genghis Khan and retrieve the scimitar and golden mask held within. To Barton, these are mere archeological trophies, but Smith has learned that Dr. Fu Manchu also has his designs on them; and if he gets hold of these artifacts, he will use them to cause a rising in the East, and foment a war for the destruction of the white race. The action is fast and furious, resembling a Saturday-morning serial, as Barton is kidnapped and brought to Fu Manchu, who proceeds to torture him to find the location of the tomb. Barton's daughter, Sheila (Karen Morley), replaces her father to guide the expedition, accompanied by her fiancé, Terry Granville (Charles Starrett). They find the tomb and retrieve the sword and mask, and find themselves in the company of Nayland Smith as they try to return to England, and surrounded by enemies on all sides. One man is dead and soon Terry is in the hands of Fu and his sadistic daughter Fah Lo See (Myrna Loy), who proceeds to torture him; Nayland Smith is slowly being lowered into a pit of crocodiles, Von Berg is trapped between moving spiked walls, and Sheila Barton is about to be sacrificed as part of the ritual in which Fu will declare himself the reincarnation of Genghis Khan.
Critic Reviews for The Mask of Fu Manchu
Audience Reviews for The Mask of Fu Manchu
Hokey, campy, and highly entertaining. This movie is a bit more of a thriller along the lines of Indiana Jones than it is a horror film, but there are many cool touches packed into its 68 minutes. The race is on to get to the tomb of Genghis Khan, and we first see Boris Karloff in the role of Fu Manchu with his exaggerated facial features further distorted in a convex mirror, sporting absurdly long fingernails, and drinking a bubbly, steaming concoction. Later we'll see him torturing a captive with a giant gong, and presiding over an operating room which has lizards and snakes clamoring to get out of jars, a giant python, and a tarantula he extracts poison from. The sinister operation is presided over by the inscrutable Myrna Loy with her cat-like face, calming smoking what appears to be a hookah, as well as a bunch of bare-chested African-American guys on pedestals with arms crossed. Injections are needed for one of the captives to make him Loy's "more than willing slave, until of course she tires of him" - loved that. There are also a couple of death traps that will remind you of 007 films from 30 years later, including an alligator pit, and how can you not love a laser scene from 1932? It's all truly over the top, and the sets are fantastic. Is the film racist? Well, yes, but I found it less disturbing than others from the time period. Despite the whitewashing of Hollywood - Karloff, Loy, and other Caucasians in Asian roles - I liked the strength of their characters, in direct contrast to the more common fawning, servile roles. Then again, Karloff bellows "Kill the white man, and take his women!" towards the end, in what likely directly stoked the "yellow fear" of the day. Still, I took more offense to the gap-tooth, goofy waiter ringing the dinner bell at the end, than I did to Karloff or Loy. You have to be able to forgive the filmmakers a bit, but if you can, I think you'll enjoy this one too.
Antonius Block
Super Reviewer
If you can put aside the wild racism of the time this is an okay pre-code adventure with the male lead being sexually objectify for a change. This was during the misguided period when Myrna Loy was being cast as an Oriental baddie.
½
well i have to say this was really fun but also quite racist. karloff is having a blast here, the costumes and sets are high camp, myrna loy as an oriental princess and assorted bizarre torture devices. what else could u possibly want?
Stella Dallas
Super Reviewer
The Mask of Fu Manchu Quotes
There are no approved quotes yet for this movie.