Masked and Anonymous
(2003)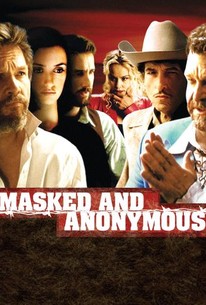 Masked and Anonymous Videos
Masked and Anonymous Photos
Movie Info
Set somewhere, sometime in an unnamed country, torn by civil war with unclear battle lines, impresario Uncle Sweetheart is scheming to find a headliner for a benefit concert. The purpose of the concert is unclear and the charity that the profits go to is its promoter's pockets. Nina Veronica is the veteran TV producer whose job it is to make sure that the concert is an international spectacle--yet her task is impossible to achieve. And when Uncle Sweetheart manages to get the iconic cult star Jack Fate released from prison to perform, the stage is set for tumult.
Critic Reviews for Masked and Anonymous
Audience Reviews for Masked and Anonymous
Few film have pissed me off as much as "Masked and Anonymous" did. This movie is dead in the water. Sitting through this is like listening to an interminable speech by the town drunk: no form, no substance, endless hiccups. The cast: Jeff Bridges (!), Bob Dylan (!), John Goodman (!), Jessica Lange (!), Ed Harris (!) (who shows up in blackface for no other reason than, I assume, to shock us), Penelope Cruz (!), Luke Wilson (!), Angela Bassett (!), Bruce Dern (!), Val Kilmer (!), Fred Ward (!), Giovanni Ribisi (!), Mickey Rourke (!). What on the planet were the lot of them thinking?!
Christopher Lozier
½
The story makes no sense and the cast seemed misguided. The only saving grace? Tremendous music from Bob Dylan. Only for a big Dylan fan. Fast forward to the musical performances. The rest of it is just too confusing.
Mike Adkins
Another movie that not many people seem to have heard of or seen. A low budget one week wonder shot by the BBC with a charitable cast that reportedly worked for free, I can guarantee that you have never seen a movie quite like this one. Bordering on a metaphorical bio-pic of my hero Bob Dyaln (Jack Fate) and hovering above the apocalyptic backdrop of a war torn (supposedly third world) country, Masked and Anonymous analyses the true nature of human behaviour. Starring Mickey Rourke, Jeff Bridges, Bob Dylan, Ed Harris, Luke Wilson, Val Kilmer and John Goodman just to name a few, this film is disturbing real and aside from Bob singing through out, sometimes in English and sometimes in Spanish, this movie is acceptionally memorable and deserving of praise that it rarely receives.
Unknown Hobo
Super Reviewer
Masked and Anonymous Quotes
Discussion Forum
Discuss Masked and Anonymous on our Movie forum!