Maslin Beach
(1997)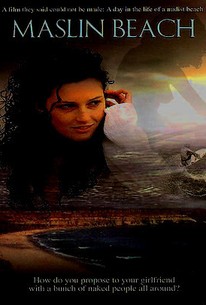 AUDIENCE SCORE
Critic Consensus: No consensus yet.
Movie Info
"What is real love?" It's a timeless question, and in Australian director Wayne Groom's tender romantic comedy, it's a question pondered in great detail by a troubled couple as they spend the day on a popular but secluded nude beach. It seems that Simon (Michael Allen) and Marcie's (Eliza Lovell) romance has reached something of a stalemate, and as the dejected pair prepare for a relaxing day of naked leisure, Gail (Bonnie Jaye Lawrence), Paula (Zara Collins), and Jenny (Jennifer Ross) roam the beach discussing lonely Gail's prospects for finding the "perfect" man -- a prospect that doesn't seem too far fetched thanks to the mysterious power of a good-luck necklace given to her by her grandmother. It seems that nearly everyone on Maslin Beach today has their share of issues, from the English aristocrat juggling multiple lovers to the hard-working couple looking for a day away from the office but hounded by the constant cries of their multiple cell phones. As the day wears on and flatulent ice-cream salesman Ben (Gary Waddell) dips cones and attempts to help his good friend Simon smooth out his problems in love, it becomes increasingly clear that while all of these issues may not be resolved by the time the evening shade descends and the sand slowly begins to chill, they will certainly provide some much needed food for thought for our leisure-seeking sun worshipers. ~ Jason Buchanan, Rovi
Critic Reviews for Maslin Beach
There are no critic reviews yet for Maslin Beach. Keep checking Rotten Tomatoes for updates!
Audience Reviews for Maslin Beach
[size=5][b]Maslin Beach [/b][/size] Directed by: Wayne Groom [img]http://cache.cinemanow.com/images/boxart/175/maslin_beach_175.jpg[/img] Hmm, so basically, take your typical indie quasi-romantic comedy, and then place it on Australia's most popular nude beach. That's pretty much all there is to this silly, nor particularly well acted, but none-the-less difficult to dislike little comedy. It's got more then a few belly laughs and a lot of chuckles, and a lot of relationship discussion that seems more earnest because everybody is naked. Anyhow, some parts of it are just really cute in spite of themselves. Other then the weird angle of the movie taking place on a nude beach, there isn't anything even remotely unique about this movie, but I can't say I wasn't smiling through the thing. I guess the girls were cute, even though you had go see a lot of naked guys to make up for it. [size=4][i]6.5[/i][/size] [size=5][b]Butch Cassidy and The Sundance Kid[/b][/size] Directed by: George Roy Hill [img]http://blogs.citypages.com/amadzine/images/butch1.jpg[/img] The second major film in the 60's to romanticize and heroicize petty thugs of history, the first being Bonnie and Clyde, is none-the-less a delightful film, if a bit bleak in the end. Paul Newman and Robert Redford play the most lovable pair of bandits this side of the screen. Together with Redford's girlfriend, who may like Newman just as much, they make a lot of mischief, rob a lot of banks, and basically try to lead the good life. Gone are any notions of fairness to the people they steal from or, eventually, kill, none of this "He Ain't Heavy, He's My Brother" crap, it's all just about the good times. Of course, the banks and the people represent "the system," and are thus worthy of death, so just sit back and enjoy it. I may sound like I'm bashing the movie, I'm really not. You just kind of have to take the concept and run with it. The famous bicycle scene is wonderful, and I howled at the "knife fight" between Newman and his would-be successor as head of the game. Katherine Ross is even more attractive then usual, and, what can I say? In spite of the fact the story is ridiculous, I rooted for them the entire way. This movie could never have been made at any time but the late 60's. But I'm glad it was. [size=4][i]8.5[/i][/size]
Cliff Smith
Maslin Beach Quotes
There are no approved quotes yet for this movie.
Discussion Forum
Discuss Maslin Beach on our Movie forum!