Max Havoc: Curse of the Dragon
(2004)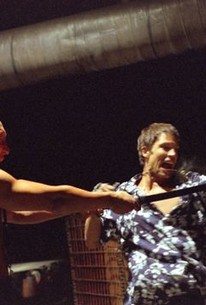 AUDIENCE SCORE
Critic Consensus: No consensus yet.
Max Havoc: Curse of the Dragon Photos
Movie Info
A former kickboxer who has forsaken fighting to become a professional photographer finds that leaving his painful past behind isn't as simple as just walking away in an action-packed take of fight or flight starring Richard Roundtree, David Carradine, and Carmen Electra. Max Havoc (Mickey Hardt) was once the biggest skull-cracker on the block, but these days he prefers the flicker of the shutter over the thrill of hand-to-hand combat. Though Max looks forward to a career of filling glossy magazines with his slick and stylish pictures, he is soon drawn back into the world of fighting when he visits Guam and is forced into a battle against the dreaded Black Dragons.
Rating:
PG
Genre:
Directed By:
Written By:
In Theaters:
On DVD:
Runtime:
Studio:
Filmwerks
Cast
Critic Reviews for Max Havoc: Curse of the Dragon
There are no critic reviews yet for Max Havoc: Curse of the Dragon. Keep checking Rotten Tomatoes for updates!
Audience Reviews for Max Havoc: Curse of the Dragon
Like the Jack Abramoff-produced flick 'Red Scorpion,' the story behind the making of 'Max Havoc: Curse of the Dragon' is much more interesting than the actual movie itself. Producer John Laing and director Albert Pyun basically ripped off the people of Guam, defaulting on a huge loan and costing the country over a million dollars. To this day, neither has set foot back on the shores of Guam. As for the movie itself. Well, that depends. Some will call this a boring, shoddy piece of shit and total waste of time. Others will say it's so-so, a camp into which I fall. This is definitely not high art, nor is it so-bad-it's-good, this is simply a decently directed, but ultimately uninteresting exercise in mediocrity. One thing I can say that not many comment on, the action WAS impressive and well- choreographed- WHEN there actually was some action, and Max wasn't scuba-diving or advertising tourism in Guam. Albert Pyun is a director with more misses than hits on his resume, and Max Havoc did nothing to change that reputation. He doesn't do a bad job here, but this is no Cyborg or Omega Doom. The cast has a few names: David Carradine (fresh off of 'Kill Bill'), Carmen Electra (in a couple of scenes), and Richard Roundtree. I actually thought the main actors did a decent job, given their limited ability in the "emotive" department. They deliver their lines either overly-rehearsed or with all the conviction of a cardboard box, but they're nice to look at, and we get plenty of booby (for the guys) and pec and ab (for the ladies) shots to keep us satisfied. The blond chick in this, Joanna Krupa, is so smoking hot; I mean "sacrifice your left nut to the gods for a chance just to taste her nipples or nibble her feet for 20 seconds" hot. Man, it's just not rational how hot she is. What's also not too rational is that this chick is an art gallery owner/historian. I chuckled at the scenes between her and her sister; for a second, I thought I accidently changed the channel to an episode of 'the Simple Life,' the dialogue between these two was so bad. As an aside, I couldn't count how many times this chick said "you know" in her interview in the special features. The lead, Mickey Hardt, actually ain't half bad. He's part of, what I guess, is that new line of "metro-sexual" action heroes. Maybe that's why I didn't care too much for him overall. He definitely brings it in the action department (he spends most of the time showing off his chops on Vincent Klyn) , and he can throw down well, but he's just not a Charles Bronson or a Michael Dudikoff. A bright spot in the action were his scenes with Johnny Nguyen, who most will know from Tony Jaa's 'The Protector' (AKA Tom Yum Goong). They have some pretty cool fights, but like all the action here, it's few and far between. David Carradine isn't in this too much, but the three or four scenes he is in (when he's not chomping on a cigar in kickboxing death flashback scenes), he's in full-on Caine/Lone Wolf McQuade mode, and that's really all you can expect from the guy. Everybody complains about the flashbacks, and I agree. I think if you removed the flashback scenes, the original cut of this movie was maybe 35 minutes long. Another thing that's annoying about this movie is the fact that, because they had Guam guaranteeing their big ass loan, the filmmakers pretty much turned this into a tourist advertisement for visiting the island. I swear, if you took out all the cheesy scenes of tourist attractions AND the kickboxing death flashback scenes, this movie would easily be over in 15 minutes. I was also surprised (like I had been with the Don Wilson movie 'Operation Cobra') to see that the makers felt this movie deserved a buttload of special features. No 'Death Wish III' special features, but we get plenty of "insight" from the cast, and even a 'Max Havoc' calendar! Sweet. All that was missing was the directors commentary. If they can do this shit for Max Havoc, I KNOW someone can do this for 'Kickboxer 4: the Aggressor.' That's an even better idea, a directors commentary for 'Kickboxer 4.' I didn't go into this expecting much, and that's exactly what I got. It wasn't bad, it wasn't great. I was dreading watching this after a week of crap like 'Hard Gun' and 'Cyborg Soldier,' so maybe 'Max Havoc' owes its neutral rating to the wooden acting of Rich Franklin and bad Thai comedy. As it is, there isn't a whole lot to say about this piece of crap.
Jason Anderson
Discussion Forum
Discuss Max Havoc: Curse of the Dragon on our Movie forum!
News & Features