Max Magician and the Legend of the Rings
(2002)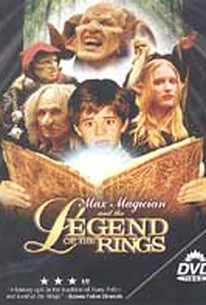 AUDIENCE SCORE
Critic Consensus: No consensus yet.
Movie Info
Rating:
NR
Genre:
On DVD:
Runtime:
Critic Reviews for Max Magician and the Legend of the Rings
There are no critic reviews yet for Max Magician and the Legend of the Rings. Keep checking Rotten Tomatoes for updates!
Audience Reviews for Max Magician and the Legend of the Rings
½
cute movie, Id put it right along with things like legend of the seeker: darkness rising, neverending story, and voyage of the unicorn
shelly bork
I don't know where to start with this movie. It jut flat out sucked. The special effects are God awful, you can make better effects on iMovie. The acting is atrocious and the movie is filled with inconsistencies. It is so bad that my middle school drama teacher made us watch it in class so we could practice spotting errors. We were given a sheet of paper to fill out with all of the mistakes we saw, and i filled it out front and back. You could find more action and violence in an art gallery then in the pathetic excuse for a fight scene in this movie. This horrible attempt at a sci-fi fantasy movie could be done better in a comedy skit by children. To compare this movie to Harry Potter or Lord of the Rings would be an insult to everyone who worked hard making those movies. The only decent quality of this movie is the make up jobs on the monsters, but it is quickly overlooked by the terrible script and the heinous acting. I actually laughed at this movie, not at its poor attempt at jokes, but at how bad it really was. I wouldn't recommend it to anyone. There's no escaping what this movie truly is, and that is, utter crap. 3% Fresh, that's just for make up.
Joe Quinn
I picked up a used copy from F.Y.E for $4.95., even then I would say I wasted my money. The best thing I would say about this movie is it is unintentionally funny at times with all the bad acting mistakes that were made through out the movie. The characters and monsters were well made up for the most part. However in the attack of the vikings/barbarians and their oversized hammers was a bit bizzar, and one of the barbarians was dressed up like Thor from the Thor Marvel comic books?!?!? It is obviouse that part of the movie was filmed at some Midieval Fair Site, and all the actors dialogue was completly re-recorded after the movie was filmed. The actors in this movie did not know how to act at all; often the movie is slow and boring. Half way through the movie I turned it off. It may be a fantesy adventure movie, but in no way is it any way near as good as Lord Of the Rings and I am talking about the original cartoon movie version, not the recent realistic 3 part serries...! I am not sure which was worse with this movie the writing, the acting or the directing...? I would further suggest that the writer and director get some movie writing and directing skills before they plan to do another film! Also they should of hired at least a few decent actors the next time as well...?!?! This movie could serve an example of how NOT to write, direct or act in a movie, and go home and do it better before allowing it to be sold as a DVD. If I paid the typical DVD movie price for this film I would write to the originators of this trash that I would want my money back!!! Later, Ray
Ray Hartenstine
Max Magician and the Legend of the Rings Quotes
There are no approved quotes yet for this movie.