Maximum Conviction
(2012)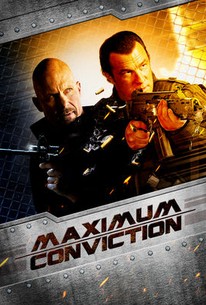 AUDIENCE SCORE
Critic Consensus: No consensus yet.
Maximum Conviction Videos
Maximum Conviction Photos
Movie Info
When former black ops operative Tom Steele (Steven Seagal) and his partner Manning (Steve Austin) are assigned to decommission an old prison, they must oversee the arrival of two mysterious female prisoners. Before long, an elite force of mercenaries assault the prison in search of the new arrivals. As the true identities of the women are revealed, Steele realizes he's caught in the middle of something far bigger than he had imagined. Fists will fly and bones will shatter as the situation escalates with every passing minute.
Rating:
R (for violence and language throughout)
Genre:
,
Directed By:
Written By:
In Theaters:
On DVD:
Runtime:
Studio:
Anchor Bay Entertainment
Critic Reviews for Maximum Conviction
There are no critic reviews yet for Maximum Conviction. Keep checking Rotten Tomatoes for updates!
Audience Reviews for Maximum Conviction
½
I had little to no expectations before seeing this as I was positive it would not be anything special. I was right. The strange part though is that this was one of Steve Austin's better film performances. Steven Seagal.. was something else. This was the first film I've ever seen him in so is the overly chill persona just him being him? It felt so weird but definitely cool. I can see why people like him but his fight scenes were ridiculous. He's the most overpowered character in history. Steven Seagal could look at you and you'd burst into flames, which coincidentally was one of the few plot points of the film... kind of. Erik, what was the actual plot of the film? No idea. It was something about rescuing prisoners while attacking other prisoners while someone else tried to kidnap them. I attempted to figure it out at one point but then everyone just started shooting again and I gave up. Maximum Conviction is 1% confusing plot, 4% Seagal and Austin soundbites, and 95% action scenes. Granted there were some cool, albeit ridiculous moments but a lot of it just dragged on. I wouldn't recommend this film to anyone but the most hardcore fans of Stone Cold or Steven.
Erik Dahlman
Each actor sounds like they're holding scripts and reading them for the first time. Austin looks confused the entire film, and Seagal does this funny head jerk every time he says something tough. Skip this one for sure.
David Jin
I went to theaters with the intention of seeing Pitch Perfect and sat down in my seat. I later hear both exists being locked and realizing I was only one in the hall. Then I hear a voice telling me I have the honored of seeing a movie by one of my favorite actors. You know a movie can't be any good if you are forced to lock the exist in order to get someone to see it. I lowered my expectation four times during the opening credits. The first being when I saw Steven Seagal name and then when Steve Austin name came up. So we have a action star who can't act or do anything correctly and his costar is an former wrestler who also can't act. Then Steve Austin name came up as the executive producer and then finally Steven Seagal is also a producer. When you have a movie that not only stars Steven Seagal, but also produce you know you reach the bottom of the barrel. Maximum Conviction has no plot. It is just one group trying to get their hands on a prisoner and escape while the other group, consisting out of Steven Seagal, Steve Austin and others are trying to stop them. That's it. There is no sign of originality or anything that the plot might offer as entertainment. Nothing is ever explain. There's no character, there is no tension, no consistent dialogue, and no sign of any story. The main problem of the movie beside the lack of a plot, characters, anything interesting, is mainly our heroes are too powerful. The closest time one of our heroes came to dying was when Steve Austin got beat up by a woman. The good guys overpower the villains and it's not just our main stars it is everyone on the good side. The villains lack any intelligent as they managed not to kill a single major character and armed law enforcement workers. These are the dumbest villains in action movie history. I have not seen a action movie this poorly written since the last Steven Seagal film I saw that Seagal also wrote. Steven Seagal and Steve Austin both win "Worst On Screen Couple" award from me. These two barely share any scenes and both are terrible actor. Seagal still does not allow anyone to hit him. He has no facial expression of any kind and his action scenes are consistently boring to watch. I could barely hear what Seagal was saying and I had my ears at the speakers whenever he came on screen. Steve Austin is not any better. He lacks the charisma to be a likable action star and his only highlight in this film is getting beaten up by a woman and not landing a single hit on her. The action scenes are among the worst I had to ever watch. The action scenes are too basic, too simple, and too low budget to entertain. Most of the times you'll see a groups of people shooting each other and taking cover repeating the cycle over and over again. The direction is awful and some horrible transition. I actually thought there was something was with the projector because of how terrible these transition look. The movie is inconsistent in the worst possible way as magically have bullet holes that appear and disappear random among other things. The music has the same kind of excitement as Seagal facial expressions. The music repeats over and over again taking away from the film instead of adding to it. It is a cheap action movie in the worst possible way. It is not only the worst action movie release this year, but it is one of the worst action movies ever made. After the credit rolled and the doors were unlocked. I heard a voice telling me "Hope you enjoyed the movie Cinema-Maniac". I'm guessing someone got the wrong impressions and thought I liked Seagal which I don't. Also, Steven Seagal is not one of my favorite actor if anything he's worst action star in my opinion . The only upside to sitting through an awful Seagal film was me choosing a broken CD of Justin Bieber album over twenty films autograph by Seagal. This broken CD is far better deserving of my time then anything Seagal has made in his career. Maximum Conviction should not been seen in theaters as the people who made it will attempt to lock the exists in order to prevent you from leaving. Don't get it on DVD either as any price is high for this abomination. The worst part being I didn't get a refund and found out the theater was not showing Pitch Perfect. So I was tricked in spending money to see an awful movie, there is really no way to express how angry I was about this. THIS IS THE WORST ACTION MOVIE I EVER HAD TO PAY FOR TO SEE! AVOID AT ALL COST! IT IS THE WORST ACTION MOVIE OF 2012.
Caesar Mendez
Super Reviewer
Maximum Conviction Quotes
There are no approved quotes yet for this movie.