McLibel: Two Worlds Collide
(2005)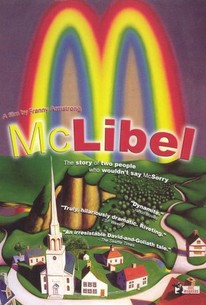 Movie Info
Over the course of 10 years, Helen Steel and Dave Morris are transformed from anonymous non-profit activists into unlikely global heroes, defending themselves through what became the longest trial in English history. In 1986, a non-profit group named London Greenpeace (LGP) produced a leaflet called "What's Wrong with McDonalds? Everything They Don't Want You to Know," attacking many aspects of the corporation's business practices. Morris and Steel were members of the group. Soon after the leaflets appeared McDonald's hired spies to infiltrate LGP. Under UK law, non-profit organizations are invulnerable to libel suits. The "McSpies" collected information on the identities and home addresses of LGP activists, reporting back to McDonald's, who in turn sued five of the group's members individually. McDonald's offered the individuals a stark choice: retract the allegations made in the leaflet and apologize, or go to court. With no money or legal experience, and little hope of defeating McDonald's Goliath legal team, three of the five members reluctantly backed out and issued apologies. Steel and Morris determined they would not be bullied. The pair decided to stand up to the burger giant in court and set out upon a journey that would change their lives forever. They soon became known as the McLibel 2.
Critic Reviews for McLibel: Two Worlds Collide
Audience Reviews for McLibel: Two Worlds Collide
I have mixed feelings about this. I was horrified to see the baby chicks being gassed. I also know that a low fiber/ high fat diet is not healthy for you. But I don't think these practices are limited to just McDonalds. If you really want to do something about it, become a vegatarian. I only go to McDonalds once in a while as a treat, not every night like some lazy people! My mom told me how crappy their food was a long time ago, when I was a child. I didn't understand the whining about the lack of creativity or the low pay, etc. It's freaking McDonalds for goodness sake! If you want to be creative, find a different line of work. If you want better money, stay in school. I found this documentary rather one sided and recommend you watch "Super Size Me" instead. At least that was entertaining.
½
Way before Super-Size Me's time and way more legally involved, this gives a very interesting look into McDonald's soulless black heart
Sarah Prisbylla
Super Reviewer
McLibel: Two Worlds Collide Quotes
There are no approved quotes yet for this movie.