Me and Earl and the Dying Girl
(2015)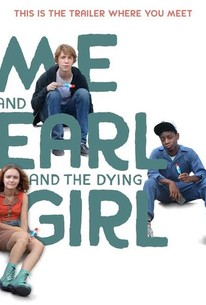 TOMATOMETER
AUDIENCE SCORE
Critic Consensus: Beautifully scripted and perfectly cast, Me & Earl & the Dying Girl is a coming-of-age movie with uncommon charm and insight.
Me and Earl and the Dying Girl Videos
Me and Earl and the Dying Girl Photos
Movie Info
Winner of the 2015 Sundance Grand Jury Prize and the Audience Award, ME AND EARL AND THE DYING GIRL is the story of Greg Gaines (Thomas Mann), an awkward high school senior whose mom forces him to spend time with Rachel - a girl in his class (Olivia Cooke) with whom he hasn't spoken to since kindergarten - who was just diagnosed with cancer. (C) Fox Searchlight
News & Interviews for Me and Earl and the Dying Girl
Critic Reviews for Me and Earl and the Dying Girl
Audience Reviews for Me and Earl and the Dying Girl
½
Another girl-with-cancer movie from around the same time as "The Fault In Our Stars," but I liked it a wee better by virtue of it delivering on its promise that it wouldn't be a love story. The problem with the Dying Girl trope is that she has no other identity besides strength-and-detachment-derived-from-cancer. Rachel has one moment of whimsy when she mimics Greg's "subhuman" convulsions, but it's so early on, and we don't really see her transcend beyond Greg's erstwhile categorization of her as "Boring Jewish Girl Subset 2A" until the end, I guess, when her book sculptures reveal her romantic, creative, perhaps even tortured side, but even that emotional epiphany is more Greg's. Olivia Cooke does give a beautiful strong-and-detached performance though. Sometimes, I think it's easier for actors to bawl uncontrollably than to try to NOT cry, and Cooke's big eyes well up for the duration of several, long uncut shots, but they never overflow. Some other pretty glaring character development holes are Earl's and Madison's. As the other token minority of the titular triangle, Earl appears in the film to perpetuate some lower class black stereotypes for comedic relief; disappears; reappears to jive talk some sense into Greg; disappears; reappears to save Greg from a lunchroom brawl despite them being on the outs; then disappears again. One of Greg's narrations mentions how despite their disparate socioeconomic backgrounds, they still have the same taste in films and adventurous foods, and I was hoping there would be more to Earl's character/upbringing/aspirations and Greg's perception of him that could foil his knee-jerk obsession of typing all the other cliques at his school. In re Madison: she's a nice-hot girl, and Greg is the stand-in for every "nice-insecure guy" who resents the "friendzone." He's the one who gets to judge her motives as controlling or disingenuous or oblivious when there's no backing for such projections since her motives are never made clear from a storytelling angle in the first place. On the whole, the movie is funnier, more sardonic, more artsy (with all its movie remakes), and less saccharine than TFIOS, so it does have that going for it.
Alice Shen
Super Reviewer
Gomez-Rejon is a great director who clearly loves films and has a deep knowledge of the language of Cinema - his visual compositions are just wonderful, despite a few excesses -, and this is a deliciously captivating story that understands the value of honest Art as opposed to sappy life lessons.
Carlos Magalhães
Super Reviewer
½
Slightly better coming-of-age tale than Dope, this one focuses on an the typical filmic teenage outsider who is forced to befriend a dying girl. The significance of Death is what leavens the bread here keeping the usual filmic shenanigans of teen age years to a minimum and that's what makes this a better film. The lead black character as well feels tinged with authenticity as for a change, without the usual shroud of importance or coolness these characters seem to get of late (to make-up for getting the short shrift for years no doubt).
Kevin M. Williams
Super Reviewer
Me and Earl and the Dying Girl Quotes
| | |
| --- | --- |
| Greg: | I guess everyone's trying to figure out how to like, twerk....medievally. |
| | |
| --- | --- |
| Greg: | You know, I'm terminally awkward and I have a face like a little groundhog. |
| Rachel: | You can't really think that. |
| Greg: | No, I don't think that. I know that. I just feel like, you know, for a kid like me in high school, best case scenario, just survive. You know? Survive without creating any mortal enemies or hideously embarassing yourself forever. |
| | |
| --- | --- |
| Himself: | One last thing. Hot girls destroy your life. That's just a fact. |
| | |
| --- | --- |
| Mr. McCarthy: | Well, Greg, I think that it just means that even after somebody dies, you can.. you can still keep learning about them. You know, their life. It can keep unfolding itself to you just as long... just as long as you pay attention to it. |
Discussion Forum
Discuss Me and Earl and the Dying Girl on our Movie forum!