Me Myself I
(2000)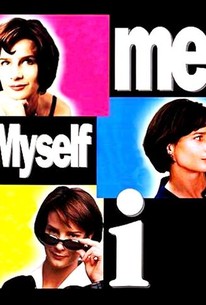 Movie Info
Most people have regrets in life, and many would like to find out how things would be if they had done a few things differently, but few people ever get to do anything about it. Pamela Drury (Rachel Griffiths), however, gets just that chance. While she has a solid career as a journalist, Pamela is single and very depressed about it -- so much so that on her birthday she tries to commit suicide in her bathtub, but fails miserably. The next day Pamela spots a woman who could be her double, and she sees that she's married to Robert (David Roberts), an old flame she often wishes she had married when she had the chance 13 years earlier. After a brief encounter with her doppelganger, the other woman disappears and Pamela is mistaken for Robert's wife; she decides to go along for the ride, complete with three children and a home in the suburbs. Pamela quickly discovers that life as a housewife is not all she imagined it to be (especially cleaning up after the baby), and while Pamela has high hopes of some romantic evenings with Robert, it's obvious that the spark was smothered in this marriage some time ago. Curiously enough, Pamela now finds that her best friend is suddenly single, and Ben (Sandy Winton), a man who had shown a bit of interest in Pamela before, is now quite keen on finding out if she would cheat on her husband. This fantasy was enthusiastically received at the Telluride, Boston, and Toronto Film Festivals in 1999. ~ Mark Deming, Rovi
Critic Reviews for Me Myself I
Audience Reviews for Me Myself I
½
This clever Australian fantasy, superficially reminiscent of Sliding Doors, charts its own course while painting an intriguing picture of an alternate life. WIth the onset of another birthday, an investigative journalist suddenly decides that her life is meaningless without the husband, children, dog, and mortgage in the suburbs that traditionally define success. Then, one morning, she encounters... herself: a different self, the one who married the "guy who got away" a decade earlier.
Dean McKenna
Super Reviewer
Leigh Ryan
Super Reviewer
Me Myself I Quotes
There are no approved quotes yet for this movie.
Discussion Forum
Discuss Me Myself I on our Movie forum!