Mean Creek
(2004)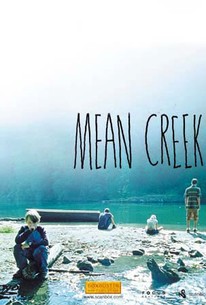 Movie Info
When the shy Sam confides in his protective older sibling, Rocky about the overweight bully in school named George, Rocky hatches a plot to exact their revenge on his brother's tormentor.
People Who Like this movie also like
Critic Reviews for Mean Creek
Audience Reviews for Mean Creek
Truly haunting and riveting. Outstanding performances, incredible script with compelling characters and a huge emotional core help make ''Mean Creek'', in my view, pretty much a masterpiece. It delves into the cruel side of the minds of teenagers and proves a very dark but accurate view of how horrible the consequences of an immature action can be. Fantastic.
½
Prepare for a downer. Mean Creek is depressing, slow moving, and excellent. While some may complain that everything seems to happen at a snails pace, but I believe that the unsettlingly realistic film's pacing worked to it's advantage. Throughout the first hour of the film you know something terrible is going to happen, and the suspense builds to what for me was a constant feeling of dread. By the time that moment comes I was completely emotionally invested and it made the second half of the movie all the more intense. Mean Creek is not for anyone looking for a nice light watch, but if you have the patience and stomach for it then your in for a great movie.
Cynthia S.
Super Reviewer
A devastating movie concerning the ultimate revenge plot amongst some young kids, who aim to get back at a high school bully (Josh Peck). Peck is a revelation in this movie, and the overall cast is phenomenal. It is disturbing, but extremely effective in many ways, and even though it has its share of problems (the two dads plot seems a bit out there), the ending is also haunting and completely unforgettable. Although "Straw Dogs" remains the ultimate revenge-bully film, this comes awful close to toppling it.
Dan Schultz
Super Reviewer
Mean Creek Quotes
| | |
| --- | --- |
| Millie: | Sam, what's going on here with George? |
| Sam: | Oh, it's nothing bad. It's just a joke. |
| Millie: | What kind of joke? |
| Sam: | Well, we are planning on stripping him, throwing him in the river, and then we are gonna make him run home naked. We have a plan and it involves a dare. |
| Millie: | A dare? |
Discussion Forum
Discuss Mean Creek on our Movie forum!