The Mean Season
(1985)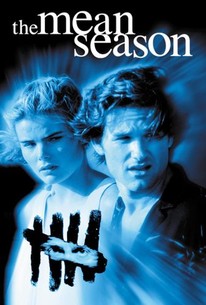 Movie Info
Nothing in The Mean Season is quite as powerful as its opening: a languid shot of a young girl, wandering with a seeming carefree air down the beach, suddenly turning to stare in tearful terror at the man she knows is about to kill her. The plot concerns the search for the serial murderer who was "introduced" in the opening. Miami journalist Malcolm Anderson (Kurt Russell) writes a newspaper series on the killings and as a result is the recipient of phone calls from the killer Alan Delour (Richard Jordan). Delour likes Anderson's work and promises to call in with exclusive accounts of his upcoming murders -- though he doesn't go so far as to tell Anderson where he'll strike next. The story becomes bigger than both Anderson and Delour, with the latter growing jealous of Anderson's sudden celebrity and with both men using one another to advance themselves. The inevitable showdown takes place during a convincingly staged hurricane, with Anderson's lady friend (Mariel Hemingway) an unwilling pawn between the two ego-driven men. The Mean Season was adapted by Leon Piedmont from John Katzenbach's novel In the Heat of the Summer.
Rating:
R (adult situations/language, nudity, violence)
Genre:
,
Directed By:
Written By:
In Theaters:
On DVD:
Runtime:
Studio:
HBO Video
Critic Reviews for The Mean Season
Audience Reviews for The Mean Season
½
Starts off really good and then really makes me lose interest about an hour in. The killer keeps building up to essentially nothing. I kept waiting for this insane plot twist, but nothing happens really, other than the predictable ending sequence (I won't even bother calling that a twist). So it's good for the first half of the film, but then just dies. Thankfully Kurt Russell's awesomeness helps to make this movie watchable at least. He helps to partially nullify the terrible supporting cast, especially the useless love interest, who's only purpose is to get kidnapped. Could have been a lot better.
Stephen Skudlarek
Pedestrian, and lacked chemistry between Russell and Hemingway. I always like Russell, but this is not very exciting. Hemingway was flat (not referring to her bust in her shower scene) and emotionless.
Mike Bierman
There are cliched stories and hackneyed dialogue to be found in every genre and sub-genre of film, but it seems to me that the serial killer movies are more prone to such pitfalls than other types. "The Mean Season" definitely stumbles into quite a few of those such pitfalls along the way, and that's made even worse here by the sad fact that this wasn't very original to begin with. It was made at a time before this type of filmmaking was chic but it still doesn't have a very interesting story to tell. There's nothing fresh about this, the killer isn't particularly innovative or special and the finale is typical of its type. The usually reliable Kurt Russell is just fine in the lead role, but pretty much everyone else in the cast is wasted in supporting roles that are curiously underwritten. Mariel Hemingway is supposed to flesh out the film by contributing to the backstory of her relationship with Russell, but in the end in predictable fashion, she's reduced to being just another screaming victim. Worse yet is Richard Jordan as the routine killer, mostly because you don't even see his face until the final two-thirds of the film. In reality, anyone could have played the part. The film also throws in several cheesy plot devices that range from terribly stale to ridiculously outdated, like the hilarious spinning newspapers to the "is it the killer or someone they know" scare tactics. Much like the rest of "The Mean Season", they all seem shockingly outdated, even for a film that's nearly thirty years old. You won't see anything in this that you haven't seen done better a dozen times before in other better movies.
Timothy Sanders
The Mean Season Quotes
| | |
| --- | --- |
| Alan Delour: | [on the phone with Anderson] Ever try to describe a-a smell? |
| Malcolm Anderson: | [pauses]...Why? |
| Alan Delour: | Ummm......You're going to smell something that's going to test your writing abilities. It has a sweetness to it, and uh,..at the same time it reaches into your body and twists your insides. But the odd thing is that once you smell it, you know exactly what it is, without having to look. 651, Nautilus,...got that? |