Meatball Machine
(2007)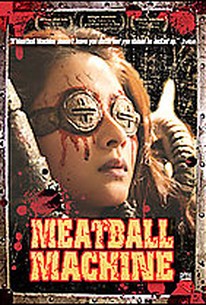 AUDIENCE SCORE
Critic Consensus: No consensus yet.
Movie Info
Rating:
NR
Genre:
Directed By:
On DVD:
Runtime:
Critic Reviews for Meatball Machine
There are no critic reviews yet for Meatball Machine. Keep checking Rotten Tomatoes for updates!
Audience Reviews for Meatball Machine
lol It's like watching a movie version of a friggin GWAR music video. Must watch while stoned or drunk.
Bill Wodenhelm
"Meatball Machine" has a little bit of meat but definitely wasn't a ball! "Meatball Machine" Have you ever wanted to see a film based solely on the positives you created in your own head? Completely ignoring any cinematic standards or any reviews written on the film? Because, of course, your going to believe what you want to believe anyway. This way of thinking is very true in my case and for my latest film review for the Japanese shock film "Meatball Machine" 'Meatball Machine" is another film among the ranks of the Tokyo Gore- splatter film genres, with a pinch of Sci-Fi. I was curiously drawn to the film solely on genre, but more specifically because Japanese Effects Director Yoshihiro Nishimura helms the ever so, not so easily forgotten style of excessive blood, mutations of grandeur and everything perverse his big brain can throw at you. In this case the film is a complete success for it's costumes and effects. I've come to the realization that the best way to judge Nishimura's FX work is to base it strictly on a physiological basis. If you feel a little queasy or your stomach mildly turns, then the film is usually pretty good. If you experience any worse symptoms then the aforementioned, you better settle in and expect a wild ride. As for the remainder of the film.... I'll get to that a bit later...after the jump! "Meatball Machine" pits a young machine worker "Yoji" ( Issei Takahashi) as a lonely member of society. He's not great with the ladies and frequents adult theaters only to receive advancements from a transvestite. When a friend attempts to cheer him up and brings him to a brothel to de-virginize him, he walks out before anything happens. On a daily basis he longs across a field at the affection of his desire, a young women, a co-worker whom he cannot muster enough courage to share his feelings. This sub-plot plays second fiddle to the meat of the story that explodingly connects a bit later in the film. Japan has become infested with parasitic alien creatures that inhabit and take control of human hosts, and when one of the host bodies are met face to face with another, a fight to the death ensues...oh and the winner rips out the alien parasite and eats it upon victory (yeah. not a real family friendly film). One of the more eventful scenes in the film is when a alien is found by "Yoji" outside the porn theatre. He brings it home and puts it in his closet. When he invites his affection home with him, it rears it's ugly head, and horrible scorpion tail, that it inserts inside her vagina, spewing the alien parasite inside her to take control of her. I swear, maybe it was just me, but it looked like she actually took pleasure when that elephants trunk stinger penetrated her Hoo Hoo....eww! This sequence sets off a chain of events that is "Meatball Machine" Co-Directors Yudai Yamaguchi and Jan'ichi Yamamoto create this concoction based on earlier work written, produced and directed by Yamamoto in 1999. Their science experiment Circa 2005 starts very well- with elements of horrific, excessive gore, violence and welcomed extremism. My first thoughts were " I'm in for gory, gory, goodness". Like this head split in two!!!!!( Not the best Photo) Overall the direction was moderately constructed-Costume and Effects were pleasantly expected. The Writing at times, I felt lacked in originality and direction, at times becoming loose, making the pace and energy of the film misplaced. The love story, sub-plot was refreshingly agreeable for sheer ironic purposes. In conclusion the film is a success for any fan of the Japanese bloody madness genre. A little too weird in subject matter for my taste, but it is worth watching....once! BruceVain
Tony Mulcahy
(***): [img]http://images.rottentomatoes.com/images/user/icons/icon14.gif[/img] Two things came to mind when I was watching this movie: [i]Tetsuo: The Iron Man[/i] (another uber-strange Japanese movie) and a GWAR video. Weirdly entertaining.
TTT C
Meatball Machine Quotes
There are no approved quotes yet for this movie.