Meatballs
(1979)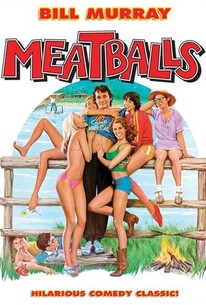 Movie Info
Set at a low-end summer camp and aimed squarely at a teen audience, Meatballs is a light screwball comedy that turned its low-budget Canadian roots into a very profitable box-office run. The biggest reason for the film's success is Bill Murray who stars as Tripper, the head counselor who runs things at Camp Northstar with the help of his love interest Roxanne (Kate Lynch) and the camp's director Morty (Harvey Atkins), who is affectionately known as Mickey. Camp opens with Tripper and Morty preparing the misfit counselors-in-training -- Spaz, Fink, Crockett, A.L., Candace, Wendy, and Wheels among them -- for the arrival of their hyperactive little charges. After settling in, kids and counselors begin their activities with a soccer game in which depressed 11-year-old Rudy (Chris Makepeace) accidentally loses the game. Cast out by the other children, Rudy runs away only to come across Tripper, who befriends the boy and makes him his running partner. Romance, sexy fun, and comic hijinx -- usually with the heavy-sleeping Morty as their target -- lead up to an annual Olympiad in which Camp Northstar battles the wealthier and athletically superior residents of Camp Mohawk. The challenging events include cup stacking, potato-sack racing, and a nauseating hot dog-eating contest in which the portly Fink devours his way to victory. With the two-day event tied up, it comes down to the cross-country run, in which Tripper enters Rudy. Meatballs was the first major directorial effort by multi-talented filmmaker Ivan Reitman, whose name has since become synonymous with the comedy genre. ~ Patrick Legare, Rovi
People Who Like this movie also like
News & Interviews for Meatballs
Critic Reviews for Meatballs
Audience Reviews for Meatballs
With a tip of the hat to Robert Altman's M.A.S.H,, we join 'the other guys'(who are not rich, or privileged, or anything like that) kids at summer camp as they learn important life lessons like 'we ARE just as good as the rich and privileged kids' and 'we may not have masseuses or chauffeurs but we still know how to have fun'. Bill Murray struggles under the onus of being this camp's Hawkeye Pierce, needing to be 'wacky' in nearly every scene. I smiled once, I think, catching sight of a cochroach leaving the theater.
Kevin M. Williams
Super Reviewer
The first of a long line of collaborations between Harold Ramis and Bill Murray, this is the original film that started the camp genre that jettisoned through the eighties. Murray plays a goofy authoritarian figure who understands the kids, but works against the administration. The camp counselors are over-sexed teenagers, and their charges are big eyed sweethearts like newcomer Chris Makepeace. The film is a very watered down kind of comedy that relies on the goofball antics of Murray and the charisma of bikini babes. The film is very sweet when dealing with the relationship between Murray and Makepeace, but otherwise the counselors seem to see their charges as annoyances. There are also relationships between the teenagers, which is where the teenage sexual fantasy aspect comes from. It's a pretty harmless, sweet comedy that has lingered in the collective consciousness for the pure reason that it's Murray at his peak goofiness.
Spencer S.
Super Reviewer
½
[img]http://images.rottentomatoes.com/images/user/icons/icon14.gif[/img] Meatballs is by no means, an Ivan Reitman/Bill Murray classic. However, it has got quite a few funny moments and an energetic Murray leading the camp. The best thing about it though, was that I had a smile on my face that never faded away when I was watching it.
Directors Cat
Super Reviewer
Meatballs Quotes
There are no approved quotes yet for this movie.