Medicine for Melancholy
(2008)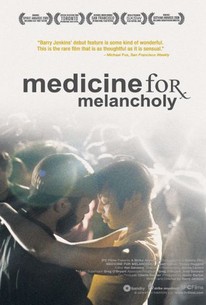 TOMATOMETER
AUDIENCE SCORE
Critic Consensus: Blessed with clever dialogue and poignant observations of class and race, Medicine For Melancholy is a promising debut for director Barry Jenkins.
Medicine for Melancholy Photos
Movie Info
Fate (and alcohol) brings two people together in this independent romantic comedy-drama. Joanne (Tracey Heggins) and Micah (Wyatt Cenac) wake up together one morning after a drunken one-night stand, the result of attending a late-night party at the home of a mutual friend. It becomes clear they don't know each other very well and after sharing breakfast, Joanne isn't interested in getting to know Micah any better. However, when Micah discovers that Joanne has misplaced her wallet, he stops by her apartment to return it, and they end up spending the day together. Joanne and Micah don't appear to have much in common; she's well-to-do and lives in San Francisco's pricey Marina District, while he has a flat in the rough-and-tumble Tenderloin and works with a group of activists struggling to make housing affordable in the city by the bay. As the day wears on, Joanne and Micah become increasingly aware of a genuine mutual attraction, but they also realize just how different they really are. The first feature film from writer and director Barry Jenkins, Medicine for Melancholy received its premiere at the 2008 San Francisco International Film Festival. ~ Mark Deming, Rovi
People Who Like this movie also like
News & Interviews for Medicine for Melancholy
Critic Reviews for Medicine for Melancholy
Audience Reviews for Medicine for Melancholy
½
Medicine for this film... a good dose less of self importance and reliance on the indy feel would be what this doctor orders. The premise is wonderful and the beginning holds much promise - a guy is washing his teeth with his finger while the camera changes angle to a view of someone who is obviously lying in bed watching him. So much is held within those opening shots - it was obviously the aftermath of a party, and you soon find out that this couple coupled for a one night stand. What follows could have been a tight little film about people who are drawn to each other and, in the case of the woman, trying to avoid that attraction (as she is already in a comfy relationship with someone else). The nice black and white feel of the film works well, and some of the imaginative camera angles and interesting shots of SF help to keep a keen focus, but then the film wanders away into obvious set scenes that allow the filmmaker to get up on his soapbox. It is ok to say what you feel, but in this case it sabotages the film, especially when some of the sentiments spouted are just plain wrong. Having spent a good portion of my life in and around SF, I can tell you that the contention that the only interratial coupling is between black woman and white men is patently false - SF runs the gammut, blacks with latinos, blacks with orientals, orientals with latinos, you name it. I also found it confounding that this film confused some of its geography. There is no easy way you can bicycle from the marina district to the tenderloin. You see all those wonderful hills that were filmed in the opening part of the film - those suckers are between the marina and the tenderloin - you either go over them (see how steep they are - not very practical) or go around them (which makes for a lovely five plus mile ride through streets that are clogged with car traffic). But that aside (and I'm going to ignore the hideous attempt to throw in the little discussion about the gentrification of the city, which was truly lame and should have been left on the cutting room floor), the film certainly had its moments, in spite of an uneven pacing (its slow pace coming almost to a dead stop in the scenes inside the bar - what was that trying to prove???). I can understand the plot line of the man trying to get the woman to embrace her race, but I disliked portraying her as racially insensative instead of, perhaps, enlightened. She had decided to get on with her life and not dwell on reparations; something that was apparant to me, but I'm guessing not what the filmmaker intended as he preferred to portray her as shallow and taking the easy road (see, I'm putting my sociologic views into this review, just as the filmmaker did with his film). However, I must say that the final morning after scene was beautiful: the camera looking out the apartment window to a bodega across the street, then panning back to the man asleep on the couch - then moving to the empty bed and back around to the window - full 360, and then downward where you can see the woman on her bicycle, heading back to the safety of her upper class marina and out of the man's life. This was a powerful scene, but not perhaps for the reason that the filmmaker intended.
paul sandberg
Super Reviewer
[font=Century Gothic]"Medicine for Melancholy" starts on a Sunday morning following a very wild party in San Francisco. So wild, that a man(Wyatt Cenac) and a woman(Tracey Heggins) had a one night stand and spent the night there. He is attracted to her while she is considering it a mistake. That having been said, she agrees to go with him to a coffee shop where they introduce each other as Micah and Angela. After a cab ride home, she accidentally leaves her wallet behind. But her name is not Angela. It is Joanne.[/font] [font=Century Gothic][/font] [font=Century Gothic]"Medicine for Melancholy" is a thought provoking little number shot in muted tones, except for the very ending. As such, the movie serves as an intelligent examination of identity politics and how it applies to the personal, not only of the individual but also of the city as a whole, providing a unique look at San Francisco and its gentrification as shown masterfully in a political meeting. And Micah's tiny apartment takes on additional significance as it symbolizes a segment of the population being pushed out of the city.[/font]
Medicine for Melancholy Quotes
There are no approved quotes yet for this movie.