Campfire
(2004)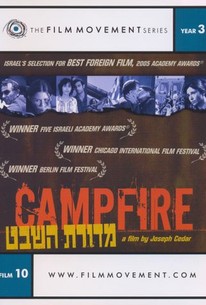 Movie Info
A woman seeking to embrace both her faith and her culture finds that neither is as simple as she imagined in this drama from Israel. It's 1981, and Rachel (Michaela Eshet) has become a single mother of two teenage girls after the unexpected death of her husband. Looking for a new identity as she starts her life again, Rachael decides to pull up roots and leave Jerusalem for a new settlement on the West Bank. Rachel's daughters have become acclimated to city life and are unenthusiastic about their mother's decision, but that doesn't change her mind. However, Rachel's neighbors soon make their own feelings felt; they obviously aren't happy with the prospect of a single mother living in their community, and she soon finds herself subjected with any number of matchmaking opportunities from fiftysomething men. More seriously, daughters Esti (Maya Maron) and Tami (Hani Furstenberg) don't feel safe or accepted in their new environment, especially Tami, who has a traumatic experience while on a camping trip with a Zionist youth organization. Campfire was the winner five Israeli Academy Awards in 2005, including Best Picture.
Rating:
NR
Genre:
,
Directed By:
Written By:
In Theaters:
On DVD:
Runtime:
Studio:
Critic Reviews for Campfire
Audience Reviews for Campfire
a recent widow and her teenage daughters struggle with the challenges of communal life and seek to find acceptance; realizing that it's internal & not external acceptance that they each need.
Aaron Chuah
This is one of those films you'll have to go out of your way to find, if you're interested, but it's well worth it. It's brought to us poor, deprived Americans by the same distribution company that brought us [i]OT: Our Town[/i], which I reviewed nearly a year ago. This is an Israeli movie, so I think I'm probably missing some of the cultural connotation. I know that I don't know what any of the writing anywhere in the movie says, because it's in Hebrew, which I neither speak nor read. I understand that many of the performers are better known in Israel; one of the actors is in [i]Munich[/i] and one of the girls was on [i]CSI[/i] once, but that's practically all I even recongize in anyone's filmographies. Rachel Gerlik is a widow with two teenage daughters, Tami and Esti. She's trying to get a place in a religious settlement in the West Bank. Her place is in doubt because she isn't married. Which is okay with her daughters, because they don't want to go anyway. Her friends are trying to set her up--probably in part because they don't want to accommodate a widow in the settlement. Esti, the elder daughter, is increasingly wild. She wants to escape the family, but upon her father's death, she no longer felt she could. Tami wants desperately to fit in, but she doesn't. She's a weirdo, and not even one of the cool weirdoes. And then one night, she leaves the "official" bonfire of the youth group and joins the unofficial one a bunch of boys are having. What happens to Tami and how it affects the rest of the family takes up the rest of the film, and I don't want to give that part of it away--not least because exact details are left unclear. But I will say that Rachel is, as accused at one point, [i]incredibly[/i] selfish. When she discovers that something--she does not know what--has happened to her daughter, she is more concerned that her daughter doesn't love her than that Tami might be hurt. It's a remarkable contrast between this film and [i]Spider-Man 3[/i]. This is a quieter film, and its story is told far better. If a fifth of the people who go to see [i]Spider-Man[/i] just today have even heard of this one, I will be greatly surprised. However, it's a superior film well worth tracking down. The Timberland Regional Library system has it, as does Netflix.
Edith Nelson
[url="http://www.rottentomatoes.com/m/10005028-campfire/dvd.php?select=1"][img]http://images.rottentomatoes.com/images/movie/coverv/38/260238.jpg[/img][/url] Another sad film that just happens to warm the soul in some way. Just how happy can loneliness be? I am not at all surprised this film won five Israeli Academy Awards, the Chicago International Film Festival, and the Berlin Film Festival. For serious film watchers. A very good story acted well, and with poise.
M Sarki
Campfire Quotes
There are no approved quotes yet for this movie.
Discussion Forum
Discuss Campfire on our Movie forum!