Meet the Family
(2005)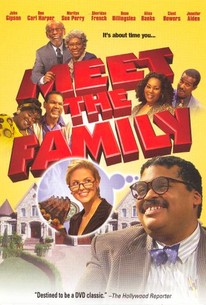 AUDIENCE SCORE
Critic Consensus: No consensus yet.
Movie Info
An African-American family sits down for supper and all hell breaks loose in this independent comedy. Humphrey Rump (Clent Bowers) has told his parents (Beau Billingslea and Marilyn Sue Perry) that he's bringing someone special over for Sunday dinner at their place, hoping to introduce them to his fiancée Lacy (Jennifer Alden) under calm and quiet circumstances. However, when he arrives, Humphrey discovers that's hardly how the evening is going to play out -- his folks decided to also invite his brother Darnell (Donn Carl Harper), sister Eve (Alisa Banks), their grandparents (John Gipsun and Sheridan French) and a handful of cousins and other distant relations. The Rump Family doesn't get along especially well in large groups, and Humphrey and his girl are mortified by the non-stop arguing, insults and off-color ranting. Meanwhile, most of the family is a bit taken aback to discover that Lacy is pretty, polite...and white. Meet the Family was the first feature from producer, director and writer Stan Lerner.
Rating:
R (for pervasive sex-related humor.)
Genre:
Directed By:
Written By:
In Theaters:
On DVD:
Runtime:
Critic Reviews for Meet the Family
All Critics (2) | Top Critics (2) | Fresh (0) | Rotten (2)
Meet the Family is an experience to be missed.
Los Angeles Times
Top Critic
The no-name cast is barely adequate: They declare lines with all the nuance of old, rapid-fire Laugh-In one-liners, dumbed down with sexual innuendo.
Hollywood Reporter
Top Critic
Audience Reviews for Meet the Family
This has to be the crappiest movie/dvd ever. I mean, I'm African/American and I found the movie to have some of the worst, tired actin ever. I never got to see the so called stars of the movie. After suffering through the first 20 minutes of boring, not-so-funny at all diatribe, I pushed the eject button. This stunk!!!
monica elliott
[font=Tahoma]I hear people calling movies "The Worst Movie Ever," and I rarely agree because, well, not everything can be the worst movie ever. And most of them aren't that bad, as I mentioned in a previous review. Well, Meet the Family is QUITE POSSIBLY one of the absolute worst movies of all time. It sounded halfway decent when I read the back. Basically, we have a rude and crude black family and their overweight, unattractive, but intelligent son is bringing home his girlfriend. Here's the kicker: she's white. Okay, fine, sure, this isn't [i]obviously[/i] a ripoff of Meet the Parents, The Nutty Professor, and Guess Who. [**SPOILERS** but trust me, you don't WANT to watch this garbage] The setting is the dinner table of the Rump family. Yes, I said Rump, which sounds suspiciously like Klump, which is the name of The Nutty Professor and his family. The camera leaves the table ONE TIME during the ENTIRE movie, but I missed it because I got up to get a drink and didn't care to pause it. The dialogue is just one jab after another. There's the sleaze bag brother who doesn't have a job and steals anything he can get his hands on. There's the fat loud sister who can't keep a boyfriend. These two jab at each other constantly. There's the disgustingly perverted grandparents who constantly jab at each other. I'll leave it up to you to imagine what their insults are [it's not difficult to do]. Then there are the parents, who are strangely like parents from a 50s sitcom or something. You can just picture them on Leave it to Beaver or something. This dialogue is like a sad attempt at stand-up comedy. And it NEVER STOPS. They sit at the table for about 40 minutes with NO FOOD to be seen. This part is kind of saved by the grandfather noticing. But then the mother says that with all the excitement, she forgot to put the meat in the oven. What? The mother tells the family how Humphrey is bringing his girlfriend and blah blah blah...so time passes, and someone asks where he is, and she says, "Oh, he called and said there was an emergency at the lab." WHEN did he call? Then, when he gets there, dressed just like The Nutty Professor, she asks him what took so long!!!!!!!! So, okay, his girlfriend is white. The family is shocked, but that's about it. She sits down and they continue their revolting dialogue. I mentioned that Humphrey works at a lab. Well guess what...he's doing gene therapy. They ask if he's working on a weight loss formula! But actually, he's working on penis enlargement, which just fits perfectly with that family. His girlfriend will talk and talk about what they're doing and she sounds pretty smart, but then she doesn't even know what Playboy is. Now who exactly is THAT stupid? They're having ribs. Humphrey gets sauce ALL OVER his hands and it's completely disgusting. They make a point to say that the mother made them extra-sticky, just how he likes them. So he goes into the bathroom to wash his hands. He takes a while, so the brother goes to check on him and comes back to say that both of his hands are stuck to his dick. Okay, as if this isn't ridiculous enough on its own, WHO would go into the bathroom with hands like that and unzip their pants with them? So the girlfriend goes in to help, and they come out and she's got sauce all over her face and her hair's down and she's all over Humphrey. Then she says, "Oh, I don't know what came over me," and sits back in her chair. Yes, I'm absolutely serious. The grandfather has hearing problems, so he keeps thinking they're saying something they aren't, and every single time, they correct him and explain it to him like he's two years old. Somehow, being afraid of spiders was brought up, and the grandfather starts talking about Mitsubishi and whatever other companies make Spyders, and someone says, "No, spiders, you know, the ones with eight hairy legs." I'M NOT KIDDING. The whole thing just keeps going and going and honestly, I don't know why we kept watching it. It was absolutely horrible, and the only reason I'm giving it a 1 is because there were maybe three funny moments. If you ever come across a copy of this movie, run away, FAST.[/font]
Vanessa Barfield
Meet the Family Quotes
There are no approved quotes yet for this movie.
Discussion Forum
Discuss Meet the Family on our Movie forum!