Meet the Spartans
(2008)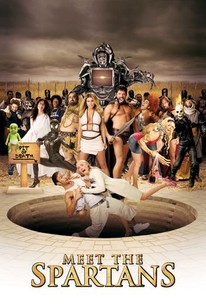 Movie Info
From the creators of Scary Movie and Date Movie comes this tongue-in-cheek parody of the sword-and-sandal epics, dubbed Meet the Spartans. The 20th Century Fox production was written and directed by the filmmaking team of Jason Friedberg and Aaron Seltzer. Sure, Leonidas may have nothing more than a cape and some leather underwear to protect him from the razor-sharp swords of his Persian enemies, but that won't stop the brave leader and his team of 13 warriors from defending their beloved homeland against a powerful invading force that includes the likes of a mutant Paris Hilton, the Transformers, the Ghost Rider, and Rocky Balboa.
People Who Like this movie also like
News & Interviews for Meet the Spartans
Critic Reviews for Meet the Spartans
Audience Reviews for Meet the Spartans
½
OOOOOK this is crap, pure crap, yet there are some scenes which are funny and do work quite well. The amazing thing is some scenes do look pretty good and are worthy of the actual film they are taking the piss out of, to a degree. But the main problem with some spoofs today is they are too spoofy/extreme, too utterly stupid, classic spoofs like 'Naked Gun' and 'Airplane' are daft but they still have a core story and you can follow it. Also the jokes are not just abstract and meaningless they do blend with the main idea and follow the story or match the sequences, these modern spoofs are just too ridiculous. As for Carmen Electra...getting old now and Maguire wasn't too bad actually, beats his 'Eastenders' shit and he does look the part amazingly!.
Phil Hubbs
Super Reviewer
The piece of cinematic diarrhoea that is "Meet the Spartans" was not worth the effort it took to make this review. This is quite possibly the only movie i've seen where i've turned it off before I even got half way into the film. Looking back on the experience I wish I had never even started. I remember probably one laugh in what i'd call the worst parody film ever. And thats coming from someone who hasn't even seen the movie it's taking the mick out of (300).
Directors Cat
Super Reviewer
Only five percent of the movie is an actual 300 parody, the other ninety five percent are stale pop culture references and unfunny comedy.
Christopher Heim
Super Reviewer
Meet the Spartans Quotes
| | |
| --- | --- |
| Leonidas: | We may have won the battle, But they will win the war! |
| Leonidas: | We may have won the battle, but they will win the war! |