Meeting People Is Easy
(1999)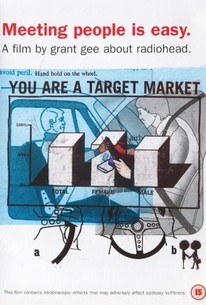 Meeting People Is Easy Photos
Movie Info
The British rock band Radiohead are an unusually introspective and downbeat group of musicians, which would make them unlikely candidates for international pop stardom. But against all odds, that's what happened to them in the wake of a hit single, "Creep," and press notices that have made them one of the most talked about English groups of the 1990s. In Meeting People Is Easy, director Grant Gee watches the band as they record their third album, the highly acclaimed OK Computer, then head out for an international tour, playing concerts and promoting the record in Europe, Japan, and the United States. Anyone expecting high-spirited hijinks in the manner of This Is Spinal Tap will be quickly disappointed (though anyone expecting high spirits from Radiohead has probably never heard their music). Meeting People Is Easy focuses on the downside of life on the road, as the band is booked into a long series of non-descript arenas, invited to perform on award shows where they clearly feel out of place, and repeatedly answer the same questions from an endless parade of journalists, with lead singer Thom Yorke often seeming to buckle under the strain. Meeting People Is Easy received a brief theatrical release in the United States prior to its bow on home video through the band's American record label, Capitol.
Critic Reviews for Meeting People Is Easy
All Critics (7) | Top Critics (1) | Fresh (5) | Rotten (2)
Meeting People Is Easy feels like a hangover with a great soundtrack. It's not for all tastes, but for those who crave experimental filmmaking, it's a must.

Audience Reviews for Meeting People Is Easy
½
Perhaps it's my bias as a huge Radiohead fan speaking - but Meeting People Is Easy is undoubtedly one of the most bleak music documentaries I've ever seen. It chronicles Radiohead's international tour for their critically-acclaimed OK Computer, their subsequent burnout, and the inordinate attention they received for it. It also follows the exacerbation of frontman Thom Yorke's depression in part due to international stardom. Director Grant Gee's style does wonders for this film. It's mostly shot in harrowing black-and-white, though there are a few colorized shots spliced in. He captures societal and technological disillusionment with his camerawork, complimenting the subject matter of OK Computer's lyrics wonderfully. There are a few shots in here that even rival the camerawork of master auteurs. Unlike most documentaries, Meeting People Is Easy is shot in a mostly experimental framework, which may put off some viewers expecting a conventional rockumentary akin to Led Zeppelin's The Song Remains the Same. Gee conveys mood with a conflation of Radiohead's music, white noise, and superb camerawork. Little is explained or said in here, but what is carries immense weight. Perhaps the most surprising thing about this documentary is how it deconstructs the notion that international music stardom is a walk in the park. Spoiler alert: it is not that easy. International stardom brings unwanted attention and scrutiny. Imagine, just for a second, how hard it would be walking out of any building if its exterior was teeming with paparazzis. Just imagine how you would feel about the infringement of you privacy at nearly every waking moment. This film is one of the most experimental and unique yet thoroughly accessible music documentaries out there. Although the film ends quite anticlimactically and you get little to no resolution (if you need that, look up Radiohead's Wikipedia article), for the most part it is thoroughly enjoyable, albeit devastating. Meeting people is easy. Making business with them, far less.
Maxwell Beacher
ill probably catch this on the independent channel, considering Radiohead is my favorite thing from the 90's period. Colin Greenwood probably hears his bass lines in his dreams before he plays them because nobody has that much rythym ( i just realized ive never typed the word rythym, i hope thats spelled right) and why is Thom Yorke not in the cast list thing?
Coxxie Mild Sauce
Super Reviewer
A good look for Radiohead fans.
Anthony Valletta
Super Reviewer
Meeting People Is Easy Quotes
There are no approved quotes yet for this movie.
Discussion Forum
Discuss Meeting People Is Easy on our Movie forum!