Mega Python Vs. Gatoroid
(2011)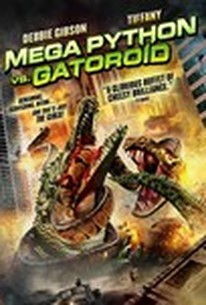 AUDIENCE SCORE
Critic Consensus: No consensus yet.
Mega Python Vs. Gatoroid Photos
Movie Info
There's a crisis in the Florida Everglades as giant pythons are threatening the alligator population.
Rating:
NR
Genre:
,
Directed By:
Written By:
On DVD:
Runtime:
Studio:
The Asylum
Audience Reviews for Mega Python Vs. Gatoroid
The title says it all with Mega Python vs. Gatoroid. I mean, what's to expect other than crappy special effects and acting ranging from don't quit your day job Tiffany and Debbie to a too serious A Martinez mistaking this for an intense, reptile-filled episode of L.A. Law? Who are we kidding, though? No one gives a rat's ass about these pointless snakes and gators. This is all about having Tiffany and Debbie Gibson go at it, and I guarantee you all the horny young boys watching this are gonna be so distracted by Tiffany's more than present rack, they'll be shocked to discover after finishing the movie that this actually had monsters in it. Not even the combined CGI efforts of Lucas, Spielberg and Cameron could hide those things. Full review at http://silverscreenfanatic.com/2015/02/16/what-the-hell-were-they-thinking-59/
Benjamin Marlatt
½
"Why would anyone think this is crazy? We're feeding chickens full of steroids to gators. There's nothing crazy about that. What could possibly go wrong??" This is a ridiculous movie, but lines like that let you know they know this is a ridiculous movie, and consequently I'll be damned if I wasn't entertained. Gonzo environmentalist Deborah Gibson has been liberating pythons kept as pets back into Florida's everglades, and now that the habitat has reached critical mass, park ranger Tiffany decides to rescue the dwindling alligator population by increasing their size by feeding them experimental steroids. Two days later, both species have overrun Miami! Some hilariously bad B-movie acting and the absolute worst CGI you will find in the 21st century would normally doom this kind of creature feature (like with Gibson's earlier Mega Shark Vs. Giant Octopus) but this time we experience the So Bad It's Good Effect. A group of hillbillies seemingly transplanted from Alabama shoot everything in sight, one of them has a dog named Bubba, Mickey Dolenz of the Monkees appears as a guest speaker and gets eaten, at a fundraiser a local reptile expert warns "If you have a weapon, get it out now!" upon which everyone demonstrates they were packing, and after her fiancee is devoured by a python Tiffany wails, "Those snakes are ruining everything!" I even got some kicks during the credit crawl, when an actor named A Martinez was introduced I was waiting for the appearance of Another Martinez. Music history lesson: Deborah (then 'Debbie') Gibson and Tiffany were the Christina Aguilera and Britney Spears circa 1999 of the late-'80s, two teenagers bursting onto the pop scene at the top of the charts. Gibson fans hated Tiffany, and Tiffany fans hated Gibson, but I doubt either singer harbored resentment towards the other. But for those fans, if they still exist, this is your dream movie, pitting the pair on opposite sides of the law and having the ultimate throwdown - this movie certainly gives people what they want! An epic catfight ensues, complete with theme music, name-calling, rolling on top of each other, food fighting, and getting soaked in a lake. Gibson is more the looker these days and markedly better actress (and much skinnier than I remember her from Mega Shark), while Tiffany is undisputed queen of the Tit Parade - she runs around a lot and probably should have worn a chin guard. Gibson calls Tiffany a bitch at least eight times, and with every heated encounter between them you know the stacks will blow at some point, so you gotta hand it to them by delivering on that promise. Both go all out and seem to have fun with the rivalry perception by agreeing to this project's stunt casting, with the capper having them trade spoken lines which were lyrics from Tiffany's massive hit 'I Think We're Alone Now.' Maybe they're two has-beens now in their early 40's desperate enough to be part of any project remotely affiliated with the entertainment industry by smearing pie cream across each other's chest, but I prefer to think the former explanation holds more truth.
Doctor Strangeblog
Super Reviewer
I have no issue with SyFy movies usually, and this one features two pop stars from my youth. While it was wonderful to see Debbie Gibson and Tiffany grown up, and the fight scene between the two was tremendous, the movie is really bad. The effects were horrible - obviously not much of the low budget was spent on this. The concept is mindless to begin with, though it had some chance of being fun. Nope; fun never materialized. I'm glad both the ladies can sing (and each had a song in the background during the movie) because they really can't act.
Don Schick
Mega Python Vs. Gatoroid Quotes
There are no approved quotes yet for this movie.
Discussion Forum
Discuss Mega Python Vs. Gatoroid on our Movie forum!