Megafault
(2009)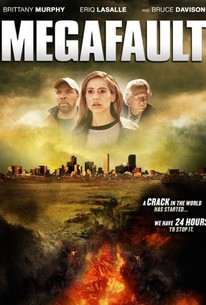 AUDIENCE SCORE
Critic Consensus: No consensus yet.
Movie Info
Brittany Murphy stars as a seismologist who must stop a devastating fault from ripping the Earth apart in this apocalyptic thriller.
Critic Reviews for Megafault
All Critics (2) | Fresh (1) | Rotten (1) | DVD (1)
It's a low-budget disaster film, but it works... and it doesn't take itself nearly as seriously as a film by Roland Emmerich

Que triste legado deixado por Murphy, que, em um de seus últimos trabalhos, surge patética e sem vida num filme que, para ser considerado trash, teria que melhorar muito.

Audience Reviews for Megafault
½
Considering this movie probably cost next to nothing to make. Trust me it looks that way when you watch it. I thought for a science fiction flick, it was good and i like the storyline. It moved through at a good pace, but really who are we kidding. It was a made for tv movie for the sci fi channel and all there movies are crappy. So when i say it was good, i meant for a sci fi made movie!!!
Danielle Gomez
Brittany Murphy piqued my interest in this, but I shouldn't have bothered. I can't honestly tell you what the movie was about, because ten minutes into it, my eyes glazed over with boredom and I stopped paying attention. If you've seen one lame sci-fi disaster movie you've seen them all, and this isn't even a particularly well-produced one, so the effects don't really give it a leg up either. Skip it.
Amanda Hendsbee
The Asylum return with their biggest production yet. This film has The Asylum's best performances and best effects. It doesn't say much though. I just felt sorry for La Salle, and he looked like he hated himself anyways. Murphy looks troubled in this film. She doesn't look in good health, nor does she look like some kind of genius seismologist. The plot sees a bunch of government boffins try and stop an earthquake spreading across the US by starting another earthquake to derail it. Yes, it's fucking stupid, but what do you expect? My favorite part is whn the earthquake starting laser, accidentally sets off a volcano or something and people just combust and melt. The added quality just makes the film worse. At least with terrible actors The Asylum films usually have non-stop comedy. Here, I just felt embarrassed.
Luke Baldock
Super Reviewer
Megafault Quotes
There are no approved quotes yet for this movie.
Discussion Forum
Discuss Megafault on our Movie forum!