Megan Leavey
(2017)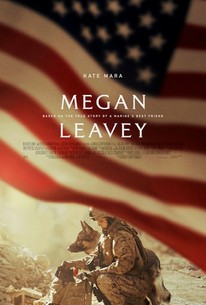 TOMATOMETER
AUDIENCE SCORE
Critic Consensus: Megan Leavey honors its real-life subjects with a sensitive, uplifting drama whose honest emotion more than makes up for its mild approach to the story.
Movie Info
MEGAN LEAVEY is based on the true life story of a young marine corporal (Kate Mara) whose unique discipline and bond with her military combat dog saved many lives during their deployment in Iraq. When she is assigned to clean up the K9 unit after a disciplinary hearing, Leavey identifies with a particularly aggressive dog, Rex, and is given the chance to train him. Over the course of their service, Megan and Rex completed more than 100 missions until an IED explosion injures them, putting their fate in jeopardy. Directed by Gabriela Cowperthwaite (BLACKFISH) from a screenplay by Pamela Gray and Annie Mumolo & Tim Lovestedt, the film also stars Edie Falco, Ramón Rodríguez, Bradley Whitford, and Common.
News & Interviews for Megan Leavey
Critic Reviews for Megan Leavey
Audience Reviews for Megan Leavey
Although I have gotten emotional over films with dogs as a central part of the film before, Megan Leavey is the first canine centric film I've watched since I became a dog owner myself, and it became an extremely moving experience. There's no denying an impact a dog can have on someone's life. For Corporal Megan Leavey, it was the military K-9 German Shepherd, Rex, who changed her life. The film covers many years of Leavey's time as a K-9 officer with Rex as they save lives uncovering bombs and other dangerous explosives. There are some typical military sequences that set up Leavey as a sort of, mess-up and misplaced character, but for the most part, the film is a unique and inspired take on one section of the military. Complemented by a solid supporting cast, the real heroes here are Leavey and Rex. Like any great relationship, there are ups and downs. But there are a few indicators that the bond they share isn't something that can be easily quantified, and that made it truly special. Sometimes people are made for each other and sometimes certain dogs are made for certain people. It's just the way it is. Kate Mara plays Leavey brilliantly, as she so often does with characters. She's one of these under the radar actresses who always seems to bring their A-game. And if not for the fact that I was looking for a movie about a dog, I probably would have forgotten about watching these trailers last summer. The film itself flew under the radar, but I'm sure glad I checked it out. 8.8/10
Thomas Drufke
Super Reviewer
½
This is a great true story, fine acting by Kate Mara and Common. This is a rare film that can balance quiet drama and in your face action well. Heart warming from beginning to end.
Jarrin Rozenblad
Super Reviewer
True stories have been present as long as fictional stories, but as Hollywood begins its trend of remakes lately, it seems that most of the original content is coming from true stories. From war films to human dramas, I find that some of the best original concepts come from stories that really happened. Megan Leavey is yet another film to follow this trend, and I have to call it as I see it, but this is a great movie. Sure, it has its flaws like anything else, but when you can tell that the filmmakers are trying very hard to do the story justice, it leaps off the screen and may bring you to tears. This is a very well made movie and here's why you should give it a watch, now that it's hitting shelves. Knowing not what to do with her life, young Megan Leavey embarks on a mission to join the army. Realizing that her calling is to train to work with dogs who sniff out bombs, drugs, and guns throughout the war, a strong bond begins to flourish between her and her companion Rex. If there's any bit of you that can buy int this aspect of the film, then I promise that you will be emotionally moved by the final act. Yes, everything is predictable, because you question why they would've made the movie otherwise, but it's so well made that you can easily look past that aspect. Fighting for the right to adopt Rex after a certain incident occurs, this film fills itself with emotional depth, making for a very satisfying experience. I've read many reviews that seem divisive on the talent that Kate Mara brings to the table, but this is easily the best performance I've ever seen her deliver. I've never watched an interview or really looked up how the real-life heroin acted, but as far as performance goes, Kate Mara was one of the best choices for this part. Everyone has certain roles that they're born to play, and while this role may not go down in history or even be remembered, I'll definitely find myself reflecting on it as I think of her work. Mara's performance alone is what got me as invested in this story as I was, which was also due to the casting of Ramon Rodríguez as her love interest and work companion, Matt Morales. While this is definitely about animals and right around the world, this is also a very touching human story that cares about relationships and characters. Although Kate Mara plays off the dog very naturally, Ramon Rodríguez was easily my favourite secondary portion of the film, because his presence elevated the emotional impact that Megan goes through throughout the film. It may not be the best film I've ever seen structurally, but in terms of emotion, it really did hit me. This is a very human story, and if you can invest yourself in it from the start, you may find yourself enjoying it as much as I did. In the end, Megan Leavey is exactly the movie you think it is if you've seen any of the promotional material. It definitely has its few moments of sappiness, but it also embraces them and delivers them in a way that may be unexpected to some viewers. This is a very effective movie and my only complaint is that it's far too long. This movie could've been told at a brisk and powerful 90 minutes, but padding it out to two hours felt like a bit of a stretch. This is a movie that I believe many families and dog lovers can enjoy, because of the way everything is presented. Yes, the film can be sad, but it's a happy kind of sad if that makes any sense. If you've yet to check this film out, I recommend checking it out.
Megan Leavey Quotes
There are no approved quotes yet for this movie.