Mei loi ging chaat (Future X-Cops)
(2010)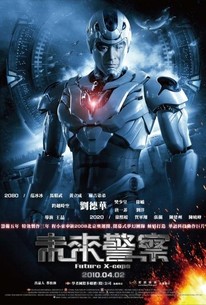 Movie Info
In the year 2080, when solar energy has replaced the need for fossil fuel, oil tycoons create cyborgs to travel back to the past and assassinate the inventor of solar technology. But a member of the special police force volunteers to transform himself into a humanoid and travel back to defeat the evil operation.
Critic Reviews for Mei loi ging chaat (Future X-Cops)
There are no critic reviews yet for Mei loi ging chaat (Future X-Cops). Keep checking Rotten Tomatoes for updates!
Audience Reviews for Mei loi ging chaat (Future X-Cops)
½
This should be a poor Power Rangers with Andy Lau. For starters, the film tried too hard to recreate a futuristic landscape, so much so that everything looked extremely rote, sterile and repetitive, and goes to show just how much the East has to catch up with the West in terms of an effects-laden picture. The visual effects are hilarious awful and director Wong Jing's kills with CGI has not improved. The film's first big action sequence provides a weak mix of 'futuristic plot holes' and bad 'character development', all of which threaten to scupper the entire project until a potential surprise that goes for the heartstrings. Other than the action, the romance here between Lau and Barbie Hsu reeked and was totally unbelievable, with romantic subplots of other characters being even worse.
Dean McKenna
Super Reviewer
½
This film has it all, bad special effects, bad script, bad direction, over zealous acting. Andy Lau desperately tries to save it, but even with a brief cameo by Bingbing Fan and the support of Jiao Xu (the kid from CJ7, finally playing a girl) and Barbie Hsu, he is ultimately defeated by all the silliness. Had it been played more tongue in cheek, it would have been a better film, but too many unintentional laughs make this a real stinker.
Anthony Valletta
Super Reviewer
Mei loi ging chaat (Future X-Cops) Quotes
There are no approved quotes yet for this movie.