Men in War
(1957)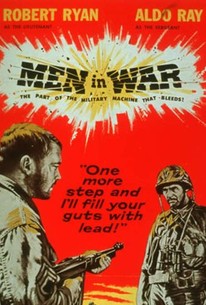 Movie Info
Anthony Mann, best known for his intelligent Westerns and hard-boiled crime films, directed this unflinching look at the realities of war set against the backdrop of the Korean conflict. Lt. Mark Benson (Robert Ryan) is the leader of a platoon that has just been given orders to advance to Hill 465, where they are to join awaiting troops and advance on the territory. While Benson and his men are weary, they have little choice but to comply. Needing a transport for their weapons, Benson and his men commandeer a truck, only to discover that it's not empty -- Sgt. "Montana" Williamette (Aldo Ray) has been ordered to escort a colonel (Robert Keith) suffering from extreme battle fatigue to a field hospital for examination and treatment. While Benson's loyalty is to his troops and his mission, Montana refuses to turn over the truck; the colonel is one of the only men he's been able to rely on during his stretch in the Army, and he is determined to stand by him in his time of need. Either way, the men find themselves frequently confronted by danger, and their numbers are decimated when they're ambushed by enemy troops. The supporting cast includes L.Q. Jones, Nehemiah Persoff, and Vic Morrow, who five years later would confront the dark side of war on a weekly basis as star of the TV series Combat. ~ Mark Deming, Rovi
Critic Reviews for Men in War
Audience Reviews for Men in War
½
Not the greatest movie, but very enjoyable. And attempts to touch on more complex emotions and themes than your typical 1950s war movie.
Timothy Phelan
change of pace expertly handled by director anthony mann ('johnny guitar" also i love the scoring of this movie esp the most effective use of the xylophone!
Greg Wood
Men in War Quotes
There are no approved quotes yet for this movie.
Discussion Forum
Discuss Men in War on our Movie forum!