Men of War
(1994)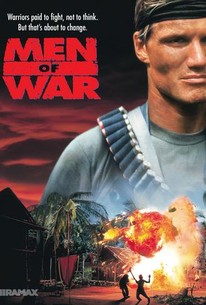 AUDIENCE SCORE
Critic Consensus: No consensus yet.
Movie Info
Seemingly content living the life of a derelict, former mercenary Nick (Dolph Lundgren) agrees -- reluctantly and only after he is offered a large fortune from two mining company executives -- to gather up a unit of fellow soldiers of fortune and fly to the island of Jakarta in order to convince local peasants to give up their land. Once he arrives, Nick sees soldiers burn a peasant village. When he learns that the bloodshed is not for the control of such riches as uranium or jade, but for an ancient deposit of bat guano, he changes his alliance and begins fighting for the natives.
Rating:
R (for non-stop violence, strong language and some sexuality)
Genre:
Directed By:
Written By:
In Theaters:
On DVD:
Runtime:
Studio:
Miramax
Critic Reviews for Men of War
There are no critic reviews yet for Men of War. Keep checking Rotten Tomatoes for updates!
Audience Reviews for Men of War
Thanks to the release of Sylvester Stallone's "The Expendables" aging actions stars like Dolf Lundgren have been revitalized and due to this people are starting to look back at his old action films.... hell it even worked on me as I haven't seen his many of his action films in years. As I go through my DVD collection of Lundgren action films it is easy to say that the hasn't had the most prolific career in the "action film" compared to his action hero brethren due to most of his films being really, really forgettable. "Men of War" is one of his many action films that fall under the dreaded word "forgettable." Lundgren is a special forces assassin who is brought out of retirement to gather his old crew of war buddies to head down to a tropical island in order to convince the local tribes to sign a contract so greedy businessmen can come in and mine for jade. Lundgren in good Pocahontas fashion falls in love with one of the tribal women, loses track of his mission and turns on his team and mission. Of course a blood bath ensues. I don't expect exceptional plots when it comes to action films but Jesus Christ these type of plots have been done to death, even by 1994 when this was made. Really how man action films start off with a retired assassin or mercenary not wanting to come back, but later convinced to by an old friend only to end up being enemies with the very person that hired him. Fuck... I've lost count! The cast is made up of some great character actors that many action fans will instantly recognize, most notably the Australian actor that played Kano in the "Mortal Kombat" film and other notable jackasses. Hell we even get a young Catherine Bell (famous now for the chick TV show "Army Wives"... you can thank my wife for drilling that bit of trivia into my skull by constantly watching that overly dramatic show) but her character is basically pointless other than providing the predominantly male audience with some eye candy. Dolf Lundgren himself actually doesn't do to bad of a job in the acting department and he really shows he's come a long way from the early days of "Masters of the Universe" and "Red Scorpion." My main beef with this action film is the lackluster direction by Perry Lane. How did this guy fuck up so royally? He had a dream cast for an action film, a typical action packed plot but he ruins it by giving the film a very flat, made-for-TV vibe to it not aided by some very annoying uses of slow motion. His directing is so pedestrian I felt like I was watching an episode of "Tour of Duty" as opposed to a DOLF LUNDGREN ACTION FILM! Fuck I shouldn't be surprised to learn that all this asshole did after "Men of War" was direct hundreds of T\television episodes for various series... including fucking "Army Wives." No wonder I found myself losing attention... Dolf Lundgren does a better acting job and the rest of the cast is made up of a dream team of character actors but thanks to our boring, made-for-TV like approach to the directing this action film never takes flight and it had the ability to be an insanely entertaining action film with the ingredients it had. Where's Cannon films when you need them?
Eric Reifschneider
I was quite impressed with film , about group of operatives must take over an island , and find paradise there and must defend it from the coming onslaught . Dolph Lundgren was at his best . See it was great action and good story with it .
mark fields
"The Dolph defends an island people from the guy from Dharma and Greg, who wants to mine the island for minerals and bat crap." That's the plot of this movie pretty much. Lundgren plays Nick Gunner, a mercenary who is hired to go to a island somewhere in Southeast Asia to get them to let the evil corporation owned by the Dharma and Greg guy and his partner. Along the way, Gunner assembles a crack team of commandos, including Zeus (No Holds Barred) and Catherine Bell. It's the same plot you've pretty much seen Dolph do quite a few times before: Trained killer is hired to do job to subjugate an innocent person or people; along the way, trained killer meets LBFM and has a change of heart. It's up to trained killer to protect the person/people/nation/island from those trying to exploit it. It's a formula I think Dolph knows works pretty well. This is pretty good B movie crap. The Dolph is a noble mercenary, willing to do anything for his crew. He tangles with this wannabe Vernon Wells guy, who acts and talks just like Bennett from Commando. The same kind of homosexual overtones that existed in that baddie return here as well more blatantly (the baddie in this likes to kiss other men a lot). The co stars are also cool: Zeus is here, Catherine Bell (J.A.G.) as well. The guy from Dharma and Greg, of course. Charlotte Lewis brought her nice boobies to the table, and gets down with Dolph in a waterfall. I thought it was awesome to see Kevin Tighe, who played Frank Tihlman from Roadhouse, in this. This is the second movie I've seen that indirectly associates Dolph with Roadhouse. Special mention goes to the guy who played Po (BD Wong), who was very funny. Overall, it's heavier on drama than action, but the whole thing is tinted with some welcome humor.Recommended.
Jason Anderson
Men of War Quotes
There are no approved quotes yet for this movie.
Discussion Forum
Discuss Men of War on our Movie forum!