Ménage (Tenue de Soirée)
(1986)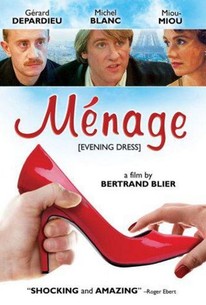 Ménage (Tenue de Soirée) Videos
Ménage (Tenue de Soirée) Photos
Movie Info
Bertrand Blier's wry comedy about a charismatic bisexual burglar (Gerard Depardieu) who disrupts the life of a married couple (Michel Blanc, Miou-Miou). A.k.a. "Ménage." Art Collector: Bruno Cremer. Depressed Man: Jean-Pierre Marielle. Pedro: Michel Creton.
Rating:
NR
Genre:
, , ,
Directed By:
In Theaters:
On DVD:
Runtime:
Studio:
Koch
Cast
Critic Reviews for Ménage (Tenue de Soirée)
Audience Reviews for Ménage (Tenue de Soirée)
½
Crossing another Bertrand Blier film off my list with this Netfux rental! Gerard Depardieu plays a bisexual thief who insinuates himself into the lives of a couple and causes all sorts of chaos for them, turning them into his lovers and accomplices at varying turns. Such a strange little film. Worth a rental.
Bill Bryant
½
Not How Real Sexuality Works You know, I almost don't know where to start with this movie. The place most people seem to go is that the second half doesn't seem to belong to the first half, and that's not a bad place to start. It really, really doesn't. However, by the time we got anywhere near the second half, I was already having a hard time with the movie. I'm not entirely sure why I finished watching it; I've turned off better movies in the last few days that just didn't interest me. This one actively bothered me. My only defense for watching it the same way is that I want to warn other people against what some people think is a whimsical French sex comedy, and it's true that part of my interest was in writing a negative review, which I don't think I do often enough. (It's that whole turning off bad movies thing.) However, I have to confess that the main reason I finished watching it was that I was too lazy to get up. It's why I watch worse movies on DVD than streaming. Monique (Miou-Miou) is at a nightclub, yelling at her husband, Antoine (Michel Blanc). Bob (Gérard Depardieu) overhears their argument and slaps her. Somehow, the threesome end up hanging out together. Then, they start breaking into houses. Monique resents her life with Antoine, because she doesn't feel she's getting the good things in life that she deserves. So they get them from rich people, and things happen. They're held at gunpoint by the wealthiest people in Paris, over and over. Bob is an ex-con, and he says that, while in prison, he developed an interest in men, and he's interested in Antoine. Up until this moment, Antoine has been straight to the point of homophobic, but a series of strange happenings result in his ending up with Bob, and Monique takes off. Eventually, Antoine ends up dressing as a woman for Bob, because that's obviously what all gay men want--a really ugly drag queen. I don't know which is worse in this movie, the homophobia or the misogyny. I mean, there's the obvious fact that no one seems to have heard of bisexuality--either you're a straight man or you're someone's wife. Sex is all penetrative, and the same person always takes it. (Maybe Antoine and Monique's marriage could have been saved by pegging?) And even if you're the one penetrating, you, too, will end up in a wig. Apparently. It's also said that everyone who's taking penetration has to force themselves to want it. This may be a generalization, because it's only expressly said to be true by two people, but since there are only three well-developed characters in the movie in the first place (and that's putting it loosely), and they're the only two to really express an opinion, it's hard not to think that the movie is sharing the filmmakers' opinion. It goes a bit beyond homophobia, honestly; it's a distaste for sex in general. It's all very sordid and unpleasant, and I don't think any of these people would know a functional relationship if they tripped over it. And then there's that wife thing. After Bob and Antoine become a couple, Monique stays with them and does literally everything for them. She tells them that dinner will be ready at eight, and Bob throws a fit when that turns out to mean 8:05. She's asked what she did all day, and she did more than I get done in a week. But it isn't enough. And it's not as though Bob and Antoine were out at work, because no one in this movie seems to have even considered a day job. I mean, Bob actually sells Monique to a friend of his, and she goes off to become a (bad) prostitute. And after that happens, Bob shapes Antoine into the woman he wants, even getting him to shave off his moustache and dress in full-on drag. Oh, and then, he goes off to have a fling with someone else. Heck, the movie introduces Bob by having him slap Monique, and he expresses the opinion that all women need to have that done to them now and again. There were a few funny moments to this movie, and there were a few places where it might have gone somewhere interesting. Instead, what we have is a horrible mishmash of a film. Any character development is thrown aside at the point at which the trio set up housekeeping, and it goes to true insanity at the point at which Bob (without, it should be noted, her knowledge) sells Monique. I do believe that it's possible that Antoine was hiding bisexuality in homophobia, but I also believe that he was interested enough in Monique that it proved he wasn't completely gay. And in fact, if Bob weren't a total sociopath, it would not have been impossible to have a relationship wherein everyone slept with each other. (Though Antoine also rejects the idea completely.) However, this movie isn't interested in exploring anyone's real feelings or interests. It's telling what it thinks is an entertaining story. And maybe it would be, if it had been people other than someone's cruel and heedless stereotypes.
Edith Nelson
"Menage" starts with a night out on the town for Monique(Miou-Miou) and her husband Antoine(Michel Blanc). However, instead of enjoying themselves, she spends her time berating him for the lousy state of their lives.(To be honest, their place is a dump.) Enter Bob(Gerard Depardieu), a handsome stranger, who invites them into the exciting world of breaking and entering. So while his huge proboscis leads them to wealth unimaginable, it also as often leads them into trouble... "Menage" is a wickedly entertaining movie from Bertrand Blier wherein he manages with his usual deftness to simultaneously keep the characters and audience off balance throughout which is no surprise considering the characters' no fixed abode. If the movie had stopped for any period of time, it might have given us a chance to take note of the didactic nature of the dialogue. As it is, it is one long intelligent and honest stream of pure debate on the state of marital relations, as the movie seeks to subvert the normal in any way possible. And Antoine's shock at Bob's advances is not any sign of gay panic; it is just that he is too uptight for words. That like everything else will soon change.
Discussion Forum
Discuss Ménage (Tenue de Soirée) on our Movie forum!
News & Features