Menschen am Sonntag (People on Sunday)
(1930)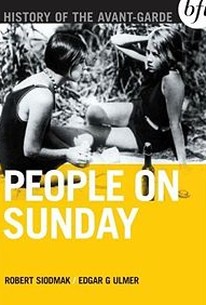 Menschen am Sonntag (People on Sunday) Videos
Menschen am Sonntag (People on Sunday) Photos
Movie Info
An early experiment in neo-realist filmmaking, Menschen Am Sonntag is a low-budget drama about two men, a cab driver and a salesman, who find themselves with nothing to do on a Sunday in Berlin. The friends pick up a couple of young women, and the four spend the day wandering the city streets before heading to a beach in Wannsee, where they go swimming and enjoy an idyllic afternoon by the lake. After a genial but determined attempt at seduction by the two men, the foursome returns to Berlin, with the depressing prospect of another working week looming before them. Menschen Am Sonntag is most notable today for the behind-the-camera contributions of several young German filmmakers who would later win greater fame after expatriating to the United States following the rise of the Third Reich, among them Billy Wilder, Fred Zinnemann, Robert Siodmak, Edgar G. Ulmer, and Curt Siodmak. ~ Mark Deming, Rovi
Rating:
NR
Genre:
, ,
Directed By:
In Theaters:
On DVD:
Runtime:
Critic Reviews for Menschen am Sonntag (People on Sunday)
Audience Reviews for Menschen am Sonntag (People on Sunday)
A Small Suburban Park on an Island in the River It has been warm the last few days. In that border territory where you think it's hot if you're sensitive to heat but only think it's warm if you're sensitive to cold. I, as it happens, am sensitive to heat and have been hiding. It also means that it's difficult for me to concentrate on movies. However, the fact of this one isn't even that there isn't much to concentrate on, though there isn't. More to the point, this is exactly the sort of thing that I think about in weather like this. I'm willing to be that pretty much every park in town was filled with people "taking advantage of the weather" while I hid inside and watched [i]Murder, She Wrote[/i]. (What is it about that show that made even good actors so bad?) It makes me wonder a bit what temperature it was on the day when this film was set. I think a lovely, perfect day for all this is in the seventies, but a lot of people think that's too cold. It is between the wars. The characters are supposed to be typical Berliners--none are actors, even, though one, Christl Ehlers, is an extra who only made one other movie--going about their typical lives. Erwin Splettstößer and Wolfgang von Waltershausen are a bit on the layabout side. Wolfgang picks up Christl. Erwin lives with Annie Schreyer, a model, but they are fighting. They tear up one another's pictures of movie stars and yell at one another over how she should be wearing the brim of her hat. Annie decides not to go with Erwin and Wolfgang to Nikolassee the next day, probably in part because she is unable to convince Erwin to go to the movies with her that day. On Sunday, Erwin and Wolfgang go to the park with Christl and her friend, Brigitte Borchert. They swim and picnic and gad about generally, while Annie just stays in bed. Neither man seems to worry about much other than themselves, and it's just another lazy Sunday in Berlin, though Monday always comes. Okay, so I don't know for sure what Nikolassee looks like beyond what's shown here. The Wikipedia page isn't much help, and most of its references are in German. Therefore, I don't know if my automatic mental comparison to La Grande Jatte is accurate--though I don't really know what La Grande Jatte looks like, either. I know about Sondheim's version of it, just as I know the Curt Siodmak/Robert Siodmak/Billy Wilder version of Nikolassee. However, I think possibly that it doesn't matter. I spent many of my early childhood Saturdays at a park in Pasadena called Victory Park, where my dad and his friends shot off model rockets. There's no water at Victory Park, but that isn't entirely the point. All three are places where people go to pass an idle Sunday, just as all those people were probably swarming Marathon Park downtown today. I mean, there's water at Marathon Park, but you're not allowed into it. However, there's still picnicking and general gadding about wherever you are. Of course, I also don't like either of our main male characters, but I strongly suspect I'm not supposed to. In later years, Billy Wilder wrote his fair share of self-centered male characters, to be sure, but the difference was that the ones we were supposed to like eventually learned better. I am not, I must confess, as familiar with the work of the Siodmak brothers, but never mind. I'm not sure we're supposed to have any admiration for the young men taking advantage of whatever women are unfortunate enough to become entangled with them. They live a seemingly pleasant, definitely laid-back life, but where are they going? You can't even trust their plans from one Sunday to the next; I have no reason to believe that they will be as good to the next young women they pick up as they could be. Or maybe, after all, this [i]is[/i] as good as they can be, which is its own kind of unfortunate. They are really just Weimar Republic man-children, the 1929 equivalent of Will Ferrell or Adam Sandler. And, yes, the sad truth is that what is coming for these young men is not another lazy Sunday, not in the long term. I don't know what happened to most of the people in this movie, not really. Brigitte Borchert lived to be a hundred, but that's all I know about her, really. Alone of the main performers in the film, Christl Ehlers has a biography on IMDb--it's by her daughter. She was, it seems, part Jewish, and she was lucky to have had a father who made long-term plans to escape the Nazis. She survived. Wilder and the Siodmaks also got out. However, many, many others were not so lucky. Wilder lost several family members to the Holocaust (though not, as was long believed, at Auschwitz, as if that makes some kind of difference). Perhaps now, over eighty years later, it is possible to have a pleasant, laid-back life in Berlin without worrying too much about politics. For a very long time after this film was made, however, it basically wasn't.
Edith Nelson
a remarkable documentary/experimental late silent film made in weimar era berlin by future hollywood stars robert and curt siodmak, edgar g ulmer, billy wilder and fred zinnemann, among others. no complete copy has survived so this is a recreation from various sources, as complete as possible. and it is a wonderful time capsule, using non professional actors on their weekends going about their leisure activities, with cityscapes, beach scenes and domestic life, so naturalistic and modern, whose influence on italian neorealism and the nouvelle vague can't be denied. also incredibly poignant, with the nazis' rise to power and the holocaust looming, causing these young filmmakers to flee their homes, one can't help but wonder what became of these carefree young people on sunday...
Stella Dallas
Super Reviewer
Is there a plot? Barely. Any real actors in the film or sets? Nope. Yet this is one of the best representations of people doing what they want with their weekends, which at the time was a new trend. Trying to capture the most honest and accurate representation of random people and how they spend their time and interact is captured in this film more than any other! A movie thought absurd and literally laughed at during it's inception and process of being made, but was embraced by critics and audiences instantly when it was released. The men involved would all go on to Hollywood and make international names for themselves and it can be said that this was their ticket in. Recommended for fans of silent films!
Chris Browning
Super Reviewer
Menschen am Sonntag (People on Sunday) Quotes
There are no approved quotes yet for this movie.
Discussion Forum
Discuss Menschen am Sonntag (People on Sunday) on our Movie forum!