Mercenary for Justice
(2006)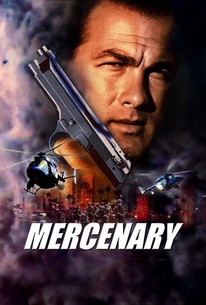 AUDIENCE SCORE
Critic Consensus: No consensus yet.
Mercenary for Justice Photos
Movie Info
A wandering mercenary sets out on a bullet-riddled path of revenge after being blackmailed into staging a daring prison break and subsequently being double-crossed in this explosive action entry starring American martial arts icon Steven Seagal. John Seeger (Seagal) is a soldier of fortune with a reputation for getting the job done. When the son of a billionaire arms dealer is locked away in a South African prison with little hope for freedom, the enraged father uses his far-reaching power and influence to force Seeger into a daring rescue mission. There's much more to this adventure than Seeger knows, though, and upon discovering that he has been hung out to dry by the manipulative extortionist, Seeger sets out to prove that when it comes to the matters of honor, you simply don't mess with the best in the business.
Rating:
R (violence and language)
Genre:
,
Directed By:
Written By:
In Theaters:
On DVD:
Runtime:
Studio:
Millennium Films
Critic Reviews for Mercenary for Justice
All Critics (1) | Fresh (0) | Rotten (1) | DVD (1)
Those who enjoy Seagal's stuff will probably dig this one a little more than, say, OUT OF REACH FOR A SUBMERGED SUNBEAST'S BLACK BELLY FOREIGN DAWN KILL.

Audience Reviews for Mercenary for Justice
When it comes right down to it, this is pretty stupid. However I am a sucker for Steven Seagal movies. Especially when his sidekick is an incredibly attractive woman. Regardless this is no Hard to Kill or Out for Justice, but it is fun to watch.
Dutch Vandar
½
"That's it for you, poophole!" Please note that the line above is really in this film. These days picking on a direct-to-video Steven Seagal movie in a review is kind of like shooting fish in a barrel, but sometimes it has to be done. Mercenary for Justice isn't the worst of his movies but it's definitely not a good film. Seagal doesn't really show up until about 12 minutes into the film, and his first line really sounds like it was dubbed in by somebody else. After that he seems like he's at least present although it's hard to tell if he's interested. And the script. Seagal is a mercenary (for justice?) robbing banks, breaking into prisons, killing guards and bank security guys and whoever shows up, in order to get another mercenary a military burial. There's a lot more to it, but none of it really makes any sense. That's probably not going to stop some people from watching Mercenary for Justice, or even enjoying it if they're the right kind of viewer. No one is watching Seagal movies made in 2006 looking for sense. Or even good fights. I think we're mostly just looking for a bad movie. The biggest problem with Mercenary for Justice may be that it isn't bad enough.
Lurple J.
As typical of any Steven Seagal movie, the action is great, but everything else, especially the acting, is horrible. The plot is stupid and so confusing u practically hafta stop the movie just to think about what's going on. Additionally, the ending is totally predictable and so retarded that it almost completely ruins the last 20 minutes of the film (which weren't that bad until the ending happened). Everything in this movie is non sequitur (meaning that one thing doesn't/shouldn't lead to another). The whole plot is this way--carrying out the bank robbery and/or the prison break will not, by any means, achieve Seagal's character's main goal of getting his merc comrade a proper military burial. This film is just plain dumb, though it could've been decent if they'd stuck w/ more action sequences instead of trying to develop this ridiculous plot.
Stephen Skudlarek
Discussion Forum
Discuss Mercenary for Justice on our Movie forum!