Merrily We Go to Hell
(1932)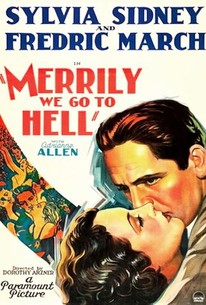 AUDIENCE SCORE
Critic Consensus: No consensus yet.
Merrily We Go to Hell Photos
Movie Info
Frederich March plays nere-do-well Jerry Corbett, who finally meets and marries the right girl, Joan Prentiss, played by Sylvia Sydney. Unfortunately their wedded bliss is interrupted when Jerry's play becomes a hit and he hooks up with the wrong woman from his past. Joan decides that turn-about is fair play and she picks Cary Grant to escort her around to various parties around New York. Eventually Jerry quits drinking and sends his girlfriend packing, just in time for Joan to take him back.
Critic Reviews for Merrily We Go to Hell
There are no critic reviews yet for Merrily We Go to Hell. Keep checking Rotten Tomatoes for updates!
Audience Reviews for Merrily We Go to Hell
Sylvia is wonderful here all soulful eyes and wounded dignity with an inner core of strength however March is a contemptable heel and the script isn't really anything special. A very young Cary Grant is in and out of this in about two minutes.
"marrily we go to hell" is a pre-code celebration of reckless brass toward hedonism as well as some possible suggestive content of marital promiscuity. sylvia sidney is still typecasted as the virtuous good girl who sticks to her beau even he may be a drunk wimp who cannot just make up his mind whom he truly loves, incurred with a very shakespearan issue "to be or not to be", absolute melodrama. besides that, you could take a peep at young gay cary grant who seductively tosses his champagne while leering the dame next to him. so sidney is enormously rich but well-behaved nice dame who's got attracted to a handsome alcoholic who has a strange sort of quibing cuteness to charm the lady of silks into the slave of love. so she's determined to love him and wed him even he's abscent in their engagement party, forgot to bring along his matrimony ring in the ceremony and mostly he still possesses a self-contradictory crush to a broadway prima donna of blonde hair. gorgeous sidney of brunette hair still tolerates that since her beau always says "you're the swellest dame i've ever met" without any assured announcement of L. O. V. E. later she descends along with him while he's hanging over the blonde on the other hand, so merrily they go to hell in booze and decadence despite our swell dame still looks helplessly chaste in decay. would good sydney win the man she deliriously loves? the best pleasure of pre-code movies is its indulgence of thorough melodrama without the moralistic hindrance for better light of doctrine. somehow sylvia sydney, whose mostly reputed work remained today is still hitchcock's "sabotage", shimmers in her adorable ingenune naivete whether it's pre-code or post-code, unlike norma sheer who conducts like man-hunting tramp before code but stingy mama after code. but i do harbor a private wish to see sylvia sydney act sluttish just like loretta young in pre-code "midnight mary" to gratify male audience's voyeuristic covet, but it ain't goody sydney. (lol.)
Veronique Kwak
Super Reviewer
Merrily We Go to Hell Quotes
There are no approved quotes yet for this movie.
Discussion Forum
Discuss Merrily We Go to Hell on our Movie forum!