Metal Tornado
(2011)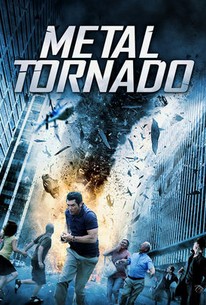 AUDIENCE SCORE
Critic Consensus: No consensus yet.
Movie Info
A revolutionary industrial experiment leads to a magnetic storm that sucks up all metal in its path, and becomes a churning cyclone of death. Meanwhile, as the storm gains momentum, the scientists realize that the only means of stopping it could result in an even bigger catastrophe. Lou Diamond Philips and Nicole DeBoer star.
Rating:
PG (for disaster action/peril and mild language)
Genre:
Directed By:
Written By:
On DVD:
Runtime:
Studio:
Imagination Films Worldwide
Audience Reviews for Metal Tornado
Metal Tornado is as scientifically plausible as an episode of PBS's The Magic School Bus, yet everyone involved treats it like an episode of Through the Wormhole. There's not enough cheese to be entertaining; in fact, with as much "scientific" jargon everyone's bouncing off each other, you might think you accidentally switched to the Science Channel. Then you stand corrected when the tornado pops up, and that's when you realize you better start drinking more if you're gonna make it through the rest of the film. If anything, this movie proves that Angel Guzman's been putting all that Calculus Jaime Escalante taught him to good use. Full review at http://silverscreenfanatic.com/2014/08/25/what-the-hell-were-they-thinking-34/
Benjamin Marlatt
½
Oh no! The tornado has subsumed all the loose change in Lou Diamond Phillips' pockets! Now how will he be paid?!
Jason Graff
½
Any movie titled "Metal Tornado" only has so much potential, and director Gordon Yang is somehow able to exceed that potential. Granted, this is a Sy-Fy original film, but it's one of the best ones I've ever seen. The plot is thoroughly, preposterously, completely, utterly ridiculous, far beyond the range of even the most insane man's realm of possibilities... But then again, it makes much more sense than Sharknado, so I guess it's somewhat logical for a Sy-Fy original. The acting is top tier for the genre and the script surprisingly consistent. There's something about this movie that makes it entertaining in a way that almost no other Sy-Fy films are. Bottom line, if you like dumb, absurd entertainment and/or the crazier half of sci-fi movies, this was made literally only for you.
Dov Doviak
Metal Tornado Quotes
There are no approved quotes yet for this movie.