Mgm Story: When The Lion Roars
(1992)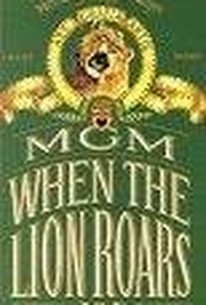 AUDIENCE SCORE
Critic Consensus: No consensus yet.
Mgm Story: When The Lion Roars Videos
Mgm Story: When The Lion Roars Photos
Movie Info
Exhaustive documentary chronicles the history of the Metro-Goldwyn-Mayer studio from its start in the 1920s to the present.
Rating:
NR
Genre:
In Theaters:
Studio:
MGM Home Entertainment
Critic Reviews for Mgm Story: When The Lion Roars
There are no critic reviews yet for Mgm Story: When The Lion Roars. Keep checking Rotten Tomatoes for updates!
Audience Reviews for Mgm Story: When The Lion Roars
As MGM film history documentary goes, this one wraps it all up. What I mean is that this is a very concise, and worthy addition to your film library. Suggest you get your copy fast as the VHS version may be in short supply [of course, the more expensive DVD version is always available, but I would suggest you buy ONLY used versions of anything. Much cheaper and I have never had dissatisfaction with used stuff.} On April 24, 1924 the movies changed forever: the Metro-Goldwyn-Mayer studio opened and soon assembled "more stars than there are in the heavens." Patrick Stewart hosts this enthralling Emmy winner as Best Informational Series, a 3-part story of MGMs reign as Hollywoods class act and legendary entertainment empire. Bursting with memorable film clips, rare interviews, behind-the-scenes footage and insider info, this is a mother lode for film fans, profiling perfectionist moguls, glamorous and charismatic actors, innovative filmmakers and landmark movies. Experience the dramatic and romantic fire, singing and dancing magic, and sweeping epic adventure of Hollywoods greatest studio in this must-have 2-Disc Deluxe Edition DVD. This three part series chronicles the history of MGM from its very first film through its current days. Features a review of the great films produced including "The Wizard of Oz," "Gone With The Wind," the Andy Hardy films and many spectacular musicals.--- Rovi, All Movie Guide From: All Movie Guide "The most glamorous of all the big Hollywood studios, MGM always began its movies with an image of the company lion giving a roar. Produced by MGM in 1992, this is the first installment of a three-volume documentary history of the studio. Narrated by actor Patrick Stewart, the program shows how Metro Goldwyn Mayer was created and thrived under the shepherding of the powerful personalities of Irving Thalberg and Louis B. Mayer. "Highlights include clips from various movies, with sequences featuring MGM stars such as Greta Garbo, Joan Crawford, Clark Gable, and the Marx Brothers. The other two titles in this series are MGM: When the Lion Roars, Pt. 2: The Lion Reigns Supreme, and MGM: When the Lion Roars, Pt. 3: The Lion in Winter."---- Steve Blackburn, Rovi MGM-When The Lion Roars is one of the most fascinating documentaries in the history of the cinema. Louis B. Mayer and Irving Thalberg founded the studio and together built an empire of epic propotions. From the inception of the studio in 1924 to the late 1940's, MGM was considered the top studio in Hollywood. Sadly, after Mayers termination marked a gradual decline in the quality of the films that MGM produced. 1986 marked the end of MGM. This documentary has all the earmarks of the rise and fall of the Roman Empire. Thank goodness for film preservation that many of the MGM films can still be viewed today. It was said that MGM had more stars than in the heavens, and it is so true. Scene Index Disc #1 -- MGM: When the Lion Roars 1. Dream Factory. [9:28] 2. Epic Empire. [11:39] 3. Romantic Pairings. [10:32] 4. Chaney, Gish, Davies, Keaton. [10:07] 5. Sound; Falls and Rises. [11:00] 6. Crawford, Gable, Barrymore. [10:02] 7. Remaking and Rewriting. [12:00] 8. On Location; Tarzan. [9:49] 9. Stars, Scandals, Knifings. [11:48] 10. Son-In-Law Also Rises. [12:41] 11. Farewell to a Genius. [10:21] 12. End Credits. [2:39] 1. The Gibbons Touch. [11:48] 2. Just a Tool; Louise Rainer. [8:57] 3. Child Stars. [14:59] 4. Series and Operettas. [10:05] 5. Class Actors. [13:12] Disc #2 -- MGM: When the Lion Roars 6. Judy Goes to Oz. [3:46] 7. Gone With the Wind. [7:52] 8. Leaving Ladies. [4:42] 9. Lana and Lamarr. [13:01] 10. Hepburn/Tracy [4:48] 11. Propaganda Machine. [11:58] 12. Wartime Service. [10:34] 13. Storm Clouds. [7:59] 1. One Big Happy Family. [:00] 2. Musical Perfection. [:00] 3. Kelly, Sinatra, Williams. [:00] 4. Message Moviemaking. [:00] 5. End of the Line. [:00] 6. Civil War. [10:11] 7. Ambitious American. [6:09] 8. Singin' In the Rain. [6:31] 9. Widescreen; Wild Screen [4:54] 10. Downward Motion. [5:30] 11. Gigi and Ben-Hur. [10:09] 12. The 1960s. [6:15] 13. Kerkorian to Turner. [5:30] 14. Legacy. [6:53] 15. End Credits. [:00] Actors: Patrick Stewart as Narrator, Samuel Marx, June Allyson, Lew Ayres, Freddie Bartholomew and more...... Directors: Frank Martin Writers: Frank Martin Format: Color, DVD, Subtitled, NTSC Language: English (Dolby Digital 2.0 Surround) Subtitles: English, French Number of discs: 2 Rated: NR (Not Rated) Studio: Warner Home Video DVD Release Date: January 20, 2009 Run Time: 366 minutes Average Customer Review: 4.5 out of 5 star 29 Reviews 5 star: (22) 4 star: (3) 3 star: (1) 2 star: (2) 1 star: (1) http://www.youtube.com/watch?v=OC9MNtXgkcA For the trailer above.
monsieur rick
MGM: When the Lion Roars (1992) -- [6.5] -- Patrick Stewart hosts this six-hour stroll through the history of Hollywood's most famous studio. The documentary spans a lot of time: how the studio came to be through a merger by Lowe's, the long and lucrative leadership of Louis B. Mayer and Irving Thalberg, the deaths of these gentlemen, the advent of television, and the many years of corporatization which helped finish the studio off. The corporate history is only part of the story, though. "When the Lion Roars" focuses mostly on the parade of stars and unforgettable films that came out of the studio. Suitable time is spent on Norma Shearer, Clark Gable, Judy Garland, Lana Turner, Lionel Barrymore, Greta Garbo, Jean Harlow, Joan Crawford, Greer Garson, Spencer Tracy, Katharine Hepburn, Jimmy Stewart, Elvis Presley, Esther Williams, Elizabeth Taylor and many more. I can't think of a significant MGM release that isn't talked about, but I was surprised how little the documentary covers "The Wizard of Oz" and "Gone with the Wind". I guess they've been covered enough in their own documentaries. The weakest point of the documentary is its panel of interviewees. I know a lot of the people who worked for MGM are now deceased, but from watching this doco, you might get the impression they only made Mickey Rooney and Ricardo Montalban movies. What I liked best was the emphasis on the men who ran the studio through the golden years -- Thalberg and Mayer, two very interesting characters, a truly odd couple. One was much loved and died in his 30s, the other ruled by intimidation and was ultimately run out of the empire he built. Any way you slice it, they made movie history.
Scott Schirmer
Mgm Story: When The Lion Roars Quotes
There are no approved quotes yet for this movie.