Miami Connection
(2012)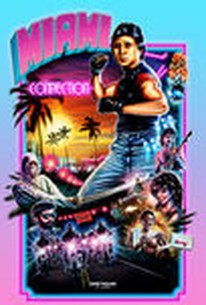 Movie Info
The year is 1987. Motorcycle ninjas tighten their grip on Florida's narcotics trade, viciously annihilating anyone who dares move in on their turf. Multi-national martial arts rock band Dragon Sound have had enough, and embark on a roundhouse wreck-wave of crime-crushing justice. When not chasing beach bunnies or performing their hit song "Against the Ninja," Mark (kung-fu master/inspirational speaker Y.K. Kim) and the boys are kicking and chopping at the drug world's smelliest underbelly. It'll take every ounce of their blood and courage, but Dragon Sound can't stop until they've completely destroyed the dealers, the drunk bikers, the kill-crazy ninjas, the middle-aged thugs, the "stupid cocaine"...and the entire MIAMI CONNECTION!!!
News & Interviews for Miami Connection
Critic Reviews for Miami Connection
Audience Reviews for Miami Connection
A neon colored martial arts practicing rock band that sings songs about friendship and rarely wears shirts fights a group of ninjas that control Florida's cocaine trade. Could you get more 80's than that? As you can probably tell, Miami Connection is one of the many great movies to earn the title of "So bad, it's good", and it's one of the best in the genre. The performances are bad, the plot (I think there was one somewhere) is insane, and the music is wonderfully campy, but what really makes this movie stand out is its heart. You really get the feeling that everyone who was a part of this movie thought they were making something good and were having a lot of fun, and that wears off on you when you watch it. I think it's impossible not to smile during the odd dialog and over the top fight scenes, and that's the sign of a great midnight movie. So, instead of seeing a fake so bad, it's good movie like Sharknado where there's practically no soul, watch Miami Connection instead, and remember, only through the elimination of violence can we achieve world peace.
Matthew Oldham
A classic trash b-movie back from the dead. Exciting action and unintentionally funny.
Lucas Martins
Super Reviewer
The. 80s. It's everything you want and none of what you don't. A rock band fighting cocaine ninjas. Yes and Yes.
Curtis Lilly
Super Reviewer
Miami Connection Quotes
There are no approved quotes yet for this movie.
Discussion Forum
Discuss Miami Connection on our Movie forum!