Michael Jackson - Number Ones
(2003)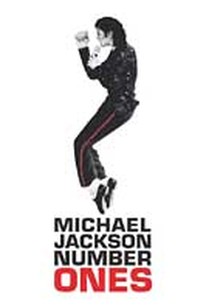 AUDIENCE SCORE
Critic Consensus: No consensus yet.
Movie Info
Rating:
NR
Genre:
On DVD:
Critic Reviews for Michael Jackson - Number Ones
There are no critic reviews yet for Michael Jackson - Number Ones. Keep checking Rotten Tomatoes for updates!
Audience Reviews for Michael Jackson - Number Ones
I just thought that I'd do a quick review of this DVD and some of the videos to commemorate his 2 year deathiversary (June 25, 2009) So stand up, do your moonwalk, and attempt a Thriller dance. This DVD is the most known music video DVD Michael has out. It has, in this order: Don't Stop 'Til You Get Enough (shortened), Rock With You, Billie Jean, Beat It, Thriller, Bad (shortened), Smooth CRiminal (shortened), The Way You Make Me Feel, Man In the Mirror, Dirty Diana, Black or White, You Are Not Alone, Earth Song, Blood On the Dancefloor,You Rock My World. Now, all the shortened versions suck compared to the reals, so I will skip reviewing them. "Rock With You"-It is MJ dancing in front of a bunch of disco lights. Very groovy, yet classic at the same time. "Billie Jean"-It is Michael doing his classci moves on the glowing sidewalk mainly. Classic Mj, is all I can say. "Beat It"-A couple of gangs going through the streets getting ready to fight witm Michael following. Very cool video, with intense suspense and great choreography, as always with Michael. "Thriller"-When Michael and his grilfriend leave the theater terrified of the Wolfman Michael movie, zombies start coming out of the ground and surrounding them. Then Michael turns into one and starts dancing with them. It is the best-known of the MJ videos, since it is the only music video to be submitted into the National Film Registry. The effects are great and classy and It still brings creepiness and fun to viewers everywhere, as well as the choreography that everyone tries to do. "The Way You Make Me Feel"-Michael and his crew going down the street trying to impress a girl. Just typicl Michael Jackson, I'd say. "Man In the Mirror"-A bunch of stock footage used to illustrate how things need to be changed. I believe the feeling's spread well as it should be. "Dirty Diana"-Michael performing onstage with Diana. This is my least liked of all of these videos. "Black Or White"-Maculay Culkin gets mad at his dad for telling him to turn his music down, so he takes his amp and blows his father to Africa with his loud guitar playing. Then Michael appears all ove rthe world dancing with several races. And at the end is the classic faces morphing and turning. This is a good video, it's just not really my favorite. "You Are Not Alone"-Michael dancing on a stage in an empty theater mixed with flashe sof him in the paparazii and with a nude woman showing affection to him. It's a very sensual and somewhat controversial video for Michael, but I love it, considering this was the #1 song at the time of my birth. "Earth Song"-My favorite on this DVD. It contains Michael and other peopel in destroyed parts of the world mourning ove rtheir land, then the world starts rewinding to when everything was ok, mixed with stock footage of animal abuse and such. It is intense and gets its point across very well. To tears, for some. "Blood On the Dancefloor"-Michael and others dancing at a club getting heavy on the party level. It's a very modernized video for Michael. I like the song more, though. "You Rock My World"-A gangster type video with Marlon Brando as the godfather of the joint. Michael and his pal enter the bar on a mission to steal a hot girl away from evil gangsters and burn the club down. It's basically a 2001-modernized version of Smooth Criminal, but with a differnt song, actors, and face stage of Jackson. I believe I liek the video more than the song in this situation. The DVD overall is pretty great with each video containing a bit of Michael's vision, but its flaws being the shortened versions that nobody wants to see and the fact that it doesn't ahve some of his better videos.
Kendall Irwin
This was a great trip down memory lane, though there were at least a couple of videos that weren't included that I felt should have been. The ones that are there, though, are all classics.
Amanda Hendsbee
Michael Jackson - Number Ones Quotes
There are no approved quotes yet for this movie.