Mickey One
(1965)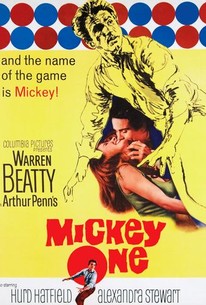 AUDIENCE SCORE
Critic Consensus: No consensus yet.
Movie Info
A Detroit stand-up comic goes into hiding on Chicago's West Side when he gets in trouble with the mob in this jazzy, atmospheric drama. At first staying undercover, the comic is soon drawn back into the world of show business, leading to his eventual downfall.
Critic Reviews for Mickey One
All Critics (4) | Top Critics (2) | Fresh (3) | Rotten (1)
West Chicago has never been more lunar and rapturously stark than as filmed by Ghislain Cloquet for Penn's Mickey One.
Flawed (it's A bit artsy and pretentious), but full of interesting ideas and characters, this collaboration between star Warren Beatty and director Arthur Penn precedes by two years Bonnie and Clyde, their masterpiece.

Pretentious art film that lacks the power to hold the viewer's attention.

Ozus' World Movie Reviews
Audience Reviews for Mickey One
This movie is flawed but it's such a great idea, with a great soundtrack and a fun lead that you can't help but fall for it anyhow. At least I couldn't- I super enjoyed this movie, it really was a Kafkaesque trip through a brilliant jazz soundtrack and some really unforgettable cinematography. What a great little film.
Jenna Ipcar
½
The first studio film influenced by the style of the French New-Wave, Mickey one is a surreal, cool, sexy, jazz fueled drama that's a lot of a fun... If you're into that sort of thing. But it does sort of drag at the end daddy-o
Ken Stachnik
Super Reviewer
No ordinary picture, a young soon to be superstar Warren Beatty worked for Director Arthur Penn again two years later in Bonnie and Clyde. I like Beatty in just about anything, so to see one of his early films was a treat. A man running from his past. He can't give himself up to even the Mob. On the run forever but he knows he has to be free. In black and white, Beatty is a comedian in debt and forever on the run from the Mob, or so he believes. Even after 4 years of running, he is still as paranoid as ever that the Detroit Mob is out to get him. A fantastic Twilight Zone like performance. Beatty even sings onstage during his reborn career routine. Paranoid and afraid, he rejects stardom, a girl to avoid his nightmare of being killed, or worse, in debt for life. Soon, every piece of his life and speech becomes comic one liners. This is mostly a slow paced drama that has a romance angle, a human interest angle that some will find intriguing, others possibly boring. If you are a fan of Beatty, it won't be the latter. Myself, I like this creative noir type effort by Director Arthur Penn. Beatty goes from having a decent living as a stand up comedian to quickly change his identity, work in a restaurant as a dishwasher/garbage man. All he really knows how to do is be a comedian. The soundtrack is very jazz like, with legendary Stan Getz doing the instrumentals. Some of you jazz affictionados will appreciate the name Stan Getz. The film's soundtrack, reverberating with hints of everything from Béla Bartók to bossa nova, re-teamed Stan Getz with arranger Eddie Sauter, following their classic album Focus. A masterful performance by a young Warren Beatty. The movie comes off quite a bit like the Brando line "I coulda been somebody" (were it not for this comedian's past). For lovers of unconventional films, this one is both that and reasonably easy to follow. NOTES: Penn may have been decades ahead of his time in depicting an urban America as gallery of paranoia, cynicism and loneliness. In a classic scene, the comic is up against a brick wall auditioning at a nightclub, a single, powerful spotlight trained on him so he can't see into the audience. Penn creates an agonizing moment of a man talking awkwardly to God while looking as if he's standing before a firing squad. Cast Warren Beatty as Mickey One Alexandra Stewart as Jenny Hurd Hatfield as Castle Franchot Tone as Rudy Lopp Teddy Hart as Berson Jeff Corey as Fryer Kamatari Fujiwara as The Artist Donna Michelle as The Girl Ralph Foody as Police Captain Norman Gottschalk as The Evangelist Richard Lucas as Employment Agent Jack Goodman as Cafe Manager Jeri Jensen as Helen Charlene Lee as The Singer Films directed by Arthur Penn: 1950s The Left Handed Gun (1958) 1960s The Miracle Worker (1962) · Mickey One (1965) · The Chase (1966) · Bonnie and Clyde (1967) · Alice's Restaurant (1969) 1970s Little Big Man (1970) · Night Moves (1975) · The Missouri Breaks (1976) 1980s Four Friends (1981) · Target (1985) · Dead of Winter (1987) · Penn & Teller Get Killed (1989) You can see this movie by this address: http://www.hulu.com/watch/202447/mickey-one
monsieur rick
Mickey One Quotes
There are no approved quotes yet for this movie.
Discussion Forum
Discuss Mickey One on our Movie forum!