Mickey's Once Upon a Christmas
(1999)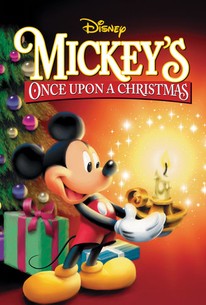 Mickey's Once Upon a Christmas Photos
Movie Info
A handful of Walt Disney's best loved characters appear in this direct-to-video release, which tells three different tales of the holiday season. First, Donald Duck and Daisy Duck are enjoying Christmas Day with their nephews Huey, Dewey, and Louie, when the boys wish that every day could be Christmas. Their wish comes true, and before long, they learn why the holiday only comes once a year. Next, Goofy has to teach his son about the real meaning of Christmas after Junior catches Dad impersonating Santa Claus. And Mickey Mouse and Minnie Mouse appear in an updated version of the O. Henry classic The Gift of the Magi , in which they both give up a prized possession in order to give their beloved something special for Christmas -- with unexpected consequences. Kelsey Grammer narrates.
Cast

Critic Reviews for Mickey's Once Upon a Christmas
Audience Reviews for Mickey's Once Upon a Christmas
½
Goofy: Of course there's a Santy. Otherwise, we'd have a lot of jobless elves running around. Mickey's Once Upon a Christmas is what you'd expect. It's a nice little Christmas anthology for the kids that uses themes such as giving and believing. I didn't love it all that much, but that doesn't mean that it isn't exactly what it should be. The first story is that of Donald Duck and his nephews Huey, Dewey, and Louie. After a fantastic Christmas, the nephews wish upon a shooting star that everyday would be Christmas. They get their wish and in the same way as Groundhog Day, they have to figure out a way to stop it; especially after they realize Christmas doesn't have the same appeal if it happens every day. By far the best of the three. The second story is that of Goofy and his son Max. Max is beginning to doubt the existence of Santa Claus and Goofy tries his hardest to reinstall the magic of Christmas in his son. This one was my least favorite and only annoyed me. The third follows Mickey and Minnie as they try desperately to get the money they need to buy each other gifts. It's a story about the love of giving and the ability of people to give even if they have to sacrifice a lot for it. This one was a pretty good conclusion. Overall, this is a good a family Christmas movie, it just wasn't necessarily my thing. For parents, it's a movie to sit down and watch with your kids around the holiday and it presents them with good Christmas themes to live by.
Melvin White
Super Reviewer
my 3rd favorite Christmas movie ever made, Disney was really treating their mouse with the greatest respect with this film. The first story with Donald's nephews Huey, Dewey, and Louie was where i knew that this film was going to be great, It had a great moral with it being you can't have what you always want to turn out right, and the story is much like my favorite movie of all time "Groundhog Day" But instead of it happening and you don't know how its happening, this time you know that it is because of a wish that the nephews make on a shooting star wishing it was Christmas every day. Then when they realize that it is christmas every day, they start noticing that everything is repeating in an endless loop, again, the same as in "Groundhog Day" and they start getting sick of it, and they realize that be careful what you wish for, because you just might get it. The Second story with Goofy and his son Max as a young boy, is my third favorite of the stories, it has a very touching story, and it has many things that really make a christmas classic, it's about Max getting excited in Santa Claus's coming but is having a challenge of faith kind of believing if Santa is real, and when Goofy dresses up as santa and Max gets all excited, Goofy's Fake beard gets pulled off, and Max comes to a startling revelation that santa doesn't exist. But Goofy keeps trying to get his son to believe again and they go to the mall, (forgive me my mind is sketchy at this part) to get a toy for max or something i don't quite remember. But the third and final story is my absolute favorite is the story of Mickey trying to get a gift for Minnie, the story is basically a retelling of the classic story of "The Ruby Tuesday" (no not the restaurant) Minnie wants to get something for Mickey for Christmas, and wants to get a case for his harmonica but instead of getting her christmas bonus she gets a fruitcake, so she decides to sell her watch, but Mickey is also running short on cash and decides to sell his harmonica but he can't because the jewelery store closes down just before he can make it. He starts to play the Harmonica, and the owner of the shop hears it saying that the harmonica has to be worth something, he sells it and gets a chain for her watch. They realize that they sold the things that they loved to get something for the thing that they sold, but Mickey says the most Heartwarming thing that he has ever said "You're all the music i will ever need." Then of course the movie ends with all of the characters from the segments getting together to sing Christmas carols. Truly the best thing that that mouse and his friends have ever been in, and it truly stands out among all animated Christmas movies and specials.
Michael Edwards
Super Reviewer
3 Christmas tales from Disney's mascots. Donald's nephews are forced to relive Christmas day everyday. Goofy tries to convince his son that Santa is real, and Mickey and Minnie end up trading their prize possessions in order to buy gifts for the other. As individual shorts go, these work. The stories are sweet and well paced, but it's a chore to get through all three at once. The animation is higher quality than Disney's TV output, but not as high as their animated classics. You kind of wish Disney would put the most effort into their mascot. I can imagine these as background entertainment during other Christmas activities, but not one to snuggle up by the fire with.
Luke Baldock
Super Reviewer
Mickey's Once Upon a Christmas Quotes
There are no approved quotes yet for this movie.