Middle of the Night
(1959)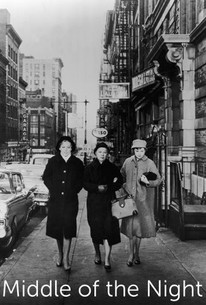 AUDIENCE SCORE
Critic Consensus: No consensus yet.
Middle of the Night Photos
Movie Info
Adapted from a play by Paddy Chayefsky, this domestic melodrama, set in the garment district of late 1950s New York, chronicles the blossoming love affair between a young, recently divorced receptionist and her likewise-divorced, middle-aged boss. Many of their friends and family members oppose the romance and the upcoming marriage.
Audience Reviews for Middle of the Night
Absolutely engrossing 2 hour film dealing with an aging widower and his 24 year old employee. Frederick March successful in every way except he has no peace. The girl he becomes infatuated with has no peace either. Divorced and tormented by her attractiveness is an absolute head case. Kim Novak deserved an Oscar for her role as a young woman in torment. Highly recommended for those liking romantic drama, deep thoughts, tormented souls. [img]https://encrypted-tbn3.gstatic.com/images?q=tbn:ANd9GcTzV4xeeC98JqLLIZpP1B3ehZKv_SS8MeUpnpMfEtYIiR3wrk2koA[/img] SEE the entire movie on Youtube here: www.youtube.com/watch?v=Pvj8xXxa9Mg NOTES: 1 Middle of the Night is a 1959 American drama film directed by Delbert Mann, and released by Columbia Pictures. It was entered into the 1959 Cannes Film Festival. [img]https://encrypted-tbn0.gstatic.com/images?q=tbn:ANd9GcT7g3m75dKpGgpSZpmIoO7Rq2kAZdOa54ZP91LIUuXvGM7i-Cu5[/img] REVIEWS by those like us: 100% An amazing film with excellent casting esp Kim Novac (sp) and Fredrick March. Awards Palme d'Or, Cannes Film Festival - nominated Best Actor Golden Globe (Fredric March) - nominated Top Ten Films of the Year, National Board of Review [img]https://encrypted-tbn0.gstatic.com/images?q=tbn:ANd9GcRQxm3qm9bi8mZq8YbSWoLDN51HN9PMGaI8Q9bFNvxPDSXfuqN0OQ[/img] CAST Fredric March as Jerry Kingsley Kim Novak as Betty Preisser Glenda Farrell as Mrs. Mueller Albert Dekker as Walter Lockman Martin Balsam as Jack Lee Grant as Marilyn Lee Philips as George Preisser Edith Meiser as Evelyn Kingsley Joan Copeland as Lillian Betty Walker as Rosalind Neiman, the widow Lou Gilbert as Sherman Rudy Bond as Gould Effie Afton as Mrs. Herbert, the neighbor Jan Norris as Alice Mueller David Ford as Paul Kingsley Lee Richardson as Joey Lockman [img]https://encrypted-tbn1.gstatic.com/images?q=tbn:ANd9GcTfFnd33PnwD9u2q0ieupolLFWuQixuIrGFKViW8HYTdSxQ6L_t[/img] Directed by Delbert Mann Produced by George Justin Written by Paddy Chayefsky Starring Fredric March Kim Novak Cinematography Joseph C. Brun Edited by Carl Lerner Distributed by Columbia Pictures Release date(s) August 31, 1959 Running time 118 minutes Country United States Language English [img]https://encrypted-tbn0.gstatic.com/images?q=tbn:ANd9GcQ__wcFUs01MvvhKQA52WwyVPcK-v7dAh5br1zj86tt-02M5nRX9A[/img]
monsieur rick
Solid drama of older March falling for young insecure Kim. Both leads are excellent, Kim in her peak years and having just come off of Vertigo is a neurotic mess but it fits her part, and present their flawed but decent characters simply. The people in their lives are shown in dark tones perhaps a little heavily so perhaps to illustrated the disapproval of society to such a relationship in the 50's. It does lend a heavy tone to the film though since almost without exception they are a smothering and cruel bunch.
Middle of the Night Quotes
There are no approved quotes yet for this movie.
Discussion Forum
Discuss Middle of the Night on our Movie forum!