Middlemarch
(1994)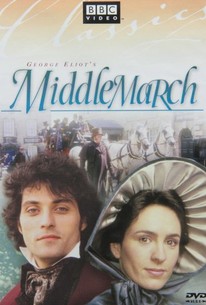 AUDIENCE SCORE
Critic Consensus: No consensus yet.
Movie Info
The BBC has raised the mini-series to an astonishing creative peak. A prime example is the 1994 production of Middlemarch, based on the classic novel by George Eliot, which juxtaposes morals and money, grand ambitions with petty jealousies, and pursuits of the mind with bodily needs. A handsome young doctor named Lydgate (Douglas Hodge, Vanity Fair) comes to the provincial town of Middlemarch to start a new hospital; a headstrong young woman named Dorothea (Juliet Aubrey, The Mayor of Casterbridge) yearns to contribute to the greater good of the world. These idealists enter into marriages that derail all their intentions and lead them into lives they never imagined. The network of characters in this six-episode program, ranging up and down the societal ladder, create an intricate and utterly engrossing narrative as well as a magnificent recreation of life on the cusp of the Industrial Revolution. The cast, from the largest to the smallest roles, is impeccable. When a scene turns to a character you've only glimpsed before, the precision of the writing (by miniseries master Andrew Davies, Pride and Prejudice) and the vivid performances suck you into the life of this person who seemed like mere background scenery only moments before. The cumulative impact of Eliot's story will leave you gasping at its brilliant balance of romance and reality. Performers include creepy Patrick Malahide (The Singing Detective) and sexy Rufus Sewell (Dark City) among the familiar faces of dozens of inspired character actors. Don't let the literary pedigree of Middlemarch scare you off--the plot is as juicy as a soap opera, with a psychological fullness that makes every dramatic turn all the more gripping. --Bret Fetzer
Rating:
NR
Genre:
, ,
Directed By:
Written By:
On DVD:
Runtime:
Critic Reviews for Middlemarch
There are no critic reviews yet for Middlemarch. Keep checking Rotten Tomatoes for updates!
Audience Reviews for Middlemarch
A faithful reproduction from the original novel. Not entirely convinced about the leading actress -- seems to be much older than the character in the book, which made her mistake in marriage somewhat implausible.
Qi Zeng
This unfortunately was not to my liking. I was more interested in the secondary relationships instead of the one I was supposed to be into. Not to say that I didn't like the two main characters but their relationship did not develop to my taste. Not enough "romance" to spark my fascination.
sloopy chicken lips (aka Cynthia)
Middlemarch is no simple book to tackle, even for a six hour movie. Yet this mini-series adapts this broad and sweeping novel with apparent ease. Some of the nuances, such as Ladislaw's connection to Bulstrode, were lost amongst the dozens of other stories. An explanation of family connections, such as Mary Garth's relationship with Mr. Featherstone, were also left unexplained, The distinction in social class is also harder to discern. Yet the majority of the story and themes were translated with care and precision. Despite the numerous characters, they were each introduced in such a way as to minimize confusion. The acting was superb all around, aided in no small part by the excellent screenplay. Rufus Sewell and Juliet Aubrey were particularly engrossing. My one major gripe is the ending of their story, which was so much grander in the novel. In all other respects a marvelous achievement.
Lindsay Wilson
Discussion Forum
Discuss Middlemarch on our Movie forum!